As the Indiana University eTexts initiative celebrates its 10th anniversary, the program continues to expand, improve and create significant savings for students on all campuses.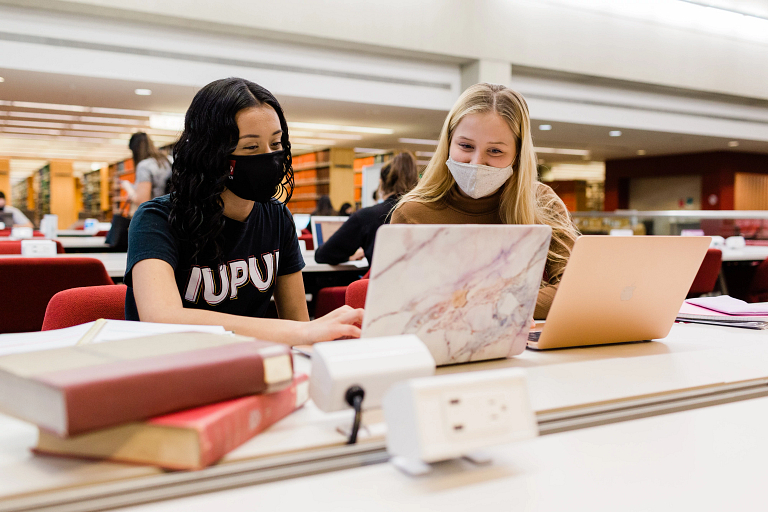 UITS began planning and development for what would become IU eTexts in 2009 with four objectives: provide affordable materials for students, give access to high-quality materials to faculty, develop new tools for teaching and learning, and shape the terms of eTexts models.
It became official with a 2011 agreement with publishers that reduced the cost of access to digital versions of paper textbooks. Over the following decade, the IU eTexts initiative evolved as a national leader in digital educational materials and saved students over $69 million off retail textbook prices in the process.
"The success of the IU eTexts program has exceeded our expectations," said Anastasia "Stacy" Morrone, deputy chief information officer and interim dean of the IU Bloomington School of Education. "In addition to saving students millions of dollars, faculty and students have access to high-quality, low-cost digital course materials that enable deeper engagement and learning."
More than digital books
IU eTexts are more than simply digital versions of paper textbooks, though that is how the initiative was initially conceived. Today, IU eTexts encompasses a full range of digital learning tools and courseware, including games, simulations and video feedback tools.
The Unizin Engage e-reading platform, which powers IU eTexts, integrates with the Canvas learning management system, making it easy to access course materials with almost any device.
That accessibility is key to the initiative's support of greater academic success, said Mark Goodner, principal business analyst and faculty consultant for IU eTexts. Because fees for IU eTexts can be covered through financial assistance, students can start the semester with their course materials, and with less stress about costs.
"Giving all students a significant and equal discount improves the teaching and learning experience by priming a well-prepared learning community for ultimate success," Goodner said.
Also important is the ability for students and faculty to work collaboratively in the Engage e-reader. Students are able to highlight, tag and make notes within the text; faculty can incorporate multimedia materials directly into their courses, integrate links and annotations, and use real-time analytics to evaluate their teaching methods.
"When students are engaged, it correlates to academic success, satisfaction and retention," Goodner said.
A pandemic-perfect platform
The value of eTexts became crystal-clear when the COVID-19 pandemic forced classes to move online. As IU moved into a distance-learning scenario, the eTexts team, housed in the Office of Digital Education Programs and Initiatives in UITS, reached out to faculty about using these materials as they prepared for upcoming semesters.
"The pandemic had both an emotional and a financial impact on our students," said Julie Johnston, acting associate vice president of UITS Learning Technologies. "We encouraged faculty to respond to those needs through the use of IU eTexts for cost savings and anytime, anywhere access."
Faculty responded well to that message, and the increase of engaging digital resources used in courses helped keep students on track to earning degrees.
Additionally, when increased pricing from vendors put several learning tools beyond the realities of university budgets, the IU eTexts program stepped in and created contracts that kept the tools available at nominal fees, rather than paying for enterprise licenses.
Looking to the future
The IU eTexts program is moving into its second decade on a high note. During the 2020 fall semester, 56 percent of the student body – plus 2,000 high school students – used IU eTexts in more than 3,000 classes across nine campuses and regional academic centers. And early estimates show that those numbers will only go up this year.
In February, IU eTexts introduced a new ordering portal in One.IU and a more user-friendly catalog, with nearly 250,000 titles from more than 50 publishers. Goodner said he and the IU eTexts team are excited about the evolution, expansion and improvements they expect in the next 10 years.
"We're anticipating a new e-reader that will allow us to present more modern versions of eTexts, like including multimedia content, in a more accessible manner," he said. "This will provide us the opportunity to reach out to even more potential publisher partners."
Among Goodner's goals for IU eTexts' next 10 years are creating partnerships with campus libraries, increasing use of open educational materials and faculty-created materials, advancing faculty development in the use of analytics, and increasing use of IU eTexts to at least 75 percent of the student population
"When the IU eTexts program was created, it was clear that change was needed. Students were paying too much for textbooks, which was driving up the cost of education," Morrone said. "We sought to change that by providing a model that would honor faculty choice of affordable content and put powerful learning tools in the hands of both faculty and students."
Jen Bratton is a communication project manager in the Office of the Vice President for Information Technology.