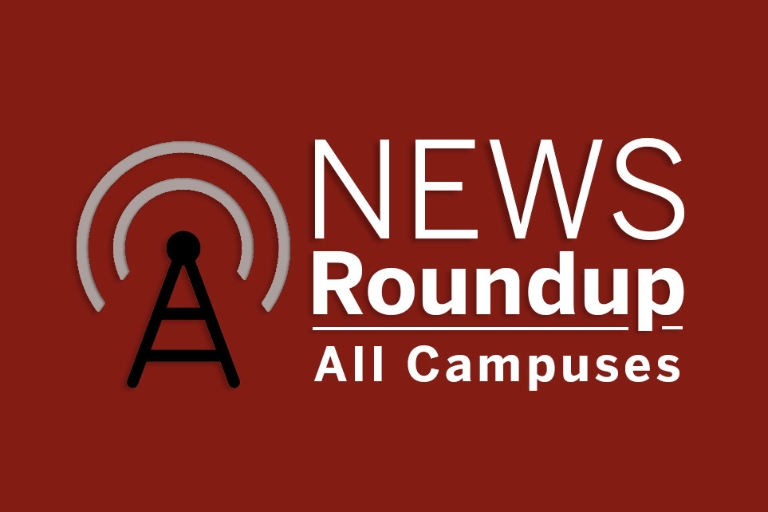 IU Racial Justice Research Fund awards $1 million in grants
The IU Racial Justice Research Fund, initially conceived to fund 25 grants, has completed seven rounds of application reviews and awarded 73 grants to faculty across IU's campuses to advance research focused on racial equity and justice. Due to overwhelming interest and high-quality applications, the Office of the Vice President for Research awarded more than $1 million.
Individual grants averaged $15,000. Project topics include studies of racial disparities in medical care, assessing artificial intelligence biases in handling large legal databases, and pursuing racial equity in philanthropy, education and more.
A complete list of funded projects and stories highlighting various funded projects are available on the Research Impact website.
School of Medicine researchers create drug to treat triple negative breast cancer
A team of Indiana University School of Medicine researchers has developed a novel antibody-drug conjugate for treating triple negative breast cancer.
The study, led by senior author Xiongbin Lu, Vera Bradley Foundation Professor of Breast Cancer Innovation at the IU School of Medicine, has been published in the interdisciplinary medical journal Science Translational Medicine. Lu and his team created a novel drug called T-Ama.
Triple negative breast cancer accounts for about 15 percent of all breast cancer cases. Patients with triple negative breast cancer typically have the poorest prognosis because there are not very many treatment options.
Human Resources offers virtual workshops to aid development
IU Human Resources encourages the continual growth and development of all staff and faculty by providing a variety of leadership and development resources. Among the resources offered by Talent and Organization Development are virtual workshops.
The next workshop, on effective performance management, will take place from 1 to 3 p.m. EDT March 23.
Looking for something else? Check out a list of other upcoming workshops, which are free to all IU employees.
Next Grand Challenges webinar focuses on addictions
The Office of the Vice President for Research is hosting the next virtual roundtable in its series that shares progress and stories of impact from research empowered by IU's Grand Challenges program. The roundtable, at 11 a.m. March 11, will focus on the critical roles of data in advancing IU's Responding to the Addictions Crisis Grand Challenge initiative.
Robin Newhouse, dean of the IU School of Nursing and lead investigator for Responding to the Addictions Crisis, will give brief opening remarks.
Harold "Hank" Green, associate professor of applied health sciences at the IU School of Public Health-Bloomington, and Kosali Simon, Herman B Wells Endowed Professor at the O'Neill School of Public and Environmental Affairs, are among the panelists.
Register online for the Zoom webinar.
Take advantage of health screening with incentive
Indiana University offers free health screenings, and a $100 before-tax incentive, to full-time academic and staff employees eligible for IU medical plans to encourage awareness of one's health status and healthy lifestyles.
Spouses covered under the employee's IU medical plan may participate in the screening with incentive program, which is available one time per fiscal year (July 1 through June 7).
Check out Healthy IU's health screening with incentive web page to schedule an on-campus screening and learn more details.
To prepare for a screenings, eligible participants should:
Wear a short sleeve or loose-fitting shirt.
Avoid eating food 10 to 12 hours before the appointment.
Wash off any hand creams or lotions before the appointment.
Drink as much water as desired, and take one's prescription medications.
Those who want to have a health screening performed by their primary provider, but want the incentive, need to submit a health screening verification form.
IU South Bend honored for sustainability efforts
IU South Bend has received a bronze certification for the Sustainability Tracking, Assessment & Rating System from the Association for the Advancement of Sustainability in Higher Education, the leading association for the advancement of sustainability in higher education.
IU South Bend is the first IU regional campus to achieve a certification from association. It missed silver certification by a few points.
Established in 2005, the association serves faculty, administrators, staff and students who are change agents and drivers of sustainability innovation.
Check 'Ask Aaron' webinars and vaccine website for helpful information
Although IU's COVID-19 dashboard data shows that the university's campuses are doing a good job in their efforts to stay safe from COVID-19, Dr. Aaron Carroll, one of the leaders of IU's COVID-19 Medical Response Team, said during a recent "Ask Aaron" webinar that the variant strains of the virus and a tendency for people to relax with safety are all the more reason to continue to be careful.
Faculty, staff and students can learn more about the virus and IU's efforts to fight it by participating in an upcoming "Ask Aaron" webinar. The next webinars for all campuses are March 10, 17, 24 and 31. The next webinars intended for regional campuses are March 11 and 25. Additional webinars are planned throughout the semester. Those unable to tune in live can watch the recordings at broadcast.iu.edu.
For information about who can get the COVID-19 vaccine and when, visit IU's COVID-19 vaccine website.
Learn about colorectal cancer prevention in upcoming webinar
Colorectal cancer is the second leading cause of cancer deaths in the U.S., and the third most common type of cancer, yet is also one of the most preventable.
IU Human Resources and Healthy IU are offering a webinar to teach employees more about the disease and how to protect themselves through awareness, screening and healthy living.
"Colorectal Cancer Prevention 101: Take Charge of Your Health" will take place from 12:30 to 1:30 p.m. EDT March 23. The webinar will include a panel of experts.