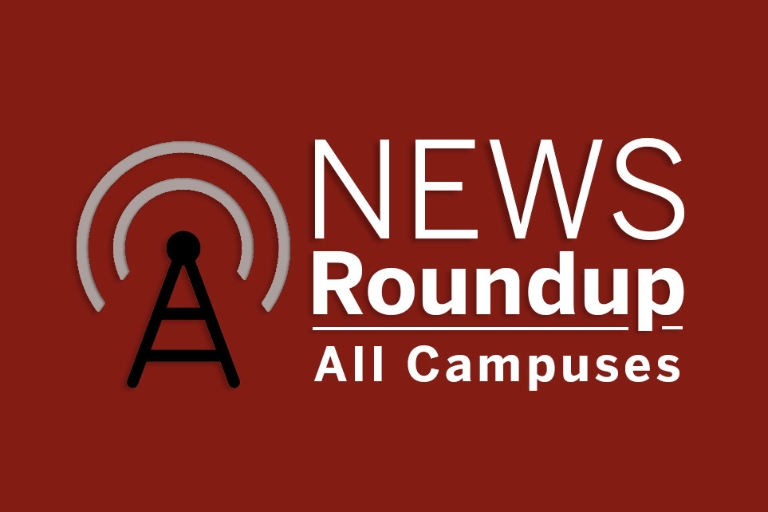 It's time to switch to the eduroam wireless network
University Information Technology Services is encouraging IU staff and faculty to switch their wireless network from IU Secure to eduroam soon. IU Secure's retirement date has been moved back from March 31, but it will be retired later this year.
For access, go to the eduroam installer to set up your device. Once authenticated, staff and faculty will have access to IU's secure, worldwide wireless network developed for research and education communities. The network is available at a number of institutions within Indiana and beyond.
Meanwhile, free, secure, high-speed wireless access is available for all Hoosiers in 24-hour "lot hot spots" around the state. People with IU affiliations access Wi-Fi through eduroam, while others can use the IU Guest network.
Vaccine eligibility opens up
Beginning March 31, everyone in the IU community will be eligible to schedule a COVID-19 vaccine. The state of Indiana will open up the vaccine to everyone age 16 and above on this date. Learn more about the COVID-19 vaccine.
Hear the March Madness theme song performed
Need more March Madness fun in your life? Check out this video – the CBS March Madness theme was performed on the Arthur R. Metz Bicentennial Grand Carillon on the IU Bloomington campus by Lynnli Wang, associate instructor of the carillon at the IU Jacobs School of Music.
Fulbright and China-U.S. Scholars opportunities are available for faculty
The competition for the 2022-23 Fulbright U.S. Scholar Program is now open. The U.S. Fulbright Scholar Program awards American scholars and professionals more than 800 fellowships annually to nearly 140 countries, where they lecture and conduct research in a wide variety of academic and professional fields.
Grant benefits vary but generally include travel and living expenses for the awardee and accompanying dependents.
The application deadline is Sept. 15.
Also, a one-time China-U.S. Scholars Program is being administered by the Institute of International Education. The exchange fellowship program creates opportunities for American scholars and students in the arts, humanities and social sciences to teach, study or conduct research in China or Hong Kong during the 2021-22 academic year.
The deadline to apply is April 15.
Tuition benefit deadline approaching
IU employees, their spouses and their dependents who are registered for IU courses and wish to use the IU tuition benefit for the spring 2021 semester must submit an application no later than March 30, according to IU Human Resources.
The online application is available by searching for "tuition benefit" at One.IU or by accessing an online link.
For questions or more information, visit IU Human Resources' tuition benefit web page, send an email to askHR@iu.edu or call 812-856-1234.
COVID-19 symposium features IU experts
The Indiana University Office of the Vice President for Research is hosting a virtual symposium about COVID-19 that will feature IU experts.
"COVID-19 Vaccines to Variants: Your questions answered" will take place from 5:30 to 6:45 p.m. April 1 via Zoom. Researchers and health experts will present five-minute, rapid-fire briefings about vaccines, variants, herd immunity, masks and more before the live question-and-answer period.
The featured speakers are:
Fred H. Cate: Moderator, IU vice president for research and C. Ben Dutton Professor of Law in the Maurer School of Law.
Dr. Michael J. Mirro: President of Parkview Mirro Center for Research and Innovation, and an IU trustee.
Dr. Aaron E. Carroll: Professor of pediatrics and associate dean for research mentoring at the IU School of Medicine and a New York Times contributing opinion writer.
Brea L. Perry: Associate vice provost for social science research at IU Bloomington, a professor of sociology in the IU Bloomington College of Arts and Sciences and affiliated faculty at the IU Network Science Institute.
Nir Menachemi: Fairbanks Endowed Chair and professor of health policy and management in the IU Fairbanks School of Public Health at IUPUI.
Register online for the event.
Use LinkedIn Learning courses to learn about allyship and anti-racism
IU Human Resources has partnered with LinkedIn Learning to offer students, faculty and staff free access to 15,000 expert-led courses and videos on skills related to one's area of study or interest.
One path to consider is how to engage meaningfully in allyship and anti-racism. Five of the courses feature experts who teach the foundational skills – mindset, communication and advocacy – that are needed to be an effective ally and champion for anti-racism in one's organization.
The courses available are:
Participate in the IT mentoring program
The IT Leadership Community is accepting applications for its 2021 Mentorship Cohort. The program, in its third year, is open to anyone working in information technology at IU. Mentors and mentees are matched with colleagues based on strengths and topics of interest.
It's an opportunity to make a difference in someone's career, make a connection and boost one's network.
Potential mentors can pass on experience and knowledge to a colleague in a one-to-one setting (virtually, for now). The mentor application is due March 26.
Potential mentees can foster a connection and learn from an accomplished colleague. The mentee application is due April 2.
IU South Bend creates COVID-19 messaging specific to Black community
IU South Bend has created a COVID-19 public service announcement specific for the needs of the Black community. The pandemic has disproportionately impacted communities of color, and data shows that fewer Black and Latino people are getting vaccinated against the virus.
Michael Harley, a member of 100 Black Men of Greater South Bend and director of student teaching and clinical practice at IU South Bend's School of Education, took the initiative to connect the 100 to his colleagues at the Vera Z. Dwyer College of Health Sciences.
The 100 looked to Dwyer College's Inclusive Action Advisory Council for health expertise to develop the public service announcement script and involve IU South Bend alumni in the announcement.
'Ask Aaron' host stresses continued COVID-19 safety adherence
The COVID-19 positivity rates on Indiana University's campuses are low, but each campus community needs to remain vigilant in following safety protocols: wearing masks, practicing physical distancing, avoiding large gatherings and getting vaccinated when eligible.
Why?
"The pandemic is not over," said Dr. Aaron Carroll, one of the leaders of IU's COVID-19 Medical Response Team. "We're still trying to keep this thing in check."
Carroll, who hosts weekly "Ask Aaron" webinars for faculty, staff and students to ask questions about the virus and the university's efforts to combat it, shared that thought in the March 17 webinar. The next webinars for all campuses are March 24 and 31, and a webinar specific to regional campuses is March 25. Additional webinars are planned throughout the semester. Those unable to tune in live can watch the recordings at broadcast.iu.edu.
For information about the COVID-19 vaccine, and who can receive it and when, visit IU's COVID-19 vaccine website.
IU Foundation names co-chief investment officers
Interim IU Foundation President and CEO J T. Forbes has appointed Jim Bergstrom and Abe Weldy to serve as IU Foundation co-chief investment officers, effective April 1.
The appointment, made in close consultation with the IU Foundation Board Investment Committee, was prompted by the impending March 31 retirement of Gary Stratten, the current executive vice president for investments and chief investment officer.
The chief investment officer provides strategic and operational leadership for managing the foundation's endowment.
IU South Bend earns Military Friendly designation
Indiana University South Bend recently received the 2021-22 Military Friendly designation, becoming the first IU campus to receive the recognition.
The bronze-level designation was awarded for IU South Bend's self-guided assessment of a number of key factors to veterans, including academic policies, admissions, financial assistance and culture.
The Military Friendly ratings program is as an advocacy vehicle to encourage civilian organizations to invest in programs to recruit, retain and advance veterans as employees, entrepreneurs and students.