BLOOMINGTON, Ind. – Indiana University is one of just three universities in the U.S. to be honored with an award for an exceptional campus program or initiative focused on internationalization.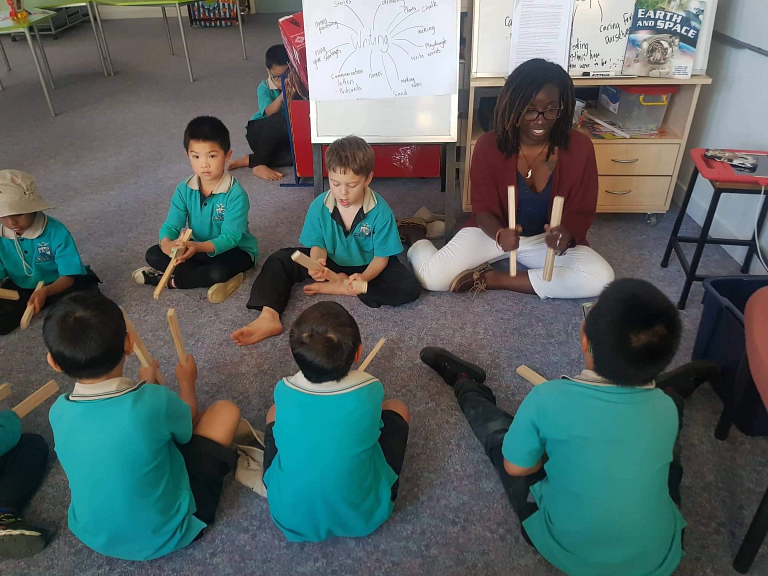 IU earned the NAFSA 2021 Senator Paul Simon Spotlight Award for Campus Internationalization for its Global Gateway for Teachers. The program is housed at the IU School of Education in Bloomington and provides education students with intercultural immersion experiences, such as study abroad, while also helping them fulfill their student teaching requirements.
"Indiana University is committed to the international dimension of teaching and learning, and to expanding the opportunities for all of our students to deepen their knowledge and understanding of the world," said IU Vice President for International Affairs Hannah Buxbaum. "The Global Gateway for Teachers provides an incredible opportunity for our education students to teach in culturally diverse settings around the world. These immersive experiences help our students develop the skill and perspective needed to successfully teach youth from different cultures, bringing a broader worldview that is greatly needed in today's classrooms."
With more than 10,000 members, NAFSA: Association of International Educators is the world's largest nonprofit association dedicated to international education. Named after the late Sen. Paul Simon of Illinois, the NAFSA Simon Awards honor U.S. colleges and universities that are making significant, well-planned, well-executed and well-documented progress toward comprehensive internationalization – especially those using innovative and creative approaches.
The rigid structure of most teacher education programs makes it difficult for students to take part in a traditional study-abroad program or off-campus internships. Through the Global Gateway for Teachers, education students can complete their student teaching in their choice of 19 countries.
Students are required to spend at least eight weeks in their host school, engage with their placement community, and complete a service-learning project and structured reflections, all while adapting to a new culture. Participation requires a two-year commitment, beginning with a preparatory phase that includes monthly classes, assignments and a workshop, and culminating in the student-teaching immersion experience.
"The intention of our program is to prepare IU teacher candidates for the real world in which they will be employed, where elementary and secondary classrooms are filled with culturally, racially and linguistically diverse pupils who come from myriad backgrounds," said Laura L. Stachowski, director of Global Gateway for Teachers. "Our program takes student teachers on a journey that requires stepping well beyond their comfort zones in both school and community contexts. In the process, they set out on a trajectory of transformation.
"We strongly believe that there is no 'end' to the experience; instead, it continues to shape who they are, personally and professionally, as they move forward through their lives."
Stachowski said the program's continued success in preparing students for effective teaching in today's dynamic and interconnected world reflects its strong relationship with its national and international partners. Global Gateway for Teachers includes a network of nearly 40 host country consultants who secure overseas school placements and 30 U.S. institutions that the program supports in arranging placements for their teacher candidates.
As a Simon Award winner, IU will be featured in NAFSA's report, Internationalizing the Campus: Profiles of Success at Colleges and Universities, to be published this fall, and honored during International Education Week in November.