BLOOMINGTON, Ind. – The Indiana University community is mourning the passing of Vice President Emeritus and Professor Emeritus Patrick O'Meara, who died this morning in Bloomington at the age of 83.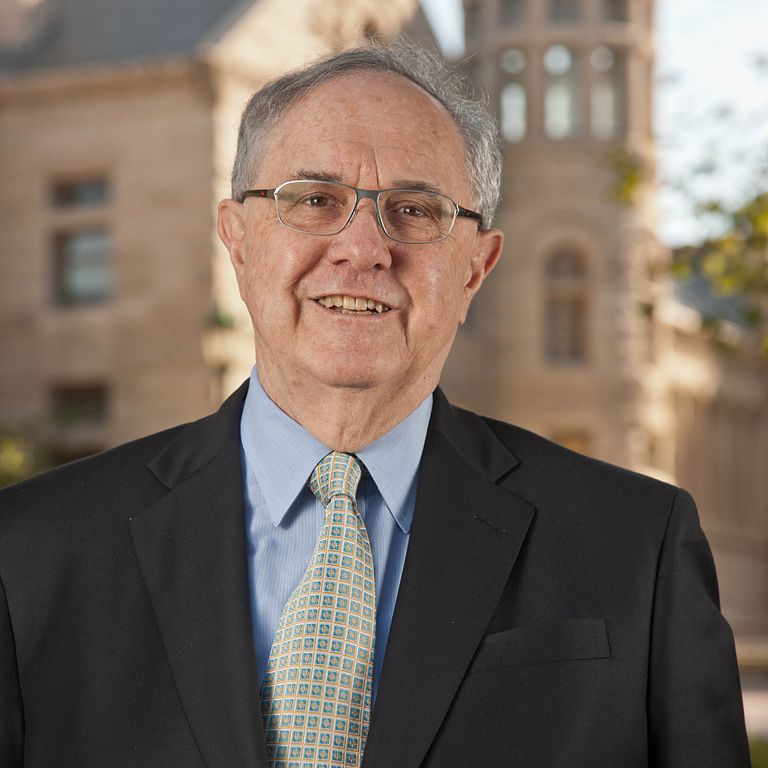 O'Meara, who earned his doctorate in political science at IU in 1970, was one of the principal contributors over many decades to building and expanding IU's international engagement and presence through what have become record-breaking study abroad programs that have become such a distinctive part of an IU education. Through agreements he fostered and established with universities around the world, he also ensured the institutional relationships that supported the activities of generations of scholars and researchers.
Remembered by colleagues and friends for his wisdom, wit, good sense of humor and ability to engage any and all in conversation, O'Meara served IU as a faculty member in the Department of Political Science in the College of Arts and Sciences and in the Paul H. O'Neill School of Public and Environmental Affairs, dean of International Programs, director of the African Studies Program, IU's first vice president for international affairs and chairman of the Center for International Education.
"For many decades, Patrick O'Meara was truly Indiana University's ambassador to the world, representing the university with extraordinary grace, intelligence, professionalism, collegiality and distinction, and helping to elevate IU's global reputation to remarkable new heights," IU President Michael A. McRobbie said. "In his various academic and administrative roles, he greatly expanded the range and depth of international activities at IU in recognition of the rapidly increasing importance of the international and global dimension of higher education for our students, our faculty and the communities we serve.
"At the same time, he also continued to further his reputation as an outstanding scholar in the areas of international development, comparative politics and African politics. Indeed, Patrick taught and mentored hundreds of students, many of whom are now faculty members and administrators at top universities across the nation and around the world.
"In 2007, when I became president, Patrick was the natural person to select as IU's first-ever vice president for international affairs, given his great dedication to international partnership and higher education. In this role he presided over a renaissance in IU's international engagement.
"Among his many other accomplishments in that role, he led the effort to establish one of the nation's first international strategic plans at any college or university. This plan has been instrumental in diversifying our campuses; expanding teaching and research opportunities for our faculty and staff; and ensuring that all of our students have access to an international education, including overseas study experience, that prepares them for successful lives and careers in today's highly interconnected global marketplace.
"Though he officially retired in 2011, he continued to serve the university as special advisor to my office and others across the university, who benefited enormously from his extraordinary wisdom, leadership and guidance. Patrick also received a number of IU awards, including the President's Medal for Excellence, which I had the pleasure of presenting to him in 2011 at the inaugural Patrick O'Meara International Lecture. This lecture series is – and will continue to be – a fitting way to honor all that Patrick gave to IU, and to his students, colleagues and friends over the years.
"One of the kindest, wisest and most genuine scholars our university has ever produced, Patrick will be greatly missed. On behalf of all of us at IU, I want to send our deepest condolences to his family, friends, former colleagues and others whose lives he touched and enriched."
O'Meara came to IU from South Africa in the 1960s as a graduate student, and he earned master's and doctoral degrees in political science with a specialty in African politics.
In 1970, he began his teaching career at IU as a visiting assistant professor in the Department of Political Science. In 1972, he received a tenure-track appointment in what was then the newly established School of Public and Environmental Affairs.
In 1972, he became director of the African Studies Program, a role in which he served for more than two decades. In 1977, IU Press published the first edition of his now-classic textbook, "Africa." Now in its fourth edition, the book has been one of the most popular introductory textbooks for African studies courses in North America for more than 40 years.
In 2011, the year of O'Meara's academic retirement, IU established the Patrick O'Meara International Lecture in celebration of his service to IU and his legacy of enriching IU's international engagement by bringing international thinkers and scholars of note to campus.
In addition to his faculty positions, O'Meara served as chair of the IU Center of International Development and as a member of the advisory board of the Center for the Study of Global Change at the Hamilton Lugar School of Global and International Studies.
Last summer, McRobbie and IU first lady Laurie Burns McRobbie hosted a virtual book launch to celebrate the publication of a new IU Press book by O'Meara and Leah K. Peck, who worked with O'Meara while earning her Ph.D. "Windows on Worlds: International Collections at Indiana University," produced in conjunction with the IU Bicentennial, highlights IU's rich international connections and longstanding global ties.
O'Meara was the recipient of multiple awards and distinctions, including the Cross of Saint George awarded in Spain; the Warsaw University Medal; the Amicus Poloniae from the Embassy of Poland; an honorary doctorate from the National Institute of Development Administration in Thailand; and the Gold Cross of Merit of the Republic of Hungary.
At IU, O'Meara was honored with the Thomas Hart Benton Mural Medallion, the John W. Ryan Award, the Distinguished Service Award, the President's Medal for Excellence and the Bicentennial Medal. In 2014, a Senate resolution on behalf of the state of Indiana formally recognized O'Meara's life and accomplishments at the Indiana Statehouse.
Those wishing to celebrate and honor O'Meara's life and legacy are encouraged to give a gift through the IU Foundation in support of the Patrick O'Meara Scholarship.