A final project often means several hours of study in the library. For a couple of The Media School students at Indiana University, it involved a music video shoot at Griffy Lake, with creative help from fellow students in music and dance.
When Media School seniors Ellie Vanbuskirk and Zach Milnamow chose to create a music video as their final project for the MSCH-P362 cinematography course, they headed straight to social media to search for a band to star in it. They loved the sound of Bloomington-based, female-fronted pop rock duo GraceKellie, so they sent a message and found a willing project partner.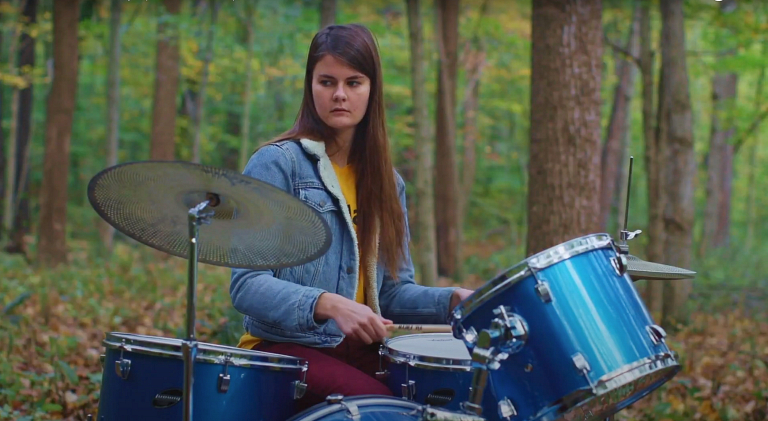 "It was sort of a double-hitter, because we were also trying to find guests for the show we work on together called 'Not Too Late,'" Milnamow said. "They were both guests on the show, and then they did the audio performance for our music video."
The duo, which consists of Jacobs School of Music audio engineering and sound production students Grace Leckey and Kellie McGrew, sent their album and one unreleased song to Milnamow and Vanbuskirk to choose from.
"We said, 'You can pick whatever you want; we'd be down for whatever you have a vision for,'" Leckey said. "And they really liked 'Vanity.'"
After Leckey and McGrew explained the meaning of the song, which describes how the feminine portrayal of confidence is seen as vain or shallow through the male lens, Milnamow and Vanbuskirk had the idea of adding dancers to the video.
"The colors that the dancers wear in the video are on purpose to mimic the colors that Kellie put in the single art," Leckey said. "It's a dark pink and a yellow, and we tried to wear those colors too to match the dancers."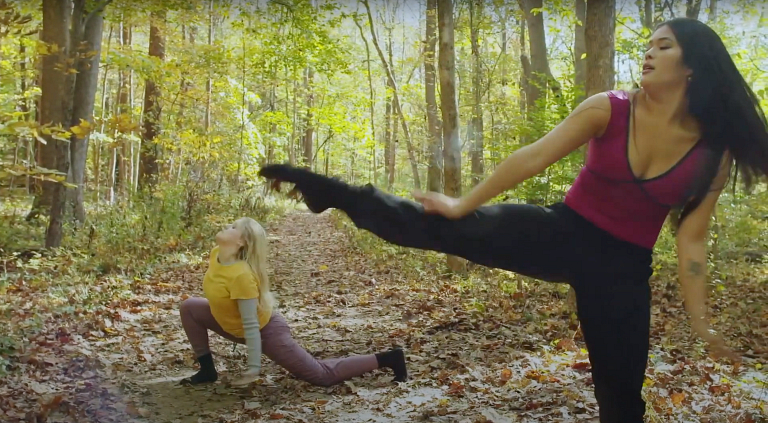 The single art for "Vanity," which was created by McGrew, features a quote from English art critic John Berger. It describes how an artist painted an image of a nude woman, but then labeled it 'Vanity,' therefore "morally condemning the woman whose nakedness you had depicted for your own pleasure." It was inspired by the story of a suffragette, Mary Richardson, who slashed a painting with a meat cleaver while it hung in the National Gallery in London in 1914. The painting, "The Rokeby Venus" by Diego Velázquez, shows a nude woman lying on a bed, looking at her reflection in a mirror held by Cupid.
"It's the first thing I'd thought of when Grace presented the lyrics to me," McGrew said. "So it all kind of ties together. I think it's just such an interesting story."
After spending a total of four hours filming the video, Milnamow and Vanbuskirk spent a full day's worth of time downloading and coloring the footage and then editing the clips in Adobe Premiere. Though they stumbled across some technical difficulties when downloading the footage, the biggest challenge was finding their creative direction.
"Neither of us have big dance backgrounds, so trying to go about coordinating the dance with the song was difficult," Vanbuskirk said. "There was one bit that they had pre-choreographed for the chorus, so we had them do that a couple of times at different angles. But sort of all the other filler moments were hard when we were filming them, because you're trying to pre-edit in your head.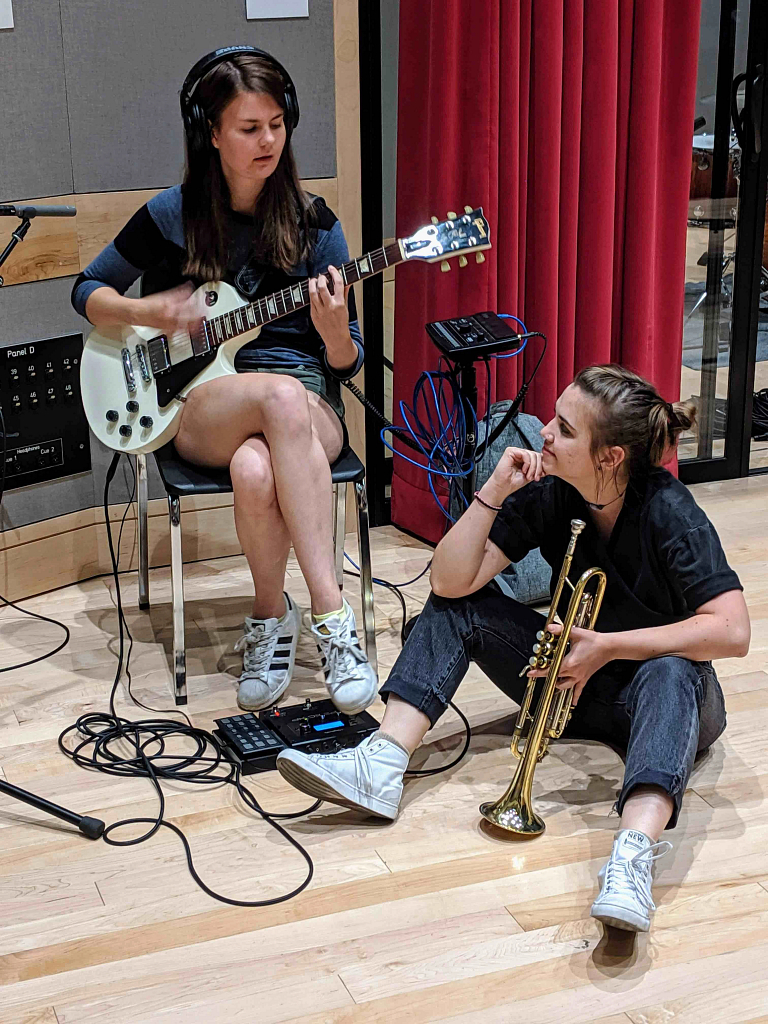 "Actually trying to film it, and not knowing a whole lot about dance, we were wondering, 'Is there something that would be really cool that I just don't know how to articulate with dancer terminology?' But it was really cool and enjoyable to do."
The dancers featured in the video are Picabo Saunders and Caroline Moeller, students from the Department of Theatre, Drama and Contemporary Dance. Moeller and Saunders interpreted the song with choreography, which gave Milnamow and Vanbuskirk the opportunity to capture their movements in a captivating way that expressed the powerful meaning of the song.
"I was so grateful that they were willing to do this, but I was hoping it wasn't too big of an ask for what we were asking them to do with creating moves," Vanbuskirk said.
A highlight for Milnamow and Vanbuskirk was getting to see Leckey and McGrew's passion for performing shine through during the filming process.
"After a few times that we ran through the song a little bit, we were seeing Grace and Kellie just get into it," Milnamow said. "Our goal was sort of to just act like we weren't there. Sometimes we would have people way on the side staring at this band playing in the middle of the woods, and seeing them just lock in and perform was really cool."
For all parties involved, seeing the other students get creative and passionate was most memorable to them.
"One of my favorite moments was when I got to see the footage of the dancers," Leckey said. "They were recorded earlier that day, and we had no idea what they were doing or who they were, really. It was really cool and fun to get to use them in the video."
Leckey and McGrew plan to release an eight-song album this summer, which they are in the process of recording. McGrew, who will graduate in May, plans to move to Los Angeles and get a job at a recording studio. In the same vein, Vanbuskirk and Milnamow, who also graduate in May, hope to move to Los Angeles and continue working in media.
"I do want to work on productions, including music videos within the camera team, so this was perfect experience for me," Milnamow said. "The sets and the crew being a lot bigger and more extravagant is something to expect, but just understanding the process a little more was really helpful."