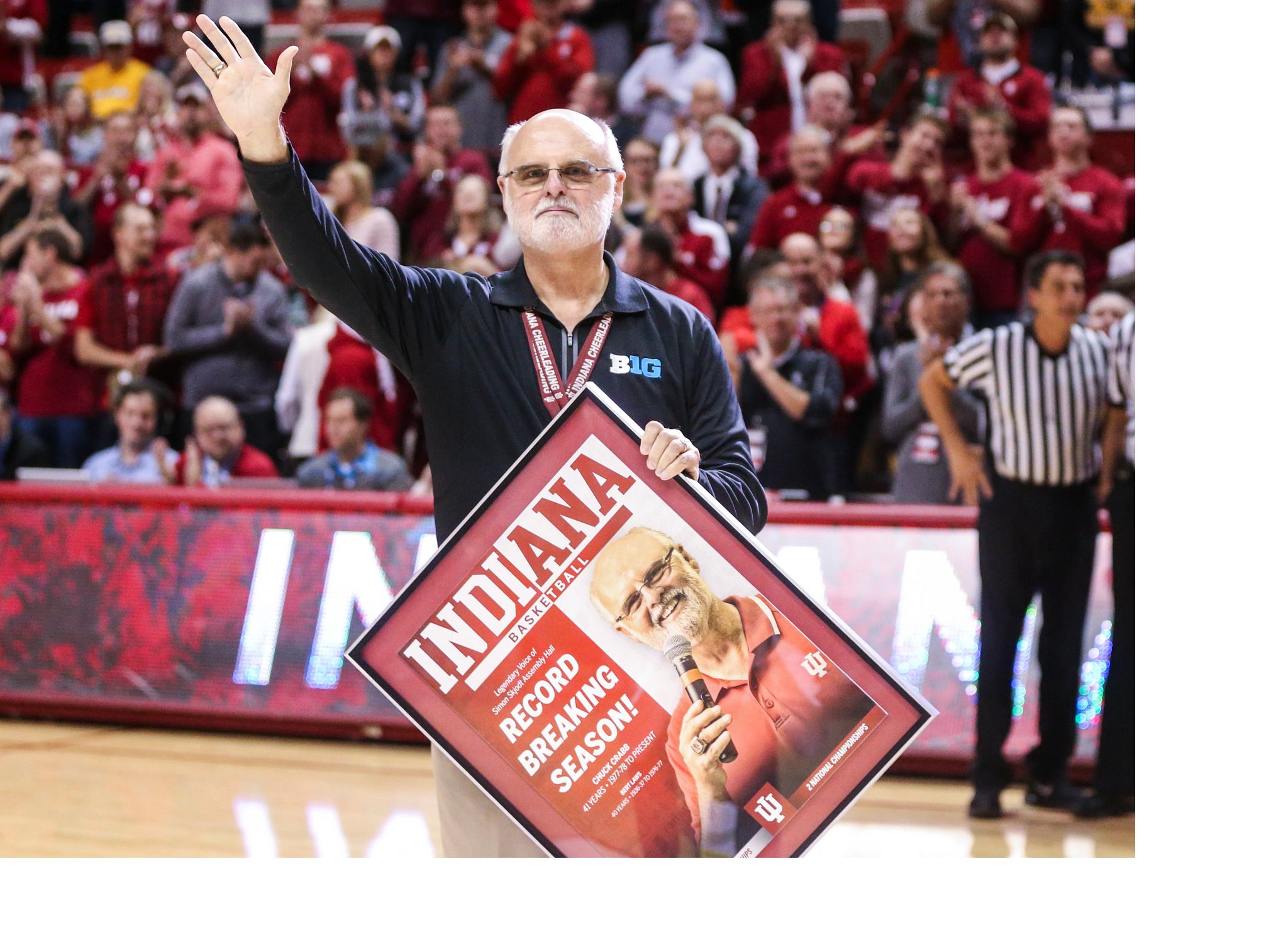 By day, he's Indiana University's senior assistant athletic director for facilities, involved with capital and maintenance projects and scheduling for the athletic venues on the Bloomington campus.
By night, he's the iconic voice of Simon Skjodt Assembly Hall, introducing the men's and women's basketball teams and keeping fans apprised of the action as the public address announcer.
Chuck Crabb's signature introduction rolls off his tongue in a smooth, baritone voice: "Ladies and gentlemen, your Indiana Hoooooosiers!"
In both roles, Crabb is one of the IU Athletics' staff members playing a key role in this year's NCAA Division I men's basketball tournament. All of the games are being played in Central Indiana for COVID-19 safety reasons, and Simon Skjodt Assembly Hall is one of the competition venues. Assembly Hall will host First Four and first-round games March 18 to 20 – the first time it has hosted NCAA tournament games in 40 years.
Crabb's face and voice will be on the national stage as he handles the public address duties for the games IU hosts, just like he did for the 1979 and 1981 NCAA tournament games at Assembly Hall.
"The NCAA asked me what role I would like to serve," Crabb said. "I jumped on that very quickly and said I would be happy to be the PA announcer."
He's also among the IU Athletics staff members who are working with the NCAA to make sure games at the venue ensure the safety of the participating teams, while also producing memorable experiences.
"I'm excited for the opportunity. I don't know if it's one last hurrah because I don't know if IU will get to host again," said Crabb, 70, who is in his 45th year working in the athletic department. He has handled public address duties since the 1977-78 season. "Along with my other colleagues in the department, we want to give it our best. I hope everyone has a good time here."
Dual tournament roles
Part of ensuring a good time is keeping players, coaches, team staff and anyone else in Simon Skjodt Assembly Hall as safe as possible. Crabb and others from IU Athletics have met with NCAA professional staff members to discuss their specifications for the hosting venues. Those meetings have included walking tours of the building.
One of the priorities has been identifying rooms for participating teams to use that allow for 6 feet of physical distancing between people, Crabb said. Other tournament preparations have included creating spaces for the TV networks and building platforms for their cameras, reviewing COVID-19 testing protocols and learning about the portable court the NCAA will use for the games.
The NCAA takes to each competition venue a portable basketball court that features specific tournament branding logos, Crabb said. McCracken Court, on which the IU basketball teams play, will serve as a base underneath the NCAA's portable court.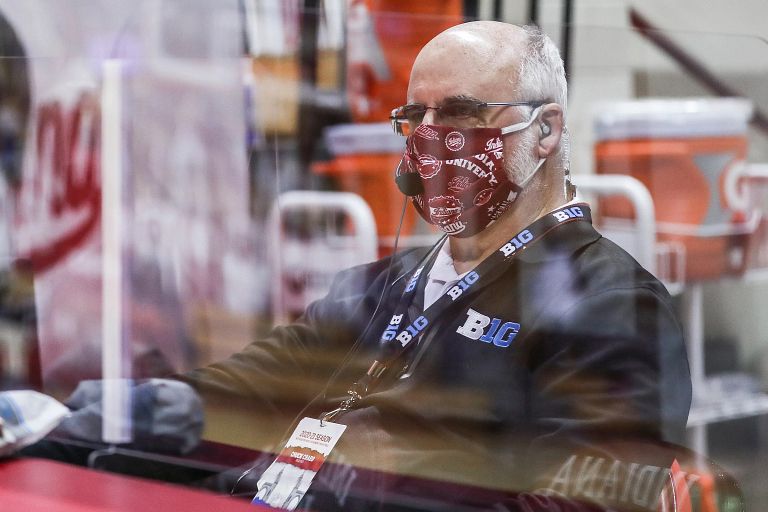 It's Crabb's work behind the microphone that will catch the attention of fans, players and coaches, though. They'll hear – some for the first time – the way he emphasizes certain words during player introductions, such as, "A 6-2 soph-o-more from … ."
They'll hear his straightforward, clear and concise approach to his PA duties, avoiding rah-rah emotion or favoritism. That's intentional.
"I've always kept in mind as the PA announcer that I am an impartial reporter," Crabb said. "I'm not a cheerleader. I want to help inform people about what is happening on the floor. It's measured, not sing-songy."
Once the NCAA tournament teams are selected, and Crabb knows which teams will play at Simon Skjodt Assembly Hall, his game preparations will kick into high gear. That includes getting familiar with the names on each team's roster and how to pronounce them properly.
During regular-season games, Crabb also keeps his own stats, follows a script of information he needs to know and share, and coordinates media timeouts with the TV network broadcasting the game. Of course, he's doing that this season with plexiglass on three sides of him and while wearing a mask as COVID-19 safety measures.
"I think Chuck is a true professional," IU Athletic Director Scott Dolson said. "He does a terrific job in his work he has in his day job. Secondly, his voice along with (IU radio play-by-play announcer) Don Fischer's is like comfort food; everything is the way it's supposed to be."
A reporter first
Crabb credits his approach to public address announcing to his journalism background and advice he received early in his career.
A native of Brazil, Indiana, Crabb showed an early interest in PA announcing. When he was a student at Brazil High School, the principal and athletic director let him perform the PA duties for basketball games as a junior and senior.
However, he envisioned a career that involved writing instead of public speaking. Crabb was a journalism major at IU, where he studied from 1969 to 1973.
He helped at basketball games as a student assistant with the sports information department, and he was a correspondent for the Herald-Telephone newspaper, which is now the Herald-Times.
"I thought I was going to be the next Grantland Rice," Crabb said, referencing the famed sportswriter.
His journalism career included a year at the Tribune-Star in Terre Haute and two with the Brazil Times. However, Crabb's love for IU led him to take a promotions and community relations job with the Varsity Club in 1976. One of his first tasks was leading a season-ticket campaign for the football program.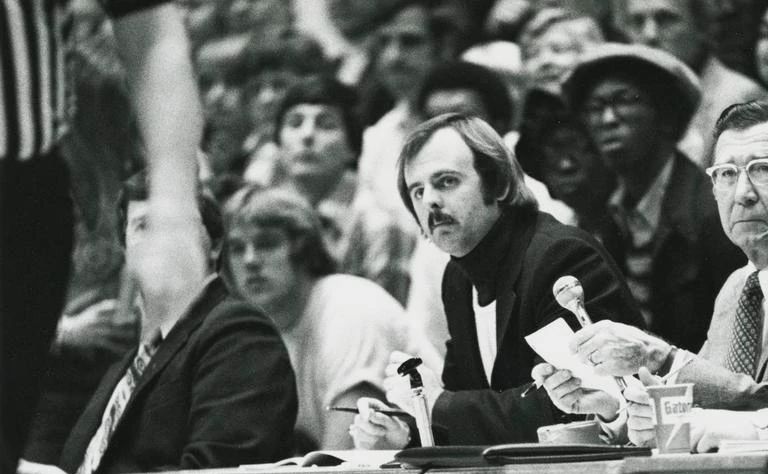 Crabb's love for PA announcing never left him, though. He had been doing announcing for IU's track and field teams off and on since 1972, and he had his eye on becoming IU's PA person.
Crabb knew that Bert Laws was going to retire as IU's PA announcer at the end of spring semester 1977, after 40 years in the role. Crabb also knew that Assistant Athletic Director Ralph Floyd's son played basketball at Edgewood High School. So, he used some connections to land the PA duties for an Edgewood vs. Brazil basketball game in December 1976 – sort of an informal audition.
"Mr. Floyd heard me and brought me in the next week. He said, 'You're pretty good. Let's keep meeting,'" Crabb said.
Athletic Director Paul Dietzel was flooded with interest from applicants with radio and TV backgrounds, but a comfort level with Crabb eventually led to him being offered the job starting with the 1977-78 school year.
In addition to men's basketball and track and field, he's served as IU's public address announcer for football, men's soccer and women's basketball over the years. He currently is the PA announcer for men's and women's basketball, and men's and women's track and field.
Dolson said Crabb must have discovered the fountain of youth, because he's still going strong after all these years.
"He's still got a lot of movement left on his fastball. He's still on top of everything," Dolson said.
The athletic director added that it's really up to Crabb to decide when to walk away from his PA duties.
As much as Crabb loves that role, that might not be soon.
"I enjoy helping people appreciate and understand the event they are watching," he said. "That's my passion, which also is an extension of the love I have for sports and for Indiana University.
"I enjoy the opportunity to meet and work with alumni, coaches, professional staff and the 600 to 700 student-athletes. How could you not enjoy getting to know the kids and report and celebrate their accomplishments?"
"Making the Madness" is a feature series that explores the IU Bloomington and IUPUI students, staff, faculty, alumni and venues involved in hosting the 2021 NCAA Division I men's basketball tournament.