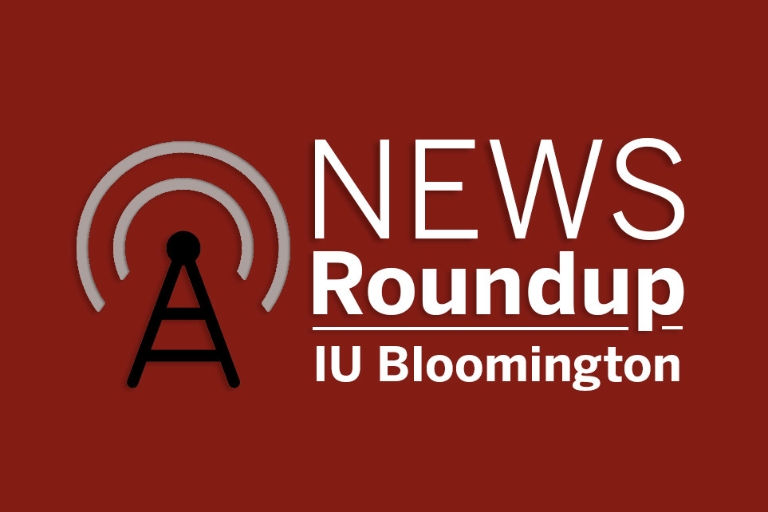 Receive free mental health first aid training as a way to help others
Prevention Insights at the IU School of Public Health-Bloomington will be offering free, virtual training sessions on mental health first aid. Anyone in Monroe County can become trained to recognize the signs of a struggling friend, family member or colleague.
Mental Health Awareness Training project director Heather Dolne works for Prevention Insights, which was established to assist with drug use prevention but has since added mental health training to its many services.
Prevention Insights will be offering the training on March 24, April 22 and May 14.
Webinar series focuses on heath care in rural communities
IU is offering a three-part webinar series that will examine common barriers to expanding health care access in rural communities and solutions to overcoming them.
The series is presented by the Indiana University Center for Rural Engagement, the IU School of Public Health-Bloomington and the Office of Public Health Practice.
The first session, about health insurance, will take place from noon to 1 p.m. March 2. Three experts, including Herman B Wells Endowed Professor Kosali Simon in the Paul H. O'Neill School of Public and Environmental Affairs, will serve as panelists and discuss the ways health insurance impacts access to care and tested solutions to overcome insurance-related barriers. Register to participate by Zoom.
Session 2, "Language, Geography and Transportation Barriers," is scheduled for April 6, and Session 3, "The Healthcare Provider Shortage," is slated for May 4.
New tool visualizes relationship between misinformation and COVID-19 vaccine adoption
A new project from Indiana University's Observatory on Social Media, or OSoMe, points to misinformation as a factor affecting COVID-19 vaccine adoption.
Polls suggest that roughly one-quarter to one-third of the American public remains hesitant to get the vaccine.
Working with colleagues from the Polytechnic University of Milan in Italy, the OSoMe team has created a publicly available dashboard called CoVaxxy to explore the relationship between misinformation on Twitter and attitudes about COVID-19 vaccines.
Check webinars and websites for updated COVID-19 information
Dr. Aaron Carroll had good news to share about the data on IU's COVID-19 dashboard during the Feb. 24 "Ask Aaron" webinar.
"This may have been the best numbers we have seen since we've been recording numbers on campus, probably even including the fall," said Carroll, one of the leaders of IU's COVID-19 Medical Response Team. "Across the board, positivity rates were very, very low."
The dashboard is updated every Wednesday with data for all IU campuses.
IU will continue with its mitigation testing to prevent a spike in positive cases, Carroll said, but "everyone is clearly doing the right things." If the low positivity rates continue, then IU could reduce the amount of mitigation testing in two weeks, he added.
Faculty, staff and students can learn more about the virus and IU's efforts to fight it by participating in an upcoming "Ask Aaron" webinar.
The next webinars for all campuses are March 3, 10 and 17. Additional webinars are planned throughout the semester. Those unable to tune in live can watch the recordings at broadcast.iu.edu.
For information about who can get the COVID-19 vaccine and when, visit IU's COVID-19 vaccine website.
Researchers study how social and economic exposures contribute to dementia
By 2050, 75 percent of Alzheimer's disease and related dementia cases will occur in low- and middle-income regions. That raises question about the roles that social and economic exposures play in whether people develop dementia.
A project by Indiana University School of Public Health-Bloomington researchers and partner universities will determine how exposures to disadvantageous socioeconomic conditions in mid- to later life affect memory decline and Alzheimer's disease and related dementia risk.
The project is funded through a $2 million National Institutes of Health grant.
WFIU's Ernie Pyle podcast a finalist for audiobook industry award
WFIU's podcast "The Ernie Pyle Experiment!" is a finalist for an Audie Award in the Audio Drama category, the Audio Publishers Association announced.
The Audie Award is recognized as the most prestigious award in the audiobook industry. It honors the authors, narrators and publishers who have contributed to excellence in audiobook storytelling, performance and production, and the explosive growth of the medium.
WFIU's 13-episode podcast series was created from the archives of the Ernie Pyle collection at the Lilly Library of Indiana University. Released last year, it chronicles Pyle's pre-war work as a traveling columnist for the Scripps-Howard Newspaper syndicate.
The Audio Publishers Association will announce winners at the 26th annual Audie Awards virtually on March 22.
Kelley School researchers study nearly 50 years of auto recalls
Researchers from the Indiana University Kelley School of Business analyzed 48 years of auto recalls in the United States and found that manufacturers delayed announcements so they could "hide in the herd."
The delays suggest that recall announcements may not be triggered solely by individual firms' product quality defect awareness or concern for the public interest, but may also be influenced by competitor recalls, a phenomenon that no prior research had investigated.
Researchers analyzed 3,117 auto recalls over a 48-year period, from 1966 to 2013.
School of Education professor studying encouragement as a social support
Joel Wong, School of Education department chair and professor of counseling and educational psychology, has been researching the psychology of encouragement. With a new study, he hopes to understand the power of encouragement for Black college students as a means of social support – and a tool to disrupt the negative effects of racism.
Although encouragement is commonly used in daily social life as a means of social support, Wong said that why, how and when it works is poorly understood.
Professor emeritus plays key role in building IU's relationship with South Korea
Roy Shin, professor emeritus in the O'Neill School of Public and Environmental Affairs, has spent four decades connecting South Korea and IU, which has been critical to IU's mission of global engagement.
South Korea is a leading country of origin for IU international students, with more than 600 current students and 6,000 living alumni, and IU has many strong relationships with several of Korea's leading research and educational institutions.
Shin has also accompanied IU President Michael A. McRobbie on several IU delegations to South Korea. On Feb. 3, McRobbie hosted a surprise virtual ceremony to honor Shin with a Bicentennial Medal for his many years of distinguished service and extensive contributions to IU's international mission.