Those who take a stroll past the Tracks store on Kirkwood Avenue in Bloomington might have noticed the custom Indiana University-themed clothing designs in the window.
There's a good chance those designs – and what thousands of college students are buying – were created by Emily Regnery, a sophomore in the IU Kelley School of Business.
Regnery often recognizes students wearing her designs on campus and loves seeing her designs being supported by the IU community, she said.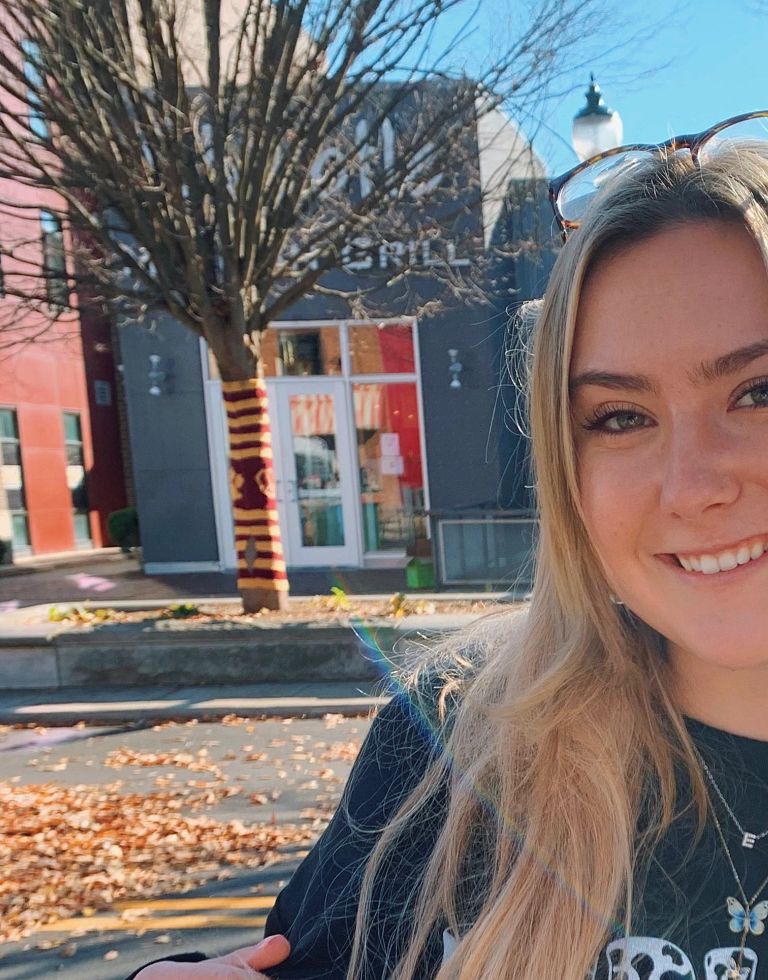 "Occasionally, I will say, 'Hey I designed your sweatshirt,'" Regnery said. "It's really cool, and it's a sense of pride for me."
Regnery is from San Diego, California, and both of her parents graduated from IU. Regnery majors in entrepreneurship in the Kelley School and minors in art in the Eskenazi School of Art, Architecture + Design.
"I've been drawing and designing since I could hold a pencil," she said.
During her freshman year, Regnery discovered that Tracks was looking for a new clothing designer. Regnery was tempted at the time but wanted to focus on her academics during her first year at IU, she said.
Fast forward a year later, and Regnery found herself working at Tracks 12 hours a week and putting out a new clothing design every three weeks. Any of her designs that are sold are submitted to one of Indiana University's licensed vendors, who submits it to the Office of Licensing and Trademarks for review and approval. Once approval is obtained, the design is printed and sold at retail.
Regenery's inspiration comes from IU students themselves as well as social media.
"I really like to look at what the students are wearing on campus," she said. "I've actually stopped multiple girls in the store before and just been like, 'Hey, I'm a designer for Tracks. I love your sweatshirt. Can I take a picture of it?' So I have an album on my phone of just random girls' sweatshirts."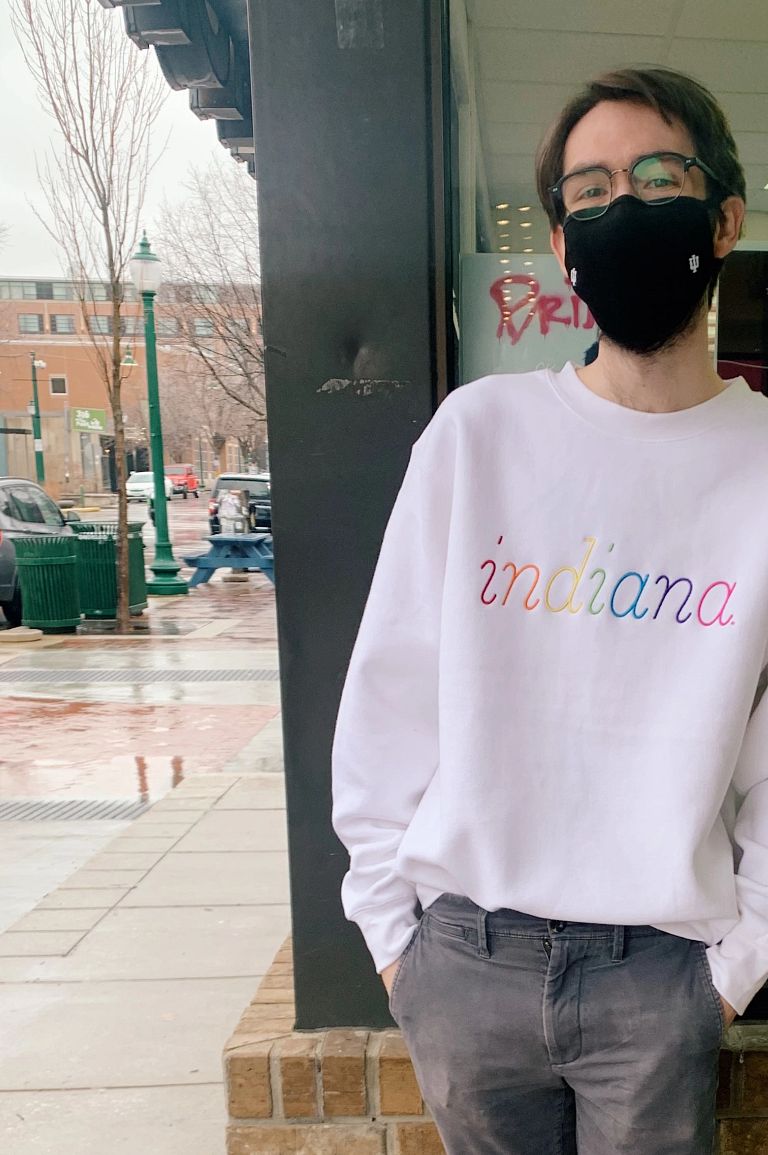 Regnery said these pictures help her figure out what designs are popular on campus and what designs would sell versus the ones that won't. While she never replicates the designs, they help her incorporate popular trends into her classic, collegiate designs.
She sketches her ideas and uses Adobe Illustrator to bring her designs to life. And she's applied the lessons learned in her classes to boost her success as a Tracks designer.
"Through my classes at IU, I have learned the basics of CSS, HTML and JavaScript code and how to do much more intricate things in Photoshop and Illustrator than clothing designs," Regnery said. "Not only can I just draw in these programs, but I can also create designs in multiple other media formats."
While Regnery is always working on some sort of design project every day, much more goes into the process than just sketching up an idea, she said.
First, Regnery researches popular trends. For example, what's popular on the West Coast might not hit the Midwest until spring, so she's always hunting on social media for the latest trends in the country and keeping an eye out for when those trends will hit Bloomington.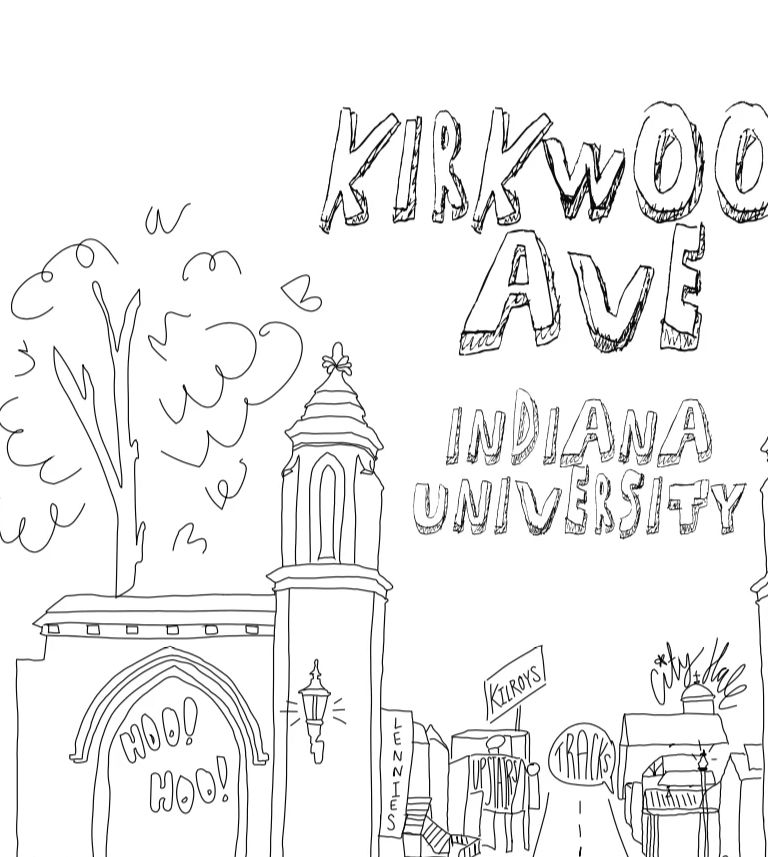 Once the designs are drawn and ordered, sometimes they can take up to three months to hit the shelves due to ordering delays from COVID-19-related issues. But even though the ordering process has slowed down, Regnery said she and her boss are always communicating new clothing ideas.
Regnery said she has a wonderful relationship with her boss, who gives her the freedom to design whatever she wants.
"Some designs are hits; some are misses," she said. "There's no beating around the bush. There's 'I like this,' or 'I don't like this.'"
Regnery especially likes cartoonish designs, like her black-and-white design of the Sample Gates, she said. She also values the simplicity of designs that aren't too flashy, like her recent embroidered rainbow "Indiana" sweatshirt that took her seven minutes to sketch.
In the future, Regnery hopes to become a project manager at a retailer tech company and move back home to San Diego or a larger U.S. city. Until then, you can catch her working at Tracks or see her designs all over campus.
"We have a great community within Tracks where everyone is really supportive of one another," Regnery said. "I show all my co-workers my designs, and they tell me what they think, if they would personally wear it, if they know someone who would wear it or if they point-blank hate it. It's awesome."