Indiana University Bloomington is now home to a new facility for long-term bicycle parking that's intended to make commuting to campus on two wheels more convenient for faculty, staff and students.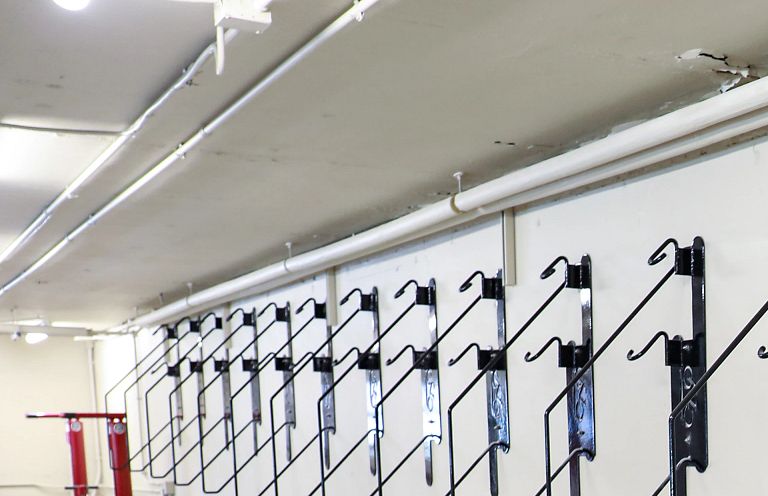 More than 100 bicycle racks are available on a first-come, first-served basis. While the majority of the racks are vertical, about 10 horizontal racks on the floor are reserved for larger cargo and recumbent bikes, or for people who are unable to lift their bikes to a vertical position.
Current students, faculty and staff can access the Ballantine Bike Hub at any time using their CrimsonCard.
"The bike hub will provide bicycle commuters the peace of mind that their bike will stay dry and that it will still be there whenever they are ready to ride home," said Anna Dragovich, IU Bloomington's transportation demand management coordinator and bicycle manager.
Users are encouraged to lock their bike at all times with heavy U-locks through the frame and both tires for maximum security, she added.
The bike hub was first imagined as part of the 2015 Indiana University Bicycle Master Plan, which includes goals of enhancing the quality of life of IU students, faculty, staff and the larger university community, and strengthening the connections to the city.
IU Bloomington is a silver-rated Bicycle Friendly University by the League of American Bicyclists, Dragovich said, but the new hub is one of several recent bicycle projects that could push the campus to the gold level.
"This is a great opportunity for bicycling on campus because these types of facilities can open the door to more people making a commute by bike their first choice," Dragovich said of the new hub.
In the master plan, the hub's location by Ballantine Hall was described as "the logical nexus of daily student flow, and particularly for those who are, or will be, using bicycles."
Dragovich said the hub could be used for bicycle-related events in the future, such as maintenance classes, when such events are permitted again.
"The Ballantine Bike Hub has the potential to be a social nexus on campus by hosting maintenance nights or other events desired by the IU community," she added.
Before the opening of the new bike hub, the only similar facility was an interior bike room at the Cyberinfrastructure Building, which holds about 35 bikes. However, that is only for CIB employees, and it doesn't have repairs stations or a vending machine, Dragovich said.
The hub makes biking more convenient for those who want to reduce the local carbon footprint or get some exercise, she added.