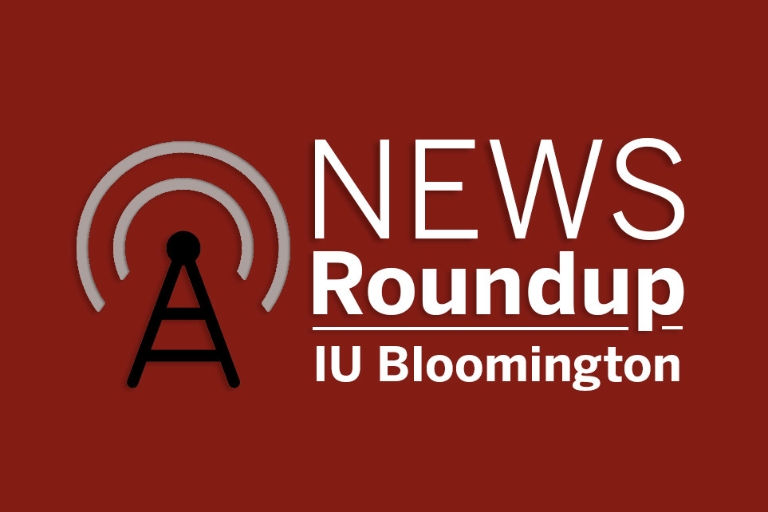 IU Herbarium seeks photos to document state flora
Indiana University is seeking citizen-scientists throughout Indiana to help photograph all plant species that comprise the state's flora.
The 2021 Indiana Plant Photographic Scavenger Hunt is looking for help in documenting the more than 2,700 plant species in Indiana with colorful, detailed images. The IU Herbarium, which completed a massive, five-year digitization project in 2019, is upgrading its collection with photos of live plants from all over Indiana.
Once a plant has been identified, participants can upload their photos on the Photographic Scavenger Hunt website. The IU Herbarium scientists also hope to collect the tentative species, when the photo was taken and specifics about the location of the photo such as habitat, latitude and longitude.
School of Education brings back science and art classes for children
Although the COVID-19 pandemic caused the cancellation of many events, two important programs continued in the fall: Saturday Science Quest for Kids and Saturday Art School at the IU School of Education.
The programs took place over six Saturdays, mixing in-person and online classes as needed and allowing children in kindergarten through sixth grade to learn from Indiana University Bloomington School of Education students – and each other.
In Saturday Science, children took a deep dive into science topics, formulated questions, performed hands-on science experiments and acted like scientists. Saturday Art classes explored lessons around the theme "Connections," with classes that were inspired by artists representing diverse populations.
Students will again have that opportunity this spring, with the two programs joining forces to offer an integrated, in-person-only program that will run all four Saturdays in April, and again with all COVID-19 safety protocols in place. While lessons are still being finalized, organizers hope to use the outdoors as much as possible.
Encourage students to take engagement survey
IU Bloomington faculty and staff are asked to encourage students to take the National Survey of Student Engagement. It is administered once every three years to first-year students and seniors at IU Bloomington to gauge their experience and the quality of undergraduate education they receive.
The survey helps campus administrators make decisions about programming, services and space allocation, among other things.
Participants will be eligible for drawings for Amazon gift cards, and four grand prizes will be awarded. Two seniors will win a padfolio, lifestyle swag, professional headshots and graduation regalia rental. Two first-year students will win a leather padfolio, lifestyle swag, athletic gear, professional headshots and two tickets to the 2022 Little 500 and 2022 Chimes of Christmas.
The survey opens March 16 and takes 15 minutes to complete. Students should watch for a survey invitation by email and Canvas.
'Ask Aaron' webinars and vaccine website offer helpful information
IU Bloomington's low positivity rates for COVID-19 and the reduced age limit for getting vaccinated for the virus were topics of discussion during the March 3 "Ask Aaron" webinar, and Dr. Aaron Carroll offered advice for safety and vaccinations.
Although IU's COVID-19 dashboard data reflected very few positive cases in the dorms, fraternities and sororities, and off-campus housing, he said the variant strains of the virus and a tendency for people to relax with safety are all the more reason to continue to be careful.
And while the state has reduced the age to receive a vaccination to 50 and older, Carroll, one of the leaders of IU's COVID-19 Medical Response Team, said people shouldn't wait for the vaccination site on campus to be up and running before getting the vaccine. The Bloomington campus site is going through the state's approval process.
Faculty, staff and students can learn more about the virus and IU's efforts to fight it by participating in an upcoming "Ask Aaron" webinar.
The next webinars for all campuses are March 10, 17, 24 and 31. Additional webinars are planned throughout the semester. Those unable to tune in live can watch the recordings at broadcast.iu.edu.
For information about who can get the COVID-19 vaccine and when, visit IU's COVID-19 vaccine website.
WFIU music-guessing game celebrates 50th anniversary
WFIU's radio show "Ether Game" will celebrate its 50th anniversary on March 16. The weekly music-guessing game airs at 8 p.m. Tuesdays and focuses on classical music, but it also features movie soundtracks, jazz, folk and rock.
The current show began to take shape in the 1980s when listeners were invited to call in their answers.
Current "Ether Game" host Chris Burrus and former host Mark Chilla, who is WFIU's program director, are both graduates of the IU Jacobs School of Music.
2 seniors receive Yenching Academy Scholarship
IU Bloomington seniors Richard Liu and Ethan McAndrews were awarded the Yenching Academy Scholarship to pursue graduate studies at the Yenching Academy of Peking University in Beijing, according to the Office of the Vice Provost for Undergraduate Education.
The scholarship covers tuition, accommodations, living and travel stipends.
Liu intends to research urban and rural inequalities in China. McAndrews plans to study how the COVID-19 pandemic has affected diplomacy and international communication between China and the U.S.
School of Education professor creates toolkit to help students with dyslexia
An IU School of Education faculty member co-wrote a new resource for teachers who work with students that have or are at risk for dyslexia, and it's now available from the Indiana Department of Education.
The Dyslexia Toolkit is a free resource that provides educators with materials such as articles, teaching guides, sample lessons and videos that can be used to teach basic reading skills to students with and at risk for dyslexia, a learning disability that often leads to struggles with basic reading and language.
Kelly Williams, assistant professor of special education and lead author of the materials, said some educators do not have access to high-quality instructional materials or curricula. The toolkit attempts to fill that gap.
New chair named for Department of Epidemiology and Biostatistics
Douglas Landsittel has been appointed chair of Department of Epidemiology and Biostatistics in the Indiana University School of Public Health-Bloomington.
He comes to the School of Public Health from the University of Pittsburgh. He has a background in occupational injury and exposures, biomarkers and prognostic models, and causal inference.