How are you feeling? Do you feel present in your personal relationships? What are your academic and professional goals? What are your dreams?
These are questions that Black men don't often get the opportunity to answer, according to Rory James, director of the Office of Student Diversity and Inclusion at the IU School of Public Health-Bloomington. And they are questions that will be asked of men who participate in the new "You Good?" initiative James is launching along with Dennis Daniels, assistant director for sexual violence prevention in the Division of Student Affairs, and Tevin Jackson, a counselor for the IU Student Health Center's Counseling and Psychological Services, known as CAPS.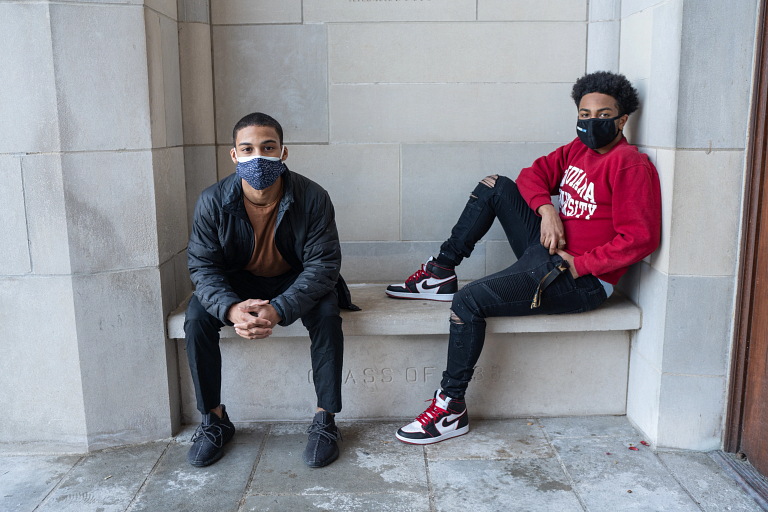 "You Good?" is a campus-wide gathering that will offer a safe space for Black and African Diasporic men to build social support and form relationships and connections across campus. The first virtual meeting, from 4 to 5 p.m. March 16, will focus on topics including relationships, masculinity, academics and life aspirations, campus support, and self-improvement.
Jackson, who completed both his undergraduate and graduate degrees at IU Bloomington, said that being a Black student at a predominantly white institution can be overwhelming and at times isolating. It can be hard to meet other Black men when you may be the only Black person in your class or on your dorm floor.
For these reasons, CAPS has launched initiatives to meet underrepresented students where they are. CAPs counselors are embedded at culture centers, including the Neal-Marshall Black Culture Center, and have started hosting informal, walk-in sessions in spaces across campus through a program called Let's Talk Now.
But the organizers of "You Good?" recognized that formal counseling can be intimidating, and there was still a need for a safe space for Black men at IU to gather and address issues and form community. The racial injustice, fear and isolation that engulfed 2020 made this need even more urgent.
"We have all been suffering this year, especially those of us in underrepresented groups," Daniels said. "And while many of the struggles of historically disenfranchised people are similar, there are also needs and concerns that are unique to Black students and particularly Black men."
"Because of the pandemic, so much of the focus in public health has been on preventing the spread of disease, but emotional and mental well-being are a key component," James said. "We need to be asking our Black men 'How have you been?' because, frankly, some of them could have been Ahmaud Arbery. What happened to George Floyd is a Black man's worst nightmare come true."
Men are socialized to "toughen up" and not express these fears, but organizers hope that "You Good?" chips away at the stigma associated with mental health challenges and provides a judgment-free arena for Black men to talk about their fears and concerns in a frank and honest manner.
"We want gentlemen to show up at 'You Good?' and not have to worry about code-switching," Jackson said. "Yes, it will be structured and it will be professional, but it will also be raw. We are not asking them to do much but show up and be themselves."
The organizers also hope the program will provide a space for Black men to celebrate one another, make connections and break down silos that exist within their community. The community of Black men at IU is diverse and includes undergraduate students, Ph.D. candidates, queer Black men, Muslim Black men, student-athletes and much more.
"We are excited for all of these Black men to come together and say, yes, we have race and gender in common, but you are still different from me and I'd like to learn more about your experiences," James said.
More than anything, though, the organizers hope that attendees of "You Good?" will walk away feeling more aware of and more comfortable with the resources that are available on the IU Bloomington campus. Daniels said studies show that members of underserved communities who have experienced racism and implicit bias are less likely to report violence or sexual violence or to ask for help.
"If nothing else, I hope 'You Good?' lets these men know that there are support staff, student support staff and leadership on this campus who want to keep a sense of camaraderie with students, and we are genuine about that," Daniels said. "Rory, Tevin and I are truly here to build relationships. We're not just talking it; we're walking it."
The hope is that the event will grow and evolve, but whether it becomes a discussion series, a student organization, a podcast or something else will be decided by the students who participate. The organizers are devoted to letting the Black men on campus set the agenda.