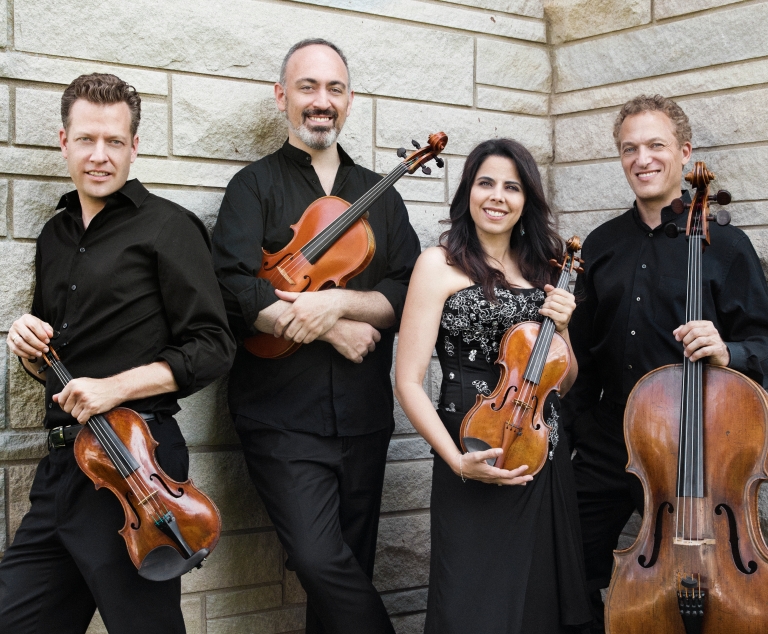 Jacobs School quartet, alumna win Grammy Awards
Pacifica Quartet, the Jacobs School of Music's quartet-in-residence, won a Grammy Award for the ensemble's most recent album, "Contemporary Voices," which was nominated for Best Chamber Music/Small Ensemble Performance. The Grammy Awards were presented Sunday night in Los Angeles.
The Grammy is the quartet's second. It won in the same category in 2008.
Jacobs alumna Laura Sisk also got to share in some Grammy accolades. Sisk was an engineer/mixer on Taylor Swift's "Folklore" release, which won Album of the Year and was nominated for Best Pop Vocal Album. The song "Cardigan" from the album was nominated for Song of the Year.
It was Sisk's fourth nomination, with a win in 2016 for her engineering work on Swift's "1989," also in the Album of the Year category.
Tenor Brian Giebler, a private studio student of Jacobs professor of voice Brian Gill, was nominated for Best Classical Solo Vocal Album. "A Lad's Love" is his debut solo album.
Search committee appointed for new Jacobs School dean
Provost Lauren Robel has appointed a committee to identify dean candidates for the IU Jacobs School of Music.
Rick Van Kooten, executive dean of the College of Arts and Sciences and professor of physics, will chair the committee.
Jeremy Allen, the Eugene O'Brien Bicentennial Executive Associate Dean for the Jacobs School, has served as interim dean of the school since July 1, when Gwyn Richards, the David Henry Jacobs Bicentennial Dean, stepped down after a successful two-decade career as the school's leader to return to the faculty in choral conducting.
Professional development grants available
Applications are open for the first cycle of IU Bloomington Professional Council's grant funding.
Grant awards are a maximum amount of $600 and help cover the expense of professional development opportunities between July and October.
Completed grant applications will be accepted at any time, but must be completed online no later than 5 p.m. EST June 1.
IU Libraries dean to retire
Carolyn Walters, Ruth Lilly Dean of University Libraries, has announced she will retire June 30, after more than three decades serving in leadership positions at what is recognized as one of the nation's largest and most innovative university libraries.
Walters, whose career at IU Libraries began in 1987 and who has served as Ruth Lilly Dean since 2015, has successfully led IU Libraries through the momentous transformations occurring in academic libraries worldwide. She currently co-directs the university's Media Digitization and Preservation Initiative, and she has also overseen a number of architectural and technology upgrades and partnerships that have dramatically transformed IU Libraries' research and collaboration spaces and positioned IU as a national leader in the evolving environment of open-access scholarship.
An interim dean will be announced at a later date.
Join the Luther Dana Waterman Professorship lecture
The IU Bloomington campus is celebrating two researchers who are recipients of the Luther Dana Waterman Professorship. Associate professor of sociology Anna Mueller currently holds the position, which was established to encourage early-career scientists who have recently received tenure. The professorship provides recipients with $25,000 per year over five years. Amar Flood, the James F. Jackson Professor of Chemistry in the College of Arts and Sciences at IU Bloomington, held the professorship from 2015 to 2020.
Mueller and Flood will share information and updates on their research during a virtual event April 1.
The professorship originated in 1915, when Luther Dana Waterman, a professor emeritus at the IU School of Medicine, gave a large gift to IU to sustain fundamental scientific research. Richard Shiffrin, Distinguished Professor in the Department of Psychological and Brain Sciences at IU Bloomington, has held a Luther Dana Waterman Professorship since 1980.
Learn more about the 2021 Luther Dana Waterman lecturers and register to attend on the event webpage.
Check 'Ask Aaron' webinars and vaccine website for latest information
As Indiana University continues safety protocols and mitigation testing to keep faculty, staff and students safe from COVID-19, and the rollout of vaccines continues statewide, it's a good idea to stay current on the latest information about those efforts.
Dr. Aaron Carroll, one of the leaders of IU's COVID-19 Medical Response Team, hosts weekly "Ask Aaron" webinars that are an opportunity for faculty, staff and students to have their questions answered. The next webinars for all campuses are March 17, 24 and 31. Additional webinars are planned throughout the semester. Those unable to tune in live can watch the recordings at broadcast.iu.edu.
For information about the COVID-19 vaccine, and who can receive it and when, visit IU's COVID-19 vaccine website.
Professional council undergoing renaming process
The IU Bloomington Professional Council is undergoing a renaming and rebranding process as part of the alignment with the Job Framework Redesign Project. Its new name will be the IU Bloomington Staff Council.
During the transition process, staff may see references to the IU Bloomington Professional Council and IU Bloomington Staff Council; those refer to the same entity.
Changes will occur in the coming weeks and months.
IU campuses represented among Indy 500 Festival Princesses
Each year 33 collegiate women from Indiana are chosen as Indy 500 Festival Princesses for the month of May and throughout the year. This year, 10 princesses were chosen from IU's campuses.
These women are selected based on an interview process highlighting their education, extracurricular activities and passion to serve the Indy 500 Festival. They are busy planning community outreaches and of course celebrating the 2021 Indianapolis 500.
IU earns national recognition for campus internationalization
Indiana University is one of just three universities in the U.S. to be honored with an award for an exceptional campus program or initiative focused on internationalization.
IU earned the NAFSA 2021 Senator Paul Simon Spotlight Award for Campus Internationalization for its Global Gateway for Teachers. The program is housed at the IU School of Education in Bloomington and provides education students with intercultural immersion experiences, such as study abroad, while also helping them fulfill their student teaching requirements.
With more than 10,000 members, NAFSA: Association of International Educators is the world's largest nonprofit association dedicated to international education. Named after the late Sen. Paul Simon of Illinois, the NAFSA Simon Awards honor U.S. colleges and universities that are making significant, well-planned, well-executed and well-documented progress toward comprehensive internationalization – especially those using innovative and creative approaches.