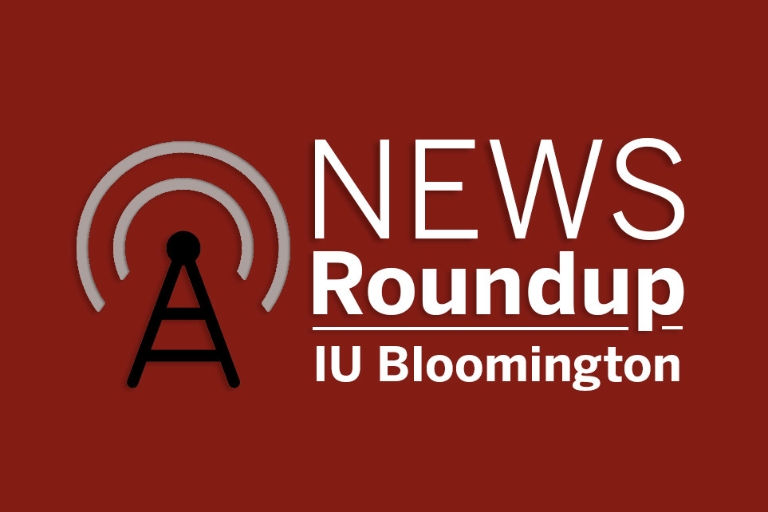 At First Site Festival featuring new plays
The IU Department of Theatre, Drama and Contemporary Dance will present new works from the three Master of Fine Arts playwrights in the upcoming ninth annual At First Sight Festival, conducted virtually for the first time. Performances are scheduled in March and April.
This year's festival will culminate in two productions of new plays by Christin Eve Cato and Jayne Deely, and will include a reading of a new play by first-year playwright Annalise Cain. The festival will also showcase Undergrad Shorts, featuring short plays, scenes and songs written by undergraduate playwrights.
Admission is free to all the events.
Jacobs School of Music hosting national summit
The Indiana University Jacobs School of Music will welcome artists, composers and students virtually March 26 and 27 as it hosts the national summit "Innovation in Art Song."
The summit is free and open to the public. "Innovation in Art Song" will include presentations, discussions and a preview of "The Wandering," a new interdisciplinary work premiering April 15.
Summit topics will include the history of innovation and gender in art song, media and technology, art song in American culture, and the genre's future.
Bloomington organization presenting livestream series of performances
The Stone Age Institute, a Bloomington-based nonprofit organization, is presenting the Popular Culture Livestream Series featuring performances and demonstrations by musicians and artistic creators.
The series features performances by Shawn Colvin, Kenny Aronoff, Lisa Loeb and others on the Mandolin livestream platform.
More information about the shows and tickets is available on the Popular Culture Livestream Series site.
These free, limited-ticket events are made available through a grant from the Kaman Foundation.
Kinesiology professor emeritus to be Fulbright Specialist
The U.S. Department of State's Bureau of Educational and Cultural Affairs has selected Indiana University Professor Emeritus James S. Skinner to be a Fulbright Specialist through 2025.
Skinner was a professor in the IU School of Public Health-Bloomington Department of Kinesiology from 1996 to 2006.
As a Fulbright Specialist, Skinner will work with colleagues in multiple countries, including Russia.
He has extensively researched the relationship between physical activity and human health. He has also studied and lectured on the prescriptive use of exercise for cardiovascular, respiratory, metabolic, and bone and joint disease states.
'Ask Aaron' webinar host urges continued vigilance with COVID-19 safety
Positive rates for COVID-19 on the IU Bloomington campus are low, and the overall trend continues downward, Dr. Aaron Carroll said during the March 17 "Ask Aaron" webinar. However, he cautions students, staff and faculty from letting their guard down.
"The pandemic is not over," said Carroll, one of the leaders of IU's COVID-19 Medical Response Team. "We're still trying to keep this thing in check. We're doing pretty well, but we're still all vigilant."
The campus community needs to continue wearing masks, practicing physical distancing, avoiding large gatherings and getting vaccinated when eligible, he said.
Carroll hosts weekly "Ask Aaron" webinars for faculty, staff and students to ask questions about the virus and the university's efforts to combat it. The next webinars for all campuses are March 24 and 31. Additional webinars are planned throughout the semester. Those unable to tune in live can watch the recordings at broadcast.iu.edu.
For information about the COVID-19 vaccine, and who can receive it and when, visit IU's COVID-19 vaccine website.
Kelley School courses help people boost financial literacy
More than 4,500 people have taken advantage of a free opportunity to enhance their financial literacy and learn more about personal finance through a series of online courses delivered by the Indiana University Kelley School of Business.
The Kelley School has partnered with edX to offer a three-course, self-paced personal financial professional certificate. The courses provide the building blocks of planning for financial security and personal success, such as managing personal cash and credit, and planning for risk and retirement.
Hamilton Lugar School partners on new internship program
The IU Hamilton Lugar School of Global and International Studies has partnered with The International Center to create a new internship program that expands the career and research opportunities available to its undergraduate students.
The International Center will engage at least one Hamilton Lugar School student during each of the fall, spring and summer academic terms. Interns will receive hands-on experience in international research and business program management, international research and programming, and international client services, while using their global knowledge and language expertise to advance international affairs and development in Indiana.
Kelley School helping physician association with professional development
A new partnership between the IU Kelley School of Business and the American Association for Physician Leadership will improve physician leaders' business acumen to drive effective change in health care.
The American Association for Physician Leadership is the only association solely focused on providing professional development, leadership education and management training exclusively for physicians. The Kelley School is the only top-ranked business school offering a rigorous MBA exclusively for physicians. Both are committed to training physicians in the business of medicine and equipping physicians to better strategize the best course forward for their patients, their health care organizations and their clinical teams.