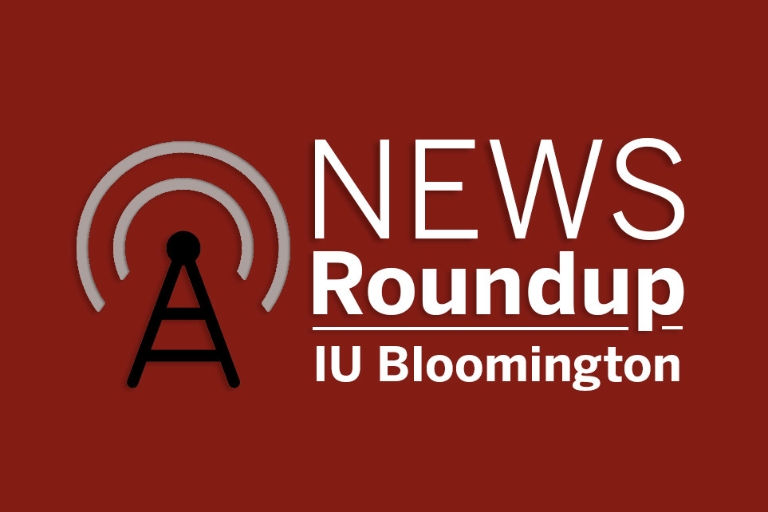 Watch a live, virtual conversation with screenwriter of 'Hoosiers'
Indiana University Auditorium is hosting a live, virtual conversation with IU alumnus and "Hoosiers" screenwriter Angelo Pizzo at 8 p.m. EDT March 31. "Hoosiers: 35 Years Later" will be streamed live on Zoom.
"Hoosiers," released in 1986 and nominated for two Academy Awards, is considered one of the most beloved sports films ever made. The fall of 2021 will mark 35 years since the film's release.
Those interested can register for the free event, and a reminder will be sent on the day of the livestream.
Worldwide webinars focus on clean energy
Indiana University is participating in a day of worldwide webinars that focus on how communities can accelerate the shift to clean energy. IU students, staff and faculty can participate by attending "Solve Climate by 2030: Electrifying Indiana" from 1 to 3 p.m. EDT April 7.
Each year, the Bard Center for Environmental Policy coordinates 100 university-hosted regional webinars in 50 countries, all focusing on state and local action toward "Solving Climate by 2030." IU's Integrated Program in the Environment is again presenting Indiana's webinar, which will focus on an ambitious green recovery and how the greater electrification of Indiana is a key step.
The event requires registration.
Upcoming 'Ask Aaron' webinar focusing on COVID-19 vaccines
The March 31 "Ask Aaron" webinar will be of particular interest to faculty, staff and students because it will focus entirely on COVID-19 vaccines. The state of Indiana recently announced that all Hoosiers 16 and older would be eligible to receive the vaccine March 31, and Simon Skjodt Assembly Hall has opened as a vaccine clinic.
The weekly webinars are hosted by Dr. Aaron Carroll, one of the leaders of IU's COVID-19 Medical Response Team, to provide current information about the virus and IU's efforts to keep its campus populations safe.
Dr. Lana Dbeibo, assistant professor of infectious diseases and director of vaccination at IU, also will participate in the March 31 webinar. It will include a question-and-answer period.
Additional "Ask Aaron" webinars are planned throughout the semester. Those unable to tune in live can watch the recordings at broadcast.iu.edu.
For information about the COVID-19 vaccine, and who can receive it and when, visit IU's COVID-19 vaccine website.
Prebys Foundation grants support Kelley and Jacobs schools
The Conrad Prebys Foundation has awarded $1.7 million in grants to Indiana University to foster greater student diversity at the Kelley School of Business and support public performances during the Jacobs School of Music's centennial year.
The grants are among the inaugural awards from the Conrad Prebys Foundation, an organization continuing the philanthropic legacy of Prebys, who earned a bachelor's degree from the Kelley School in 1955 and became a successful real estate developer and philanthropist.
The Kelley School will receive $1 million to increase the size of its Prebys Scholars Program, which was established through a $20 million gift he made in 2015. Students chosen as Prebys Scholars traditionally are underrepresented in the field of business.
Another $700,000 will be used to underwrite the performance season during the 2021-22 academic year, the Jacobs School of Music's centennial year. The season will be known as the Conrad T. Prebys Centennial Performance Season.
School of Education professor receives endowed professorship
Dionne Danns, a professor and educational historian in the Department of Educational Leadership and Policy Studies in the IU School of Education in Bloomington, is the recipient of the Class of 1950 Herman B Wells Endowed Professorship.
The award recognizes Bloomington campus professors who are extraordinary scholars and teachers, and inspirational instructors of undergraduate students. Danns, the author of three books, was recognized for the breadth and impact of her teaching, service and research contributions to diversity and inclusion.
Danns will carry the title of Class of 1950 Herman B Wells Endowed Professor for the remainder of her career at IU Bloomington, and will receive a grant of $10,000 per year for five years.
The Class of 1950 endowed the professorship to enrich the undergraduate educational experience and emphasize the values that Wells brought to his work, including devotion to diversity, inclusion and academic excellence.
IU part of study that finds differences between COVID-19 and other coronaviruses
A recent study from an international research group, including Indiana University, found that SARS-CoV-2 is very different, biologically and clinically, from other coronaviruses, and the difference may be associated with the difficulty in controlling the spread and burden of COVID-19.
The study was published in PLoS Biology.
Using a mathematical model, researchers investigated how the viral load of SARS-CoV-2 changes over time within humans at acute phase of infection.
IU biologist named fellow of an ecological society
Jay T. Lennon, a professor in the IU Bloomington College of Arts and Sciences' Department of Biology, has been elected a Fellow of the Ecological Society of America.
He also serves as associate chair of the department's Evolution, Ecology and Behavior Section.
Lennon was elected for:
Substantial contributions to the understanding of the ecology and evolution of microbial communities, and their relationship to ecosystem function – notably the importance of dormancy as a mechanism that maintains microbial diversity.
Leadership in developing a research vision to bridge the disciplines of microbiology and macroecology.
Interdisciplinary service and mentorship of junior researchers.
The Ecological Society of America is a nonprofit, nonpartisan organization of professional ecologists. The fellowship recognition is awarded to society members who have made outstanding contributions to advancing or applying ecological knowledge in academics, government, nonprofit organizations and the private sector.
Mauer School of Law honors faculty
The Indiana University Maurer School of Law has honored five faculty members with teaching awards. They are:
Shana Wallace: Leon H. Wallace Teaching Award.
Charles Gardner Geyh: Trustees' Teaching Award.
Joseph A. Tomain: Trustees' Teaching Award.
Deborah A. Widiss: Trustees' Teaching Award.
Terrance Blackman Stroud: Adjunct Faculty Teaching Award.
A special committee of students presented teaching award recommendations to Dean Austen Parrish, who made the final selections. The awards were presented virtually during the Law Alumni Board meeting.
Arbor Day Foundation honors Bloomington campus
Indiana University Bloomington has received 2020 Tree Campus Higher Education recognition by the Arbor Day Foundation for its commitment to effective urban forest management.
The Tree Campus Higher Education program honors colleges and universities for effective campus forest management and for engaging staff and students in conservation goals.
Previously, the recognition was known as Tree Campus USA. IU Bloomington has received the special recognition since its inception.