BLOOMINGTON, Ind. – Carolyn Walters, Ruth Lilly Dean of University Libraries at Indiana University, has announced that she will retire June 30, after more than three decades serving in leadership positions at what is recognized as one of the nation's largest and most innovative university libraries.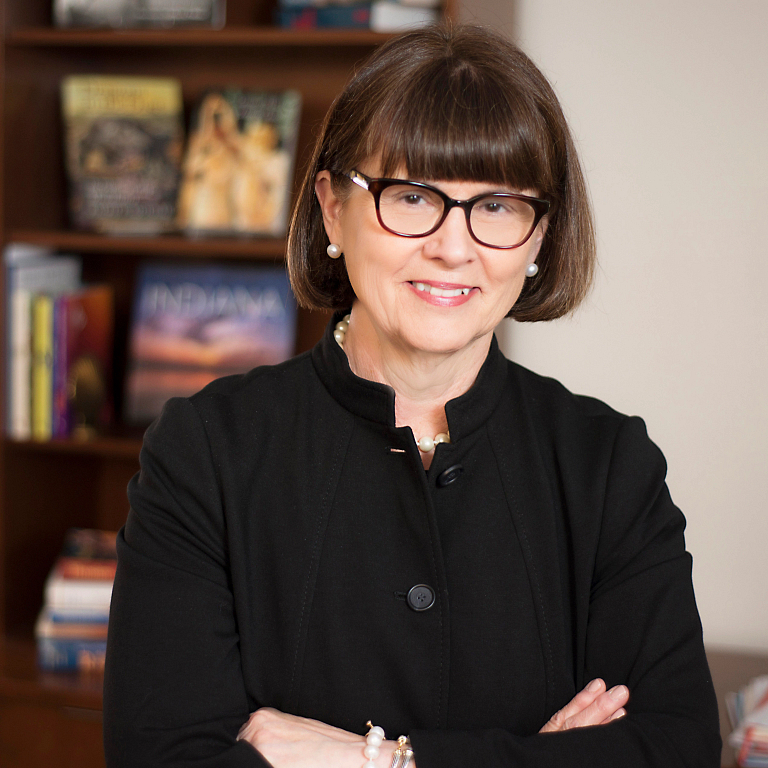 Walters, whose career at IU Libraries began in 1987 and who has served as Ruth Lilly Dean since 2015, has successfully led IU Libraries through the momentous transformations occurring in academic libraries worldwide. She currently co-directs the university's Media Digitization and Preservation Initiative, IU's ambitious effort to protect its rich repositories of audio, video and film through digital preservation. She has also overseen a number of architectural and technology upgrades and partnerships that have dramatically transformed IU Libraries' research and collaboration spaces and positioned IU as a national leader in the evolving environment of open-access scholarship.
In October 2020, IU's Herman B Wells Library was named Library of the Year by the U.S. Government Publishing Office for the creative ways it connects people with information about the federal government.
An interim dean will be announced at a later date.
"The breadth and depth of Carolyn's knowledge and leadership in the field have been extraordinary, particularly when paired with her ability to anticipate and plan for emerging trends and lead IU Libraries' nationally recognized commitment to media preservation," said IU Bloomington Provost and Executive Vice President Lauren Robel. "Many of the university's connections with local, national and international initiatives are a credit to Carolyn, as is IU Libraries' culture of innovation, experimentation and intellectual discovery, which supports and strengthens the university's core teaching, learning and research missions. It has been an honor to count her as a colleague."
Walters earned her Master of Library Science at IU and joined Undergraduate Library Services in 1987. In her early career, she managed branch libraries and directed collection development. In 2002, she was the first librarian to be awarded the Gordon Faculty Award by IU's dean of students.
In 2003, Walters transformed the traditional undergraduate library at Herman B Wells into a state-of-the-art Information Commons – one of the country's first – in partnership with University Information Technology Services. These successes led to her appointment as director of public services in 2004 and then to executive associate dean in 2005.
As the founding executive director of IU's Office of Scholarly Publishing in 2012, Walters also fully integrated the IU Press into library operations, establishing a sustainable framework to deliver national leadership in the evolving environment of scholarly publishing and open-access scholarship.
Nationally, IU is known as a premier partner in print repository consortiums, thanks to Walters' early leadership in emerging opportunities. IU Libraries is the first host of the Big 10 Academic Alliance Shared Print Repository, housing 250,000 volumes in the Ruth Lilly Auxiliary Library Facility.
IU Libraries now holds 11,260,449 items in its catalog, in 450 languages, and offers more than 7 million items electronically. Its Moving Image Archive, a growing film preservation repository established by Walters, contains more than 120,000 items. IU's librarians are leaders in national conversations in areas such as digital preservation and associated technologies, the changing role of area studies librarianship, and integrating information literacy and primary sources into curriculum.
Other library destinations of note are the William and Gayle Cook Music Library, one of the world's largest academic music libraries, and the 6.4-million volume high-density Ruth Lilly Auxiliary Library Facility, for which Walters oversaw two expansions that now provide superior off-site storage for the university's significant collections.
As her retirement date approaches, so does completion of the once-in-a-generation renovation of the Lilly Library, funded by Lilly Endowment Inc. Growth in collection size and student enrollment, along with continuously increasing demands of scholars and students who travel from around the U.S. and the world to use the Lilly Library collections, resulted in a level of activity that the 60-year-old building could no longer sustain. Walters' persistent efforts to support the library's irreplaceable collections and expand teaching facilities for far greater access will be visible to the campus in late summer when the building reopens.
Walters is an appointed member of the HathiTrust Digital Library Board of Governors and a former chair of the Big Ten Academic Alliance Library Deans and Directors Group, as well as its Shared Print Archive program. She serves on the Board of Directors for the Academic Libraries of Indiana, convenes the Council of Head Librarians for Indiana University and served on the Association of Research Libraries Digital Scholarship Advisory Group.