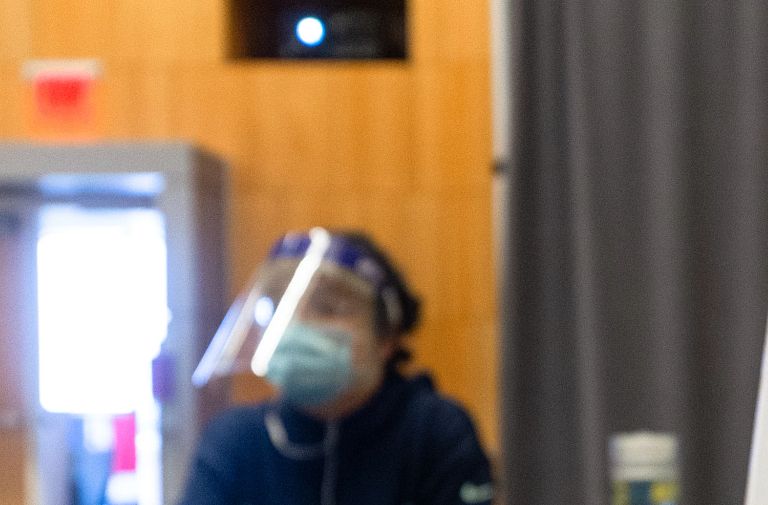 Here are some of the frequently asked questions – and answers – from the February town hall meeting with IUPUI Chancellor Nasser H. Paydar and campus leaders.
Q: Are all staff members expected to return to campus in the fall semester, or will they still be able to work remotely? What will be the new guidelines around working remotely post-COVID-19?
A: All staff employees should check with their supervisor to determine their work plan going forward. Your supervisor is in the best position to communicate the expectations and needs of your particular unit.
Q: Can you please share the link for symptomatic testing?
A: For symptomatic testing, start with the symptom checker at IU's COVID-19 website. Please note that symptomatic testing is for IU constituents only, and testing takes place at Coleman Hall. Mitigation testing continues to take place at the Campus Center.
Q: Is there a place online where we can report that we have been vaccinated for COVID-19?
A: Yes, please report via One.IU using the COVID-19 Vaccine Reporting Form.
Q: Will social distancing and masking still be in place for fall semester?
A: The university will likely continue to have some health and safety precautions in place this fall, but much will depend on the state of the pandemic and how many people in the IU community have received the COVID-19 vaccination. As long as the pandemic is with us, we must be ready to adjust course rapidly, and we will constantly review our plans, activities and operations, as well as rely on the advice of medical and public health experts.
Q: How long will IUPUI continue its mitigation testing?
A: We are committed to continuing mitigation testing for as long as it is necessary. If the number of infected people remains low, we will eventually and gradually scale back the quantity of people being tested or hopefully even stop altogether if and when the virus goes away. Currently, we are nowhere near ending mitigation testing, especially considering the fact that the majority of the people in the IUPUI community have not been vaccinated.
Q: If you have been vaccinated, do you have to go in for mitigation testing?
A: For now, yes, but this may change as we get more data about infectivity after vaccination. We should eventually get to the point where you can opt out of mitigation testing with proof of a COVID-19 vaccination, but we need the data on lack of infectivity after vaccination to be published before that determination can be made.
Q: Is there a commencement update?
A: In accordance with its COVID-19 policies, the university is planning in-person, outdoor May commencement ceremonies at all of its campuses for both 2020 and 2021 undergraduate and graduate students. In-person attendance at the ceremonies will be limited to graduates only, while family and friends are invited to attend commencement virtually. Separate ceremonies will be held for graduates and undergraduates. IUPUI's ceremonies are scheduled for May 15 in Carroll Stadium.
Q: Will there be in-person events on campus this fall? If so, at what capacity?
A: We are hopeful that some in-person events will be able to take place on campus in the fall, but it's still early to be certain, so specific information about approved location, capacity and other details would be purely speculative and potentially inaccurate.
Q: Can you provide an explanation for the new job framework and how faculty and staff will be affected by the change?
A: The new Job Framework Redesign was rolled out Feb. 21 across the university. The project aims to modernize and systematize job descriptions so that appointed staff and managers will be able to see how their jobs relate to other jobs on campus, as well as see clear pathways for career advancement. The project will not change base salaries, change job duties, impact the importance of any jobs at IU, or eliminate jobs. More information is available at the Job Framework Redesign website.