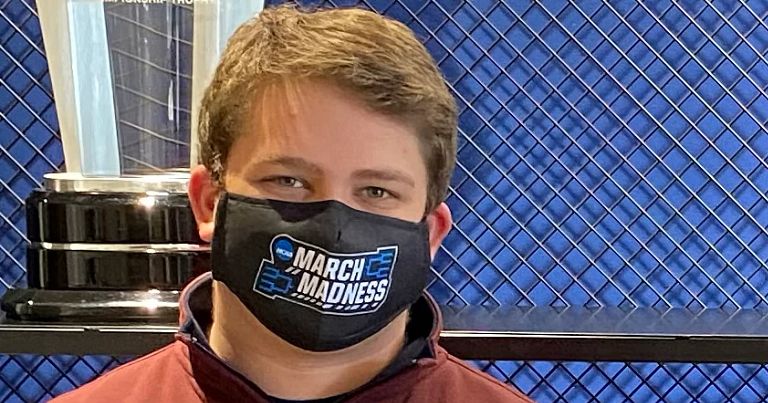 While still technically students, three sports management majors are spending their last semester learning on the job and helping Indianapolis host college basketball's largest event.
Kyle Clay, Jeffrey Oscherwitz and Alyssa Ramirez are interning for Indiana Sports Corp, an organization that's helping the NCAA organize the entire 68-team tournament in Central Indiana as well as the originally scheduled Final Four in Indianapolis.
Clay has been an events intern at ISC since September, while Oscherwitz joined as an events intern and Ramirez started as a volunteer operations intern in January. Clay and Oscherwitz are assisting with the staffing of games, from the scorer's table to activities around the court and arena. Ramirez is responsible for working with volunteers through their journey, from sign-up to exit survey.
For the trio, their internship is the final step before graduation, and they are working nearly full-time. This is especially true since the Jan. 4 announcement that Central Indiana would host all 67 games of the tournament over three weeks. It's been education by immersion. Information is constantly changing and requiring everyone to be adaptable.
"I feel like I'm working on something different each day, and then the next day, what I was working on is being changed," Clay said. "Every day is getting busier and busier."
As valuable as learning in the classroom is, the experience of directly working on a large-scale event is difficult to replicate.
"It's really vital," Oscherwitz said. "Even if you have a 4.0 GPA, companies won't care if you have nothing on your resume."
After being canceled last year due to the COVID-19 pandemic, there's even more excitement in the sports world for the 2021 tournament. Widely regarded as one of sports fans' favorite events, the historical significance of being involved is not lost on those helping make it happen.
"This is not just a new chapter in my life story – it's a whole novel," Ramirez said. "Because this is literally creating history. We've never seen this before, and it's awesome that I get to be a part of it."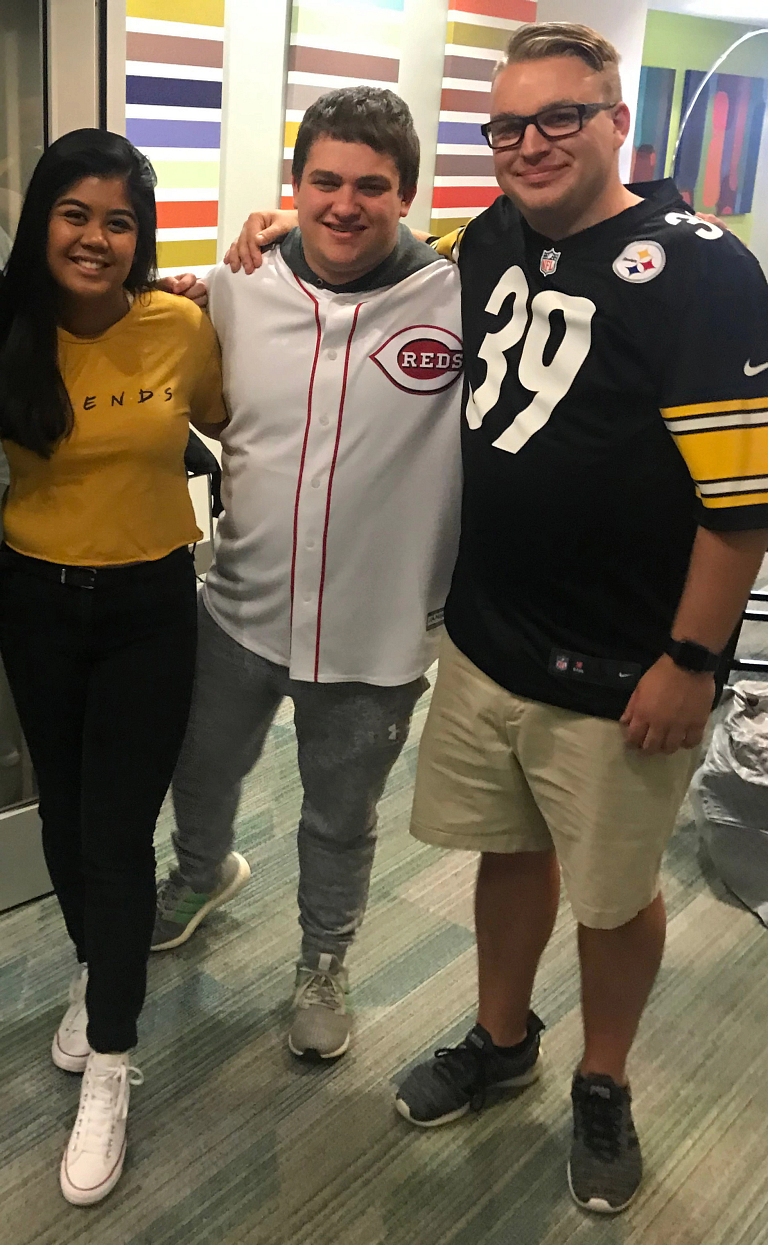 The trio have been classmates for the last couple of years and worked many of the same sporting events alongside each other. Clay described it as being "partners in crime." Coming together in their final semester of college as interns for the same organization is a neat opportunity for the three Jaguars. Oscherwitz and Clay even have their desks next to each other, and Ramirez is always ready to help.
"It's always great knowing people when you're going into a new organization," Oscherwitz said. "We work well together and have worked together a lot these past few years."
Oscherwitz is from Carmel, but neither Clay nor Ramirez is a native Hoosier. Clay, from outside of Harrisburg, Pennsylvania, and Ramirez, from the Chicagoland area, chose IUPUI because of its sports management program and proximity to an abundance of sports teams and organizations.
"I realized that I could not be in a better place for someone wanting to work in sports," said Ramirez, who transferred to IUPUI from DePauw University after her freshman year.
Looking for the best opportunity to work in the sports industry, Clay reviewed colleges in Pennsylvania, Ohio and Indiana. He reviewed upcoming major sporting events, and the Final Four in Indianapolis caught his attention.
"It was kind of a no-brainer to be in a city where they've put on a Super Bowl and Final Fours, and there was going to be an NBA All-Star Game," Clay said.
While at IUPUI, the students have been heavily involved in the Sports Management Club. Clay has been the president for two years, Oscherwitz is the secretary and Ramirez served as vice president last year. As a result of COVID-19, they transitioned an in-person speaker series with local industry professionals to online programming featuring guests from across the country. Their virtual speaker series archives are on YouTube.
Clay started cold-calling and emailing individuals throughout the NFL, NBA and MLB to gauge their interest in speaking to the club. On top of local sports-industry professionals from the Indianapolis Colts, Indiana Pacers, Indianapolis Indians and Indy Sports Corp, IUPUI's Sports Management Club has gotten speakers from organizations such as the Green Bay Packers, Seattle Mariners and College Football Playoff.
"It allows our students to network with industry professionals who they might not have come across before," Clay said. "If it weren't for COVID-19, we would be going to local networking events by sports teams. With Zoom now, we are able to reach people on the West Coast and hear stories from people you wouldn't necessarily hear from."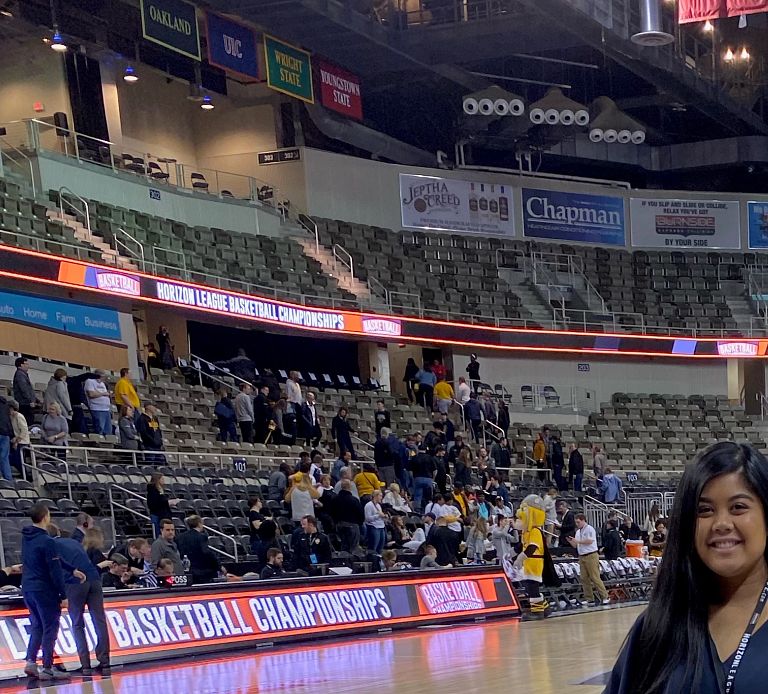 Since coming to campus, they aimed to take advantage of every opportunity available to them through the program, and all credited instructors David Pierce and Geoffre Sherman.
"It's a once-in-a-lifetime experience in the sense that you have professors who worked in the industry and know exactly what you need to do to get into it. I'm grateful that we have that opportunity," Oscherwitz said.
From time in the classroom, Sports Management Club experience, volunteer opportunities and hands-on internships, they've put forth the effort and hope to see the benefits in their careers.
Clay did a three-year team operations internship with the Indy Eleven and found a passion. He wants to work for a pro sports team in the player personnel or team operations department and hopes his busy extracurricular activities boost his resume.
"I've done so many events that I probably wouldn't have done at any other university," Clay said. "Hopefully in the long run, it helps me in my career."
Oscherwitz has spent time working at the Pacers Team Store and interning for the Indianapolis Motor Speedway and Indianapolis Colts. He has his eyes set on an events-type position with two local teams being his ultimate goal.
"The Pacers and Colts are definitely dream organizations," he said.
Having also completed an internship with the Indianapolis Colts and worked the NFL Combine, Ramirez is grateful for the opportunity at ISC and wants to start her career working in fan engagement or marketing.
"I want to be part of a team that creates lifelong memories, no matter the circumstance," she said. "Creating that atmosphere is what got me into sports and what I want to do for my career."
"Making the Madness" is a feature series that explores the IU Bloomington and IUPUI students, staff, faculty, alumni and venues involved in hosting the 2021 NCAA Division I men's basketball tournament.