Like many Americans, Dr. Stephen Sample was transfixed by the live coverage of the violent mob storming the U.S. Capitol on Jan. 6. Just over a week later, Sample's view of the historic events changed dramatically when he was deployed to Washington, D.C., as part of a massive National Guard presence to secure the nation's capital ahead of Joe Biden's inauguration.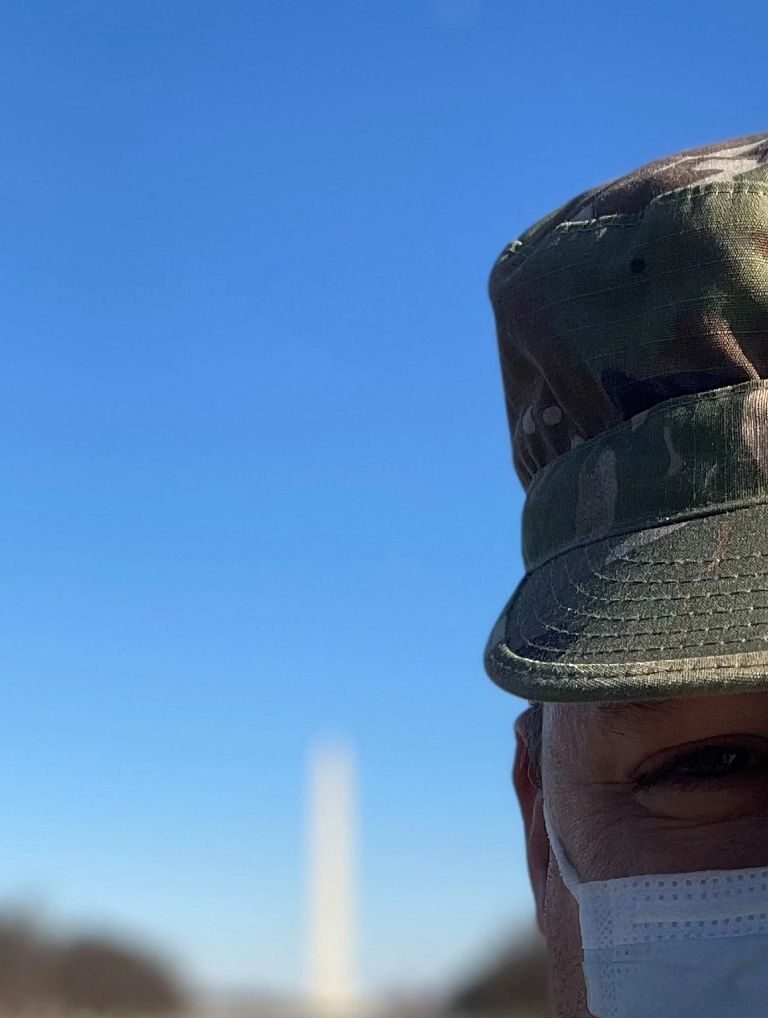 "I'm a political junkie and had been watching everything that was going on," said Sample, an emergency medicine physician and IU alumnus who also serves as volunteer clinical faculty for IU School of Medicine. "It never crossed my mind, even when I got the first recall notice, that we'd be going to D.C."
A lieutenant colonel with the Kentucky Air National Guard, 123rd Airlift Wing based out of Louisville, Sample, who lives in Jasper, Indiana, served eight years of active duty as a commissioned emergency medicine physician with the U.S. Air Force as part of the Health Professions Scholarship Program. He spent seven months in Iraq in 2009 and seven months in Afghanistan in 2011.
The Washington deployment was the first activation in eight years for Sample, who separated from active duty and joined the National Guard in 2013.
"We arrived for in-processing at the D.C. National Guard Armory close to midnight on Jan. 15," Sample said. "We had to drive around the city because all the streets were closed, and when we rolled up to the armory, there were trucks, charter buses and soldiers everywhere."
Sample was part of a small medical detachment that set up operations, along with his unit, some distance away from the Capitol and National Mall. Unable to disclose the exact location, he said they were stationed there to support other high-level potential targets. National Guard troops near the Capitol and across the area, he added, were poised and ready for a planned militia march on Jan. 17 that never materialized.
"The authorities in charge did very well," he said. "When they decided to close the National Mall and any access to the city – and then froze the social media sites where people were planning things – that just sort of defused everything."
With soldiers working in 12-hour shifts, Sample's unit maintained 24-hour operations through the Jan. 20 inauguration and the following day before heading home a few days later.
"We set up three trauma bays and then did a lot of sitting, which is exactly what we wanted to be doing," he said. "I'm the kind of guy who wants to be working, and using my skill set, but in this case, the best-case scenario occurred, and we were bored. If I'd been called to use my skills, we would have been at war with each other."
While the scene in Washington and the reason for being there were vastly different than his active-duty deployments, Sample said, the nine days in the nation's capital confirmed his beliefs about military service.
"The civilian military is such a diverse group who come together at a moment's notice with a shared mission and purpose," he said. "When we're called to serve, we're brothers and sisters who do what it takes to get the mission done. That's always been a really cool piece of the military – and one that keeps me strapping on the boots after all these years."