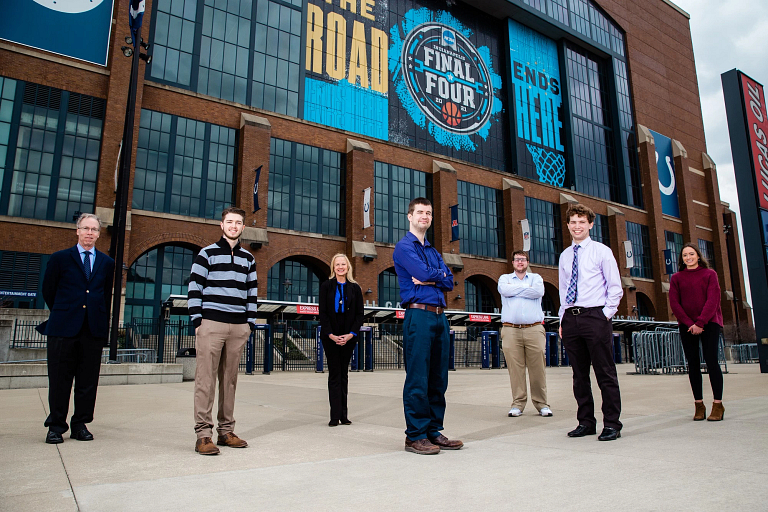 Alex Burr was all set to cover the 2020 NCAA men's basketball Final Four in Atlanta, only to see the entire tournament vanish in the wake of the COVID-19 pandemic's early months.
A year later, it's hard to put "pandemic" and "opportunity" in the same sentence, but the IUPUI sports journalism master's student will now get that credential in a most unique way.
Due to health and safety concerns with hosting a nationwide event, the entire NCAA men's "March Madness" – all 67 games – will be held in Central Indiana. Burr and six other correspondents from IUPUI's Sports Capital Journalism Program will be covering all of it, having one of the nation's most popular sporting events as a home game.
"No place other than Indianapolis could pull this off, and I can't wait to get started," said Owen Kaelble, another sports journalism master's student.
In addition to Burr and Kaelble, graduate students Jordan Morey and David Hayden and undergraduates Caleb Lynn, Nicole Reitz and Devin Voss will cover the tournament. Some of their work will appear on NCAA.com, which has featured the work of IUPUI students during the tournament since 2013.
For years, the Sports Capital Journalism Program – part of the Department of Journalism and Public Relations in the IU School of Liberal Arts at IUPUI – has offered students a press-row seat to such major events, allowing them to hone their deadline reporting and writing skills. The events are memorable, the experience invaluable.
In addition to the men's and women's Final Four events, IUPUI students have covered basketball at the FIBA Women's Basketball World Cup, the Pan American Games and the Olympic Games in Rio de Janeiro.
"The boost in confidence cannot be measured; that's why it's such a great experience," program director and Professor of Practice Malcolm Moran said. "It's great to cover such a high-profile event, but it will be the confidence they take away from this that's going to propel them in the industry."
Few are as well-connected in the industry as Moran, a former sportswriter for The New York Times, Newsday, USA Today and Chicago Tribune and a United States Basketball Writers Association Hall of Famer. In 2007, Moran was awarded the Curt Gowdy Print Media Award for lifetime coverage of basketball from the Naismith Memorial Basketball Hall of Fame. That goes a long way in securing seven credentials for an event in the middle of a pandemic.
"Malcolm is one of the best professors in the country because he was able to find a way to get us into this tournament, when many probably would not have been able to," Burr said.
One student will be assigned to each round at all six tournament venues, which include Simon Skjodt Assembly Hall in Bloomington and Mackey Arena at Purdue in addition to Indianapolis' Lucas Oil Stadium, Bankers Life Fieldhouse, Hinkle Fieldhouse and Indiana Farmers Coliseum. The students will write postgame feature stories based on a game's key moment or players for NCAA.com and the Sports Capital Journalism Program's website.
"Every year since I can remember, my family has had a bracket competition, and we'd spend endless hours together watching the tournament unfold," said Reitz, a junior majoring in journalism. "It is going to be very surreal for me to be there in person this year."
"Making the Madness" is a feature series that explores the IU Bloomington and IUPUI students, staff, faculty, alumni and venues involved in hosting the 2021 NCAA Division I men's basketball tournament.