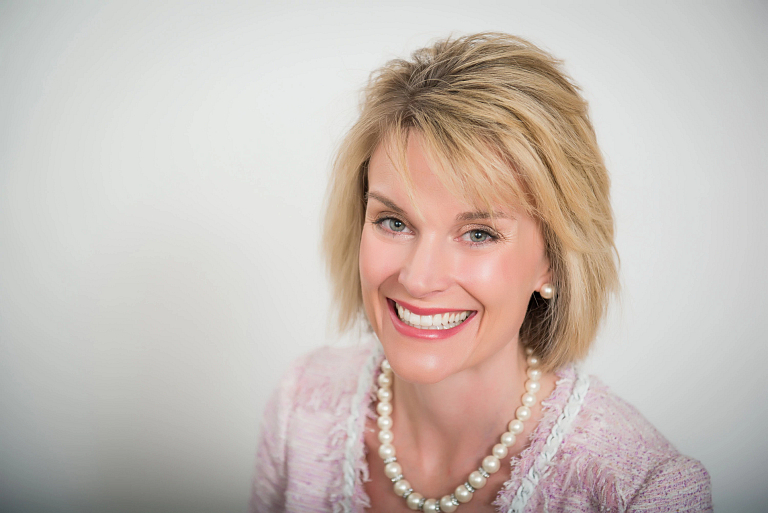 There's been no easing into 2021 for Julie Roe Lach.
The 2004 IU McKinney School of Law graduate began her duties as the Horizon League commissioner Jan. 1, overseeing the league responsible for hosting the 2021 NCAA Men's Final Four alongside IUPUI.
She's a proud alumna of McKinney and has remained involved since graduation. Roe Lach currently serves on the school's board of visitors and was previously president of McKinney's alumni association.
She's been with the Horizon League for seven years and was instrumental in constructing a partnership with the Indiana State Fairgrounds and Events Center to host the Horizon League men's and women's basketball championships at the Indiana Farmers Coliseum for the 2020-21 and 2021-22 seasons.
With 20 years of college athletics experience, including more than 15 years at the NCAA, Roe Lach is no stranger to the excitement of basketball in March. We conducted a brief Q&A with her about the basketball world's focus on the Circle City.
Q: Indianapolis is well-regarded for its ability to host sporting events. What makes the Circle City a good location to host the entirety of the 2021 NCAA Tournament?
Julie Roe Lach: Long ago, the vision for downtown Indianapolis was to be the amateur sports capital of the world. As the Indiana Sports Corp proudly states, Indiana is where champions are crowned. From professional racing to youth volleyball, this city knows how to host events at an elite level.
Experiencing firsthand the collaboration among state, city, county, corporate, nonprofit and community leaders, the one common value is an unwavering commitment to the success of the city realized through a flawless event that makes all participants and fans feel like champions. Indiana does sports like no other.
Q: How has the partnership been so far with the Indiana State Fairgrounds and Events Center hosting the Horizon League's championship basketball games?
A: The leadership and staff at the Fairgrounds and Indiana Farmers Coliseum are first-class. Our partnership with them has been fantastic, and Horizon League student-athletes' satisfaction rates have exceeded expectations. Revenue for ticket sales and sponsorship exceeded goals in Year 1 and has already exceeded goals for Year 2 on the sponsorship front.
Best of all, we welcomed over 3,000 youth to the 2020 women's championship game. The atmosphere was electric. For the men's game, the community support and attendance, along with fans from our member schools, was likewise terrific and a strong showing for our first year. Our vision is for the men's and women's championships to enjoy a long run in Indianapolis as we build this tournament into a community asset that is a must-attend event providing meaningful impact to the city.
Q: With these events occurring in Indianapolis, the Horizon League and IUPUI work in close collaboration. How would you describe the relationship between the two?
A: IUPUI has been terrific. They are incredible collaborators and supporters. Chancellor Paydar has connected us with key community leaders and his senior staff; Margie Smith-Simmons is a key member of our local organizing committee. For 2020, David Pierce, who leads the Sports Innovation Institute, volunteered and trained his staff to sell tickets. It was really exhilarating to see these students gain real-world experience while selling tickets.
Q: What did you gain from your education at McKinney as a student, and why have you continued your involvement?
A: I'm so grateful for my IU McKinney education. I gained such an appreciation for our government, our laws and our processes. Frankly, the knowledge from law school adds breadth and depth to your thought process, whether you are focusing on a television contract or thinking through a basketball schedule.
Beyond a top-notch legal education and the skills to think and write critically, IU McKinney has a culture of servant leadership that lives through our alums. IU McKinney's graduates are in such impactful positions in our city, state, country and world. I believe in our school, our faculty, our students and our alums. I serve on any committee or board when asked because it's the least I can do to give back to the institution that gave me so much and gives so much to so many Hoosiers.
"Making the Madness" is a feature series that explores the IU Bloomington and IUPUI students, staff, faculty, alumni and venues involved in hosting the 2021 NCAA Division I men's basketball tournament.