With coaches, players and other staffers in Indianapolis for the NCAA Division I men's basketball tournament, the contact-tracing portion of their COVID-19 controlled environment is in good hands, thanks to IUPUI health experts.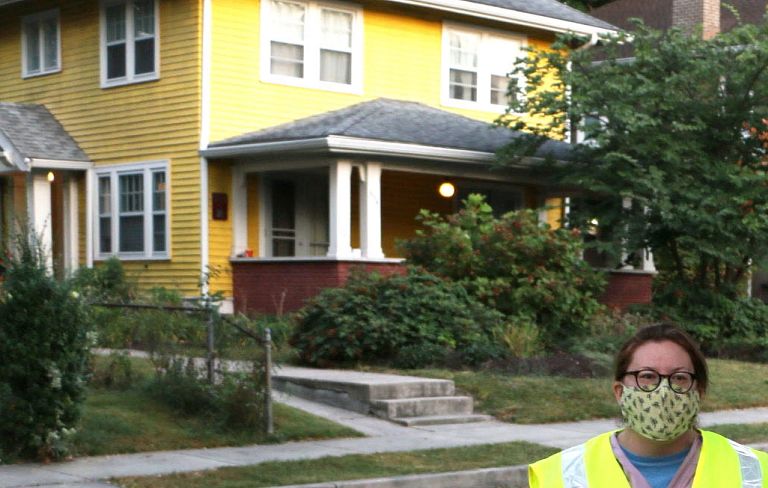 A pool of contact tracers hired, trained and managed by the Indiana University Fairbanks School of Public Health at IUPUI are on call 24/7 through April as part of a broader collaboration with the city of Indianapolis and the Marion County Public Health Department to help Marion County residents impacted by COVID-19.
COVID-19 testing for the NCAA controlled environment – known colloquially as "the bubble" – is being conducted by IU Health.
"This is a great opportunity for IUPUI to help show how public health can play a role in all aspects of life," said Shandy Dearth, principal investigator on the contact-tracing contract and director of undergraduate epidemiology education at the Fairbanks School.
"If you'd asked someone from the public two years ago if they understood how public health contact tracing would play a role in a large-scale event like this, my guess is most people would've said no," she said. "Now, our involvement is a way to help more people understand the broader idea of public health and how the work we do helps protect people."
Dearth said the approximately 200 contact tracers hired through the contract are split into specialized teams to cover the nearly 1 million people living in Marion County. For example, one team works specifically with K-12 schools, another with people experiencing homelessness and yet another with businesses and large employers. That helps the contact tracers be more familiar with the specific rules and public health orders associated with their respective specialties, while also giving those groups a specific contact on the team to build a relationship with, Dearth said.
The whole contact-tracing team works remotely. But if they're unable to make contact with a potentially exposed person by phone, the contact tracers conduct home visits – a move that sets the Fairbanks group's work apart from that of its counterparts across the country. The team has also hired language speakers who reflect the community, Dearth said, including those who speak Burmese and Spanish.
Of the overall team of 200, the NCAA "controlled environment" team has 17 dedicated contact tracers, and Dearth said another five are being trained for backup capacity.
"It's a really well-controlled environment, but we'd rather be over-prepared," she said. "So we'll have four contact tracers active and working around the clock between now and the last game."
Dearth said her team is working with a new contact-tracing database, Chexout, recently put into use by the Marion County Public Health Department.
"It's got great cluster analysis and we can really tailor it, so we can track everything related to each team," she said. "I feel very good about the plan. There has been good communication between the partners; there are quality infectious disease experts involved. It's very much been a partnership."
"In order to safely host these games and protect the health of those involved as well as our community, robust contact tracing is absolutely necessary," said Dr. Virginia A. Caine, director and chief medical officer of the Marion County Public Health Department. "As Marion County reached 1,000 new COVID-19 cases a day with only 50 MCPHD contact tracers available, it was clear we needed to have additional well-trained contact tracers to bolster our contact-tracing efforts at MCPHD to control this virus.
"These additional resources from IU Fairbanks School of Public Health have given us the tools needed to meet the challenge of contact tracing positive cases of COVID-19, especially during the NCAA tournament. We can take immediate action to help prevent any further spread and provide a safe environment.
"We appreciate Shandy Dearth leading our joint contact-tracing efforts for the NCAA tournament. This has allowed us to better interact and collaborate with the Indiana Department of Health, led by Dr. Kristina Box and her team, in contact-tracing efforts and related issues."
Dearth said she's proud of what her team of contact tracers has accomplished, both in their everyday work and in being involved in such a high-profile event as the NCAA tournament.
"There is a definite sense of pride," she said. "It's nice to not just be seen as an academic institution but as part of the community, and to not just collect data and write a research paper, but to go in there and do work that makes an actual change."