Here are some of the frequently asked questions – and answers – from the staff and faculty March town hall meeting with IUPUI Chancellor Nasser H. Paydar and campus leaders.
Question: Is there information about an IUPUI COVID-19 vaccination site?
Answer: The IUPUI COVID-19 vaccination point of dispensing, or POD, is slated to open in the Campus Center the first or second week of April for vaccinating full-time and part-time IUPUI faculty, staff and students. This does not include family members.
The site will be dispensing the Pfizer vaccine. The state of Indiana will email and text a link to schedule an appointment once the clinic is open. IUPUI will continue to finalize details related to the IUPUI POD and will share more information once it is available.
Please note, you do not have to wait to schedule your vaccine at this POD site. You can schedule your vaccine now anywhere in Indiana; this will simply be another option in the near future.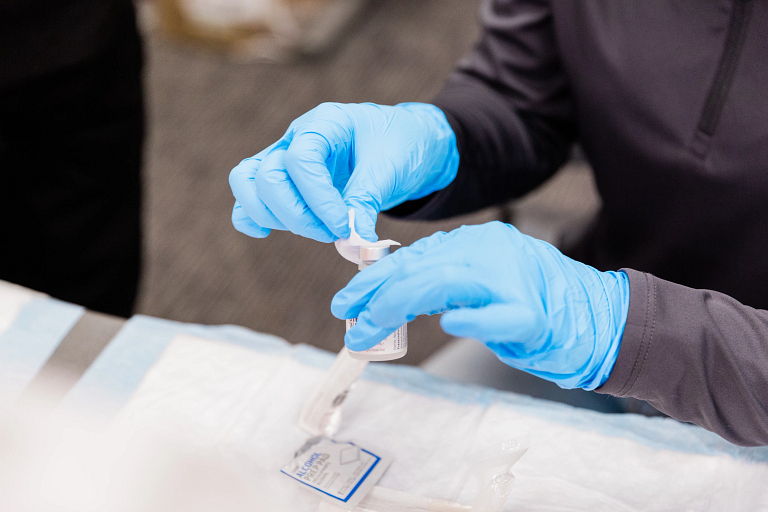 Q: Are out-of-state students, international students and DACA students eligible to get vaccinated in Indiana?
A: Any IUPUI students 16 and older who live in Indiana, regardless of their citizenship status, will be able to get vaccinated.
When people go to their appointment, they need to bring something with their name and birthdate printed on it. It can be an ID, medical record or other documents with this information. At this time, Crimson Cards do not count as identification.
In addition, if someone receives their first Pfizer or Moderna vaccination dose at one location and for whatever reason must relocate, that person should be able to receive the second dose of the same vaccine at a different location. They will need to make an appointment as needed and present valid identification and proof of the first dosage. This includes students who may be returning home at the end of the spring semester.
Q: Will IUPUI require faculty, staff and students to get the COVID-19 vaccine?
A: This is being discussed by campus leadership, and an official decision will be announced once it has been made. However, the university highly encourages everyone to get vaccinated as soon as they can.
Q: If you are fully vaccinated, are you still required to participate in mitigation testing?
A: Anyone selected for mitigation testing should continue to participate, regardless of vaccination status. Though the vaccines are highly effective, there have been cases of fully vaccinated people getting COVID-19. Everyone's continued participation in mitigation testing will help ensure the health and safety of the IUPUI community.
Q: Which faculty members will be allowed or required to attend commencement?
A: All deans are invited to participate in both ceremonies and will be seated in the front rows.
Every school may – but is not required to – invite one faculty representative to attend the graduate and undergraduate ceremonies. Each dean or a designee can determine how their faculty representative is selected.
The professional schools – dentistry, law and medicine – will have designated faculty members who will hood their doctoral candidates. Doctoral candidates from all other schools will be asked on the ticketing form to list their faculty advisor, who will then be invited to place the hood during the ceremony.
University Events will need faculty marshals. Anyone interested in playing this role can email Chelsie Roberts at chmrober@iu.edu for additional information.
Each faculty representative, dean and faculty marshal will be required to adhere to the same testing and safety protocols as graduating students.
Q: What are IUPUI's plans regarding Thanksgiving and spring break in the 2021-22 academic year?
A: According to IUPUI's official calendar, the Thanksgiving holiday has been extended to make up for the loss of fall break and will last from Nov. 22 to 28. Spring break 2022 is scheduled for March 14 to 20.
Q: Do you anticipate any increases in COVID-19 cases in the next few weeks with the March Madness games in Indianapolis?
A: Dr. Cole Beeler of Indiana University's Medical Response Team said it would not be surprising if cases increase. Transmissions may be mitigated by the improving weather and increasing use of outdoor spaces, as well as a larger percentage of the population being vaccinated. But those factors may not be enough to limit the spread with so many people coming into contact from across the country.
To address this situation, Indianapolis Mayor Joe Hogsett announced last week that while the state of Indiana will be changing the mask mandate to an advisory and will be lifting the remaining COVID-19 business restrictions on April 6, the city of Indianapolis will keep the current mask mandate and capacity restrictions in place.
Continue to practice health and safety measures of wearing a mask, keeping your distance and washing your hands to decrease your chances of getting infected.
Q: Are there any updates on employee or student travel?
A: The university follows CDC guidelines in terms of its decisions on travel. No decisions have been made regarding fall travel yet, but conversations are ongoing as to what that may look like.
Zoom pro tip: Due to significant improvements in the quality of the automated live transcription feature within Zoom, those managing the chancellor's town halls have enabled that feature during the last two town halls. Zoom event hosts can use this feature by locating the "Live Transcript" option at the bottom of the screen in the meeting or webinar, and selecting "Enable Auto-Transcription."