INDIANAPOLIS – The Galleries at the Herron School of Art and Design at IUPUI will open three new exhibitions March 24 that will explore race, equity and decolonization while building on previous gallery programming.
The exhibitions "Paul S. Briggs – Cell Personae: The Impact of Incarceration on Black Lives" and "SHIFT: What Can Museums Change?" will be on display until April 24, while "Creativity vs. COVID: Ending the Pandemic for Good" will be on display until May 9.
A virtual reception will take place on Zoom from 6:30 to 7:45 p.m. March 31. To participate, preregister online or watch the livestream at facebook.com/HerronGalleries.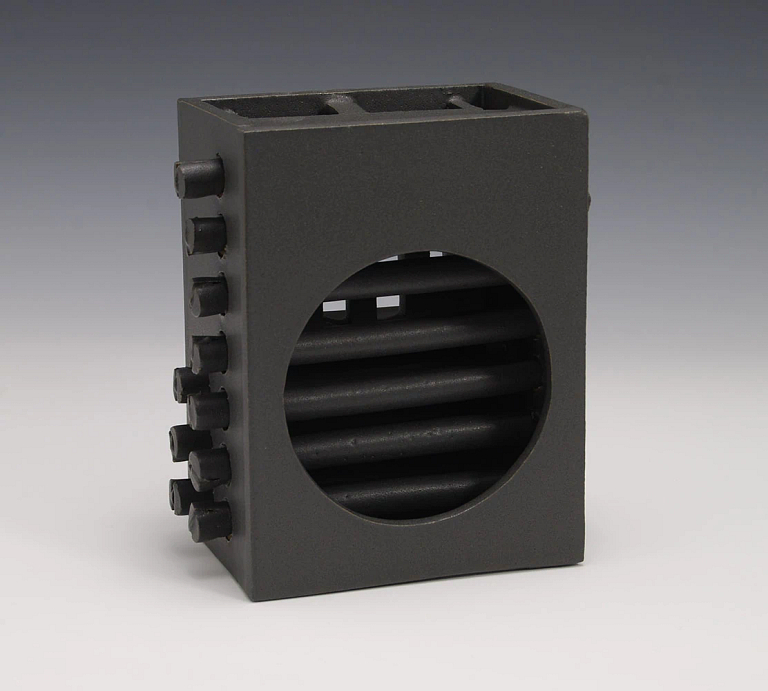 'Paul S. Briggs – Cell Personae: The Impact of Incarceration on Black Lives'
"Cell Personae" represents Paul S. Briggs' personal response to America's other pandemic, the mass incarceration of Black people – an act of grand-scale criminality in and of itself, as well as an ongoing tragedy.
Briggs was raised by his father, a Baptist minister, after his mother died when he was 7 years old. After studying ceramics, Rabbinical literature, art education, and educational theory and policy, he was invited to speak at a local progressive Baptist church. This experience sparked a 10-year ministry and work focused on issues such as affordable housing, interfaith religious cooperation and mass incarceration.
The 25 rectilinear slab-and-coil sculptures featured in the exhibition – each scaled to the size of a typical 6-by-8-foot prison cell – are a firm and resolved protest against the startling statistic that Black people account for 40 percent of the U.S. prison population, despite accounting for only 6.5 percent of the total American population.
"Art with an informed social consciousness is alive and well at Herron, and ever more so with the arresting work of Paul Briggs," said Joseph Mella, director and curator of the Herron Galleries.
"Cell Personae" was made possible by Minnesota voters thanks to a grant from the Southeastern Minnesota Arts Council and a legislative appropriation from the Arts and Cultural Heritage Fund. The exhibition is on view at Herron courtesy of Friedman Benda, New York, New York, and is supported by the Creative Motif Fund, New York.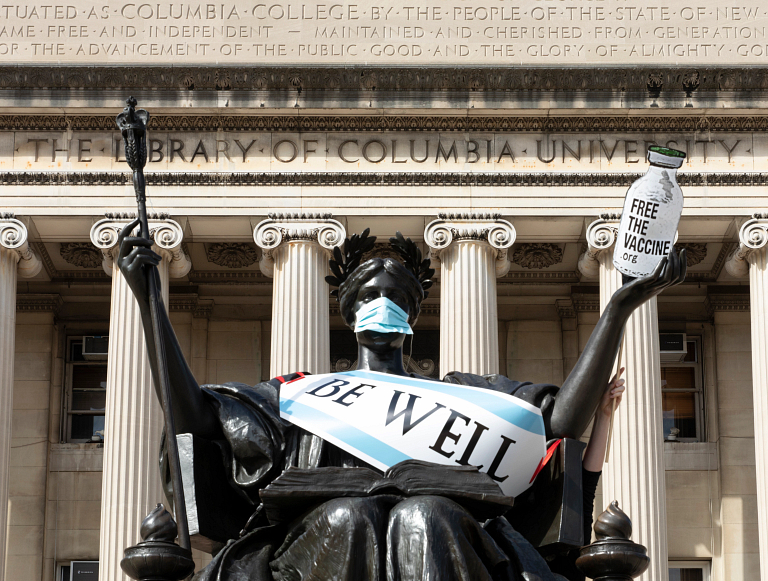 'Creativity vs. COVID: Ending the Pandemic for Good'
"Creativity vs. COVID" is a virtual exhibition that showcases the artistic activism of the international collective Free the Vaccine for COVID-19, which is composed of artists, university students, health care workers and public health advocates from six continents.
The exhibition educates visitors on key issues that restrict access to medicine and provides creative ways for anyone to advocate for global health equity and affordable vaccines for the benefit of all.
Among the works on display are parody videos, game prototypes, street performances, trading cards, Snapchat filters, poster designs and stop-motion animations.
Visitors are encouraged to submit their own creative projects for inclusion in the online exhibition, which will continue to grow after Herron's presentation concludes.
"Creativity vs. COVID" is organized by Laura Holzman, an associate professor of art history and museum studies at IUPUI and a public scholar of curatorial practices and visual art. Free the Vaccine for COVID-19 is led by the Center for Artistic Activism and Universities Allied for Essential Medicines and is part of the People's Vaccine Alliance, a coalition of international organizations.
'SHIFT: What Can Museums Change?'
On display in the Basile Gallery is "SHIFT," an exploratory exhibition created by 20 students in the Museum Studies program at IUPUI during the spring 2021 semester.
The exhibition presents four case studies of museums working to right historical wrongs and honor marginalized people and perspectives, ranging from large-scale architectural interventions on the National Mall to small but meaningful steps such as changing harmful displays.
Visitor information
Herron's exhibitions in Eskenazi Hall, 735 W. New York St., are free of charge and open to the public from 11 a.m. to 5 p.m. Monday through Friday, 11 a.m. to 8 p.m. Wednesdays and noon to 5 p.m. Saturdays. Virtual 360-degree tours will be made available in addition to in-person experiences.
Visit HerronGalleries.org or call 317-278-9410 for more up-to-date information on health and safety protocols, exhibitions, virtual tours, gallery hours, and parking.
About the Herron Galleries
Since 2005, the Galleries at the Herron School of Art and Design have served as a vibrant site of exploration, participation and learning. Herron's galleries continue to be an innovative educational forum for diverse audiences by providing direct and meaningful encounters with art and artists through a wide range of curatorial projects and public programming.