The Indiana University Board of Trustees has approved a renovation project to provide new space for the IU School of Medicine's Family Medicine Center on the IUPUI campus, as well as an architectural design for the renovation of the north Indiana Memorial Union parking lot and creation of an admissions plaza on the Bloomington campus. Both requests were presented by Thomas A. Morrison, vice president for capital planning and facilities, at Friday's trustees meeting.
The first and second floors of the Dunlap Building, as well as a small portion of contiguous space in the Health Sciences Building, will be renovated to enable the Family Medicine Center to relocate from an IU Health-owned building at Senate Avenue and 15th Street in Indianapolis to the IUPUI campus. The current center will be demolished to clear this site for a new IU School of Medicine education facility co-located with a new IU Health Flexible Platform of Care Hospital.
Relocation of IU School of Medicine clinical and educational programs conducted in partnership with IU Health will double the Family Medicine Center's size so it may more adequately support its residency program and related patient volume. Following program completion, over 50 percent of participants remain within Indiana to continue their professional practice as physicians.
The renovation will create examination rooms, procedure rooms, clinical spaces, offices, administrative workstations, and conference and classroom spaces. Also provided will be related medical equipment and necessary integrations with building systems to support these spaces such as mechanical, plumbing, electrical, security, life safety and data.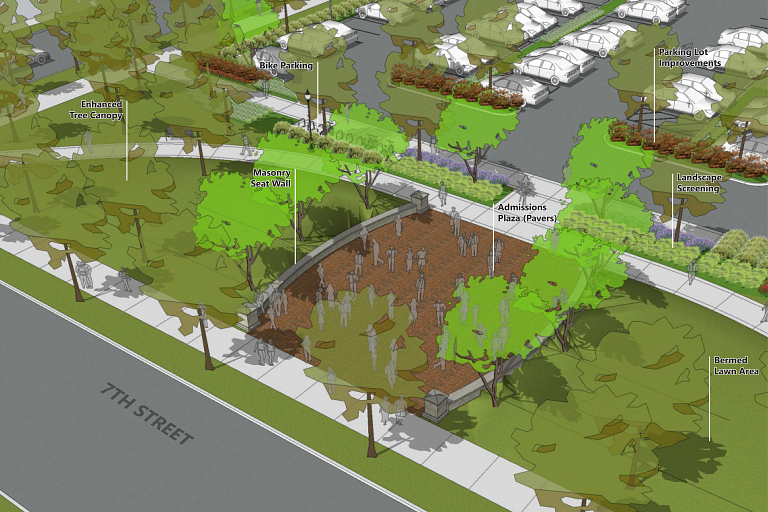 For the Bloomington campus, architectural design approval was granted for the renovation of the north Indiana Memorial Union parking lot and surrounding site east of Woodlawn Avenue and north of Seventh Street and Ernie Pyle Hall. These improvements will enhance the arrival and entry experience for visitors by updating the parking lot and creating a new admissions plaza.
The parking lot's asphalt pavement will be replaced, subsurface drainage and lighting upgraded, and new landscape medians and perimeter plantings installed to enhance the parking environment, provide a screened buffer, and improve stormwater management. A new brick paver plaza will welcome campus visitors and replace the existing drop-off area on Seventh Street, while also serving as a gathering space for campus tours or other activities.
The admissions plaza will visually direct students and their families from the parking lot to the IU Admissions Welcome Center inside Ernie Pyle Hall. It will be able to accommodate about 70 individuals and will include limestone seating walls, small architectural piers, shade and ornamental trees, and bicycle parking. New sidewalks also will improve pedestrian circulation between the parking lot, Woodlawn Avenue, Ernie Pyle Hall, the IMU and the central Bloomington campus.
Beth Feickert is a capital planning project specialist for the IU Office of the Vice President for Capital Planning and Facilities.