BLOOMINGTON, Ind. – A new statewide survey commissioned as part of the Indiana University Grand Challenges program reveals that three out of four Hoosiers agree that universities in Indiana have a responsibility to help improve their surrounding communities. The survey's release coincides with today's IU Grand Challenges Summit, a virtual program featuring Gov. Eric J. Holcomb and IU President Michael A. McRobbie.
Survey respondents also overwhelmingly support universities partnering with policymakers and government officials, with 74% saying they want to see increased collaboration between Indiana's government officials and state universities when it comes to initiatives that strengthen and improve Hoosier communities.
As part of its Grand Challenges program, IU has been partnering with the business community, local officials, nonprofit organizations and state government leaders since 2016 to address some of the state's most pressing issues. This includes advancing medical research, seeking solutions to the addictions crisis and developing responses to environmental change.
The Grand Challenges program, launched by McRobbie in 2016 as part of IU's Bicentennial Strategic Plan, is at work in every county across Indiana with more than 200 collaborative partners. The program has hired more than 130 faculty, non-tenure track faculty, postdocs, research scientists, associates, fellows, as well as provided expert-guided, hands-on learning experiences for 175 graduate students.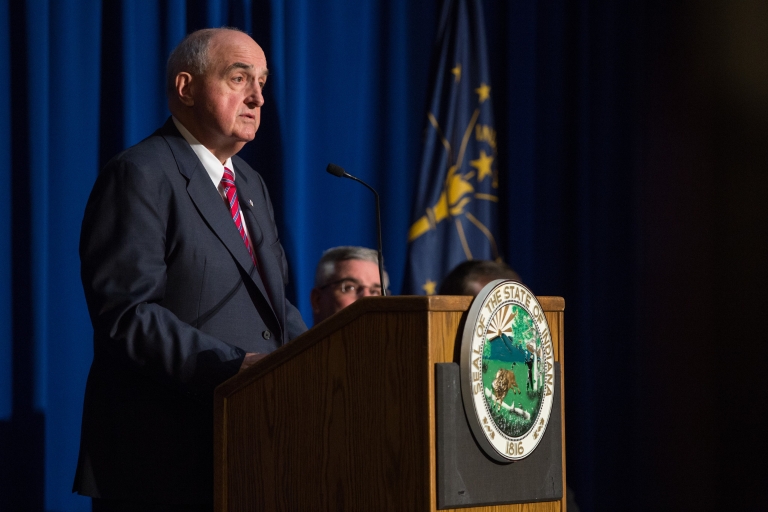 "The collaboration expected by Hoosiers has long been a central focal point of Grand Challenges," said Fred Cate, vice president for research. "As we continue to make strides in addressing the critical problems that Hoosiers face, our model of collaboration can serve as an example of what is possible. The success of this initiative would not have been possible without the dedication of our partners, from state and local governments to nonprofits and businesses.
"And critically, the work continues. Our Grand Challenges are making crucial progress. Our research teams are fighting Alzheimer's and seeing real potential for new treatments for pediatric cancer. They're also partnering with at least 30 local governments statewide through our Environmental Resilience Institute and working hand-in-hand with the state's NextLevel Recovery efforts to fight addiction."
Additional survey findings highlight specific views from Hoosiers regarding collaborative research and community engagement efforts in medical research, environmental resilience and addressing addiction.
According to the survey:
The power of university-driven research is especially valuable to Hoosiers. Four out of five believe that medical research could be improved by collaboration between universities and state government.
Additionally, 86% of Hoosiers feel it's important for universities in Indiana to lead medical research to identify and develop new treatments and cures for debilitating diseases like cancer and Alzheimer's. More than half say it's "very important."
Seven out of 10 participants agree that universities are critical to Indiana's effort to combat public issues including addiction, and even more believe it's important for policymakers and universities to collaborate on efforts to solve Indiana's addictions crisis.
Nearly three in four believe that efforts between policymakers, local government officials and universities have the power to help Indiana communities become more resilient to environmental changes, including extreme droughts, flooding and more.
Three out of four Hoosiers surveyed said they support state funding for universities that are addressing big challenges to the state of Indiana; 42% would be very supportive.
About Grand Challenges
Indiana University's Grand Challenges program initiatives, according to IU President Michael A. McRobbie are "few, large, focused and measured by their impact" – impact on individuals, communities, the economy, or the quality of life in Indiana and beyond. This bold effort is the culmination of committed, multisector partnerships and dedicated research teams working together to solve some of the largest and most pressing problems of our time: bringing precision medicine to Hoosiers, combating the addictions crisis, and better preparing our businesses and communities for environmental change.
About IU Research
IU's world-class researchers have driven innovation and creative initiatives that matter for 200 years. From curing testicular cancer to collaborating with NASA to search for life on Mars, IU has earned its reputation as a world-class research institution. Supported by $854 million last year from our partners, IU researchers are building collaborations and uncovering new solutions that improve lives in Indiana and around the globe.
Research methodology
Indiana University commissioned Atomik Research to run an online survey of 604 adults in Indiana regarding their thoughts on challenges facing their state. The margin of error fell within +/- 4 percentage points, with a confidence interval of 95 percent. The fieldwork took place between March 26 and 30, 2021. Atomik Research is an independent creative market research agency.