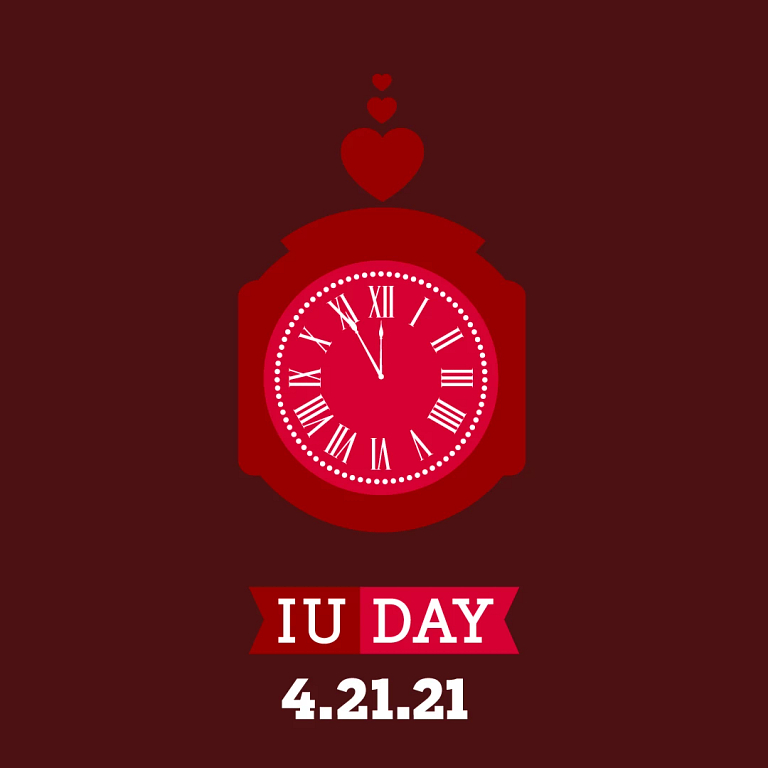 BLOOMINGTON, Ind. – Indiana University will celebrate its fifth IU Day on Wednesday, April 21. This global, 24-hour virtual day of engagement, which promotes acts of kindness, expressions of gratitude and sharing a little IU love and joy, returns after a one-year break due to the COVID-19 pandemic.
"We're so glad to be bringing IU Day back this year. It's a day for everyone who's connected to Indiana University to come together in spirit, to do good and to show what it means to be part of the IU family," said J T. Forbes, interim president of the IU Foundation and CEO of the IU Alumni Association. "Especially after the incredible challenges of the past year, it's also a moment to recognize all of the IU people who have risen to the challenge of overcoming the pandemic."
In addition to individual acts of kindness and gratitude, IU's Neal-Marshall Alumni Club, an organization founded in 1980 to meet the needs of African American alumni, has spearheaded an effort to increase blood donations from diverse populations. This effort aims to enhance education and provide a better quality of life for patients of all races, ethnicities and identities through the gift of blood donation.
"This year's IU Day provides our global network of alumni and friends a special opportunity to make a difference in the world, one small act of kindness at a time," said Patricia Riveire Stumpf, senior executive director of the IU Alumni Association. "We're looking forward to seeing all the good that comes out of this wonderful day."
All who love IU are encouraged to show off their university pride by wearing the colors that represent their campus community and sharing their acts of kindness on social media using the hashtags #IUDAY and #LEO (Love Each Other, the motto of IU football coach Tom Allen). Challenges throughout the day will include social-sharing contests such as Like to Give, Heart to Give, and Retweet to Give, encouraging online engagement and participation. Each like, heart or retweet for #IUDAY on IU social channels will earn $1 for student scholarships. 
In 2019, #IUDAY trended nationally with more than 9,000 mentions originating from 85 countries. And notable alumni such as Olympic diver Jessica Parratto and internationally recognized recording group Straight No Chaser shared their affection for their alma mater via social media.
In addition to engaging programming and celebrations, IU Day provides a variety of ways to give back. Students, alumni and friends of the university can choose how they want to support IU by giving to a specific campus or unit fund or exploring unique crowdfunding opportunities. Gifts of any size may be boosted by various IU Day giving and social media challenges that engage students, alumni, staff, faculty, friends and fans around common goals.
IU Day inspired more than 3,800 gifts in 2019, which funded an array of projects and initiatives, student-led programs and scholarships in various areas of study. And online engagement unlocked more than $18,000 in digital challenge funds to support student scholarships.
Students, faculty, staff and alumni are encouraged to participate in the following ways:
Post a thank-you on social media to an IU faculty member who made a difference in your life.
Send your gratitude to IU alums you know on the frontline of the COVID-19 pandemic.
Write a thank-you note to an IU donor or volunteer you know.
Show love in your community on behalf of IU by visiting a local nursing home, planting a community garden or reaching out in another way that brings joy to your neighbors.
About IU Day
IU Day is a 24-hour, binge-watching, social-sharing, IU-wearing, online celebration of Indiana University and the people who make IU possible. that's you! Maybe you're a student getting your start. Maybe you're an alumnus well on your way. Maybe you're a parent, friend or fan with a special place in your heart for "old IU." In any case, these IU connections are cause for celebration.