Glenn Close's search for a place to house her more than 800-piece costume collection started with the Metropolitan Museum of Art in New York City, and ended in an Indiana University building far from the Broadway stages and Hollywood sets where the award-winning actress has built her career.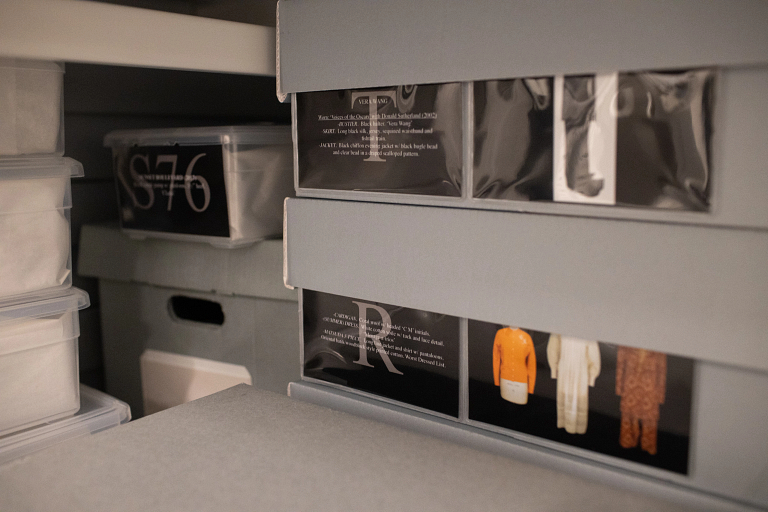 Close donated her meticulously preserved costume collection to the Eskenazi School of Art, Architecture + Design's Sage Collection in 2017, after first getting involved with IU through her national mental health nonprofit, Bring Change to Mind. During one of her visits to the Bloomington campus, Close toured the Ruth Lilly Auxiliary Library Facility, operated by IU Libraries.
"Glenn's tour of the Auxiliary Library Facility was the key to her decision to make IU the home for her treasured collection," said IU first lady Laurie Burns McRobbie, who played a key role in showcasing the campus to the actress. "She saw the quality of the facilities and had a chance to interact with the curators and archivists who would be taking care of her costumes. She knew that she was bringing them to a world-class facility with first-rate professional care, and that these beautiful works of art would be learned about and learned from. It was everything she needed to say 'yes.'"
The ALF, as it's often referred to, is unassuming from the outside. It's constructed of concrete and steel, with only a few light-blocking windows in staff areas. Every aspect of the building's construction is designed to protect the millions of treasures inside.
Among the towering shelves and climate-controlled rooms, you'll find books dating back to the 1500s; papers from the 9/11 Commission, on which former congressman Lee Hamilton served as vice chair; and costumes spanning Close's career, starting with her first film, "The World According to Garp."
Close picked IU to house her collection after searching nationwide for a place where her costumes would be well-preserved and utilized.
"No one literally that I know of or that I could find had the kind of facilities that Indiana University has and already had in their extraordinary, state-of-the-art, archival buildings," Close said.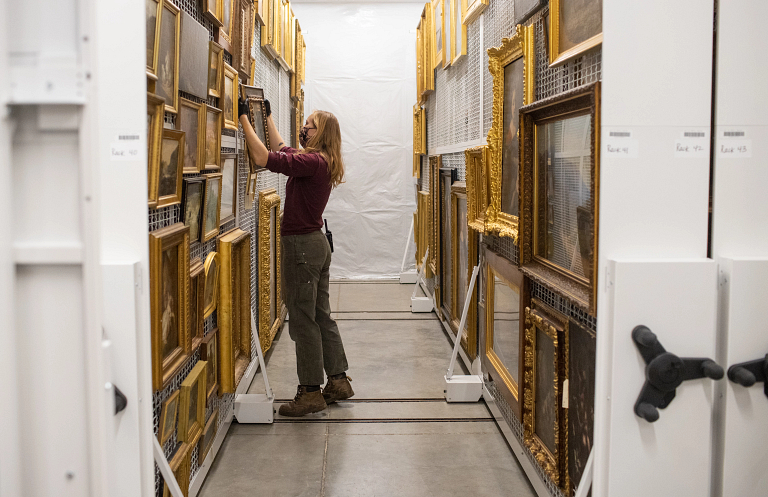 The ALF opened nearly 20 years ago to house books from IU Libraries, but it's the subsequent expansions of the facility that make it unique. The most recent, completed in 2019, establishes the ALF as one of only a few university buildings in the country that have expanded beyond library collections to also safely store textiles, art, historical artifacts and other museum collections.
Despite the variety and breadth of the items kept in the tightly secured building, staff report not a single one has been lost or damaged over the years.
"Indiana has all manner of weather issues: tornadoes, cold weather, floods, even earthquakes," said Vaughn Nuest, head of ALF Management Services. "The focus, of course, is not just preserving these pieces in a pristine environment, but also securing them from anything that can happen.
"And another big focus is providing access to these materials. There isn't anything here that's in a dark corner that someone can't access."
The ALF has several areas and processes that allow authorized IU faculty and staff to work with the objects. That accessibility was also important to Close.
Description of the following video:
[ATAC editor's note: Numbers before each entry represent minutes and seconds. Text in square brackets is added description. Text not in brackets is spoken text.]
[00:00] [VIDEO: A series of shots depicting costumes on mannequins.]
[00:05] [TEXT: "The Art of the Character: Highlights from the Glenn Close Costume Collection"]
[00:08] GLENN CLOSE: I did a lot research around the country of where there are facilities that could house as voluminous a collection as I had. It had become just too unwieldy and too expensive for me to maintain.
[00:09] [VIDEO: "Glenn Close: award winning actress" appears at the bottom of the screen as Glenn Close speaks]
[00:12] [VIDEO: A woman pushes a cart down a long hall filled with archival boxes. A close-up of a box sits on a shelf; the label reads "Fatal Attraction (1987)" with details and a photo of the box's content. Four people fit a costume on a mannequin. Three dressed mannequins stand in a room with boxes and undressed mannequins.]
[00:21] GLENN CLOSE: So I looked all around the country, frankly. But no one literally, that I know of, or I could find out, had the kind of facilities that Indiana University has, and already had, in their extraordinary state-of-the-art archival buildings.
[00:24] [VIDEO: A woman wheels a tall rack of archival boxes out of an elevator. A belted leather jacket sits on a mannequin, a rack of clothes hanging in bags sits behind. Two women dress a mannequin at the end of a long hall full of archival boxes. Clothes hang in bags on a clothes rack.]
[00:34] [VIDEO: A wide shot of Indiana University's archival buildings. A closer shot of a door to the facility. A very close shot of the patterned concrete above the door of the archival building.]
[00:38] [TEXT: "Indiana University iu.edu"]
She started collecting costumes because of the deep respect she has for the collaboration between actors and designers, and the crucial role the pieces played in the development of her characters. Her collection includes pieces from her films, as well as several dresses she's worn to awards galas over the years. The Sage Collection gives IU students the unique opportunity to interact with some of the pieces, getting an intimate look at what it takes to construct elaborate and innovative costumes for screen and stage.
"For movies, you have to know how (the costume) is going to be lit, you have to know there's a tint in the gels that would change a red to something else," Close said. "So it's not just a deep knowledge of structure, and history and costume, but you have to know about light and you have to know about movement. And so, I think to see the underpinnings of some of these costumes is extraordinary."
The public will get a chance to see some of Close's costumes up close when "The Art of the Character: Highlights from the Glenn Close Costume Collection" opens at the Sidney and Lois Eskenazi Museum of Art on May 6. The free exhibition runs through Nov. 14 and features 56 costumes spanning 14 productions, including pieces from "Dangerous Liaisons," "101 Dalmatians," "102 Dalmatians" and "Guardians of the Galaxy."
The exhibition features only a small portion of Close's collection, which will continue making its way to IU as she completes new projects. Soon, some of the T-shirts she wore in her Academy Award-nominated role of Mamaw in "Hillbilly Elegy" will be processed and stored at the ALF. Preserving those pieces of her characters is so important to Close that it's written into all of her contracts.
"I would love to compute how many hours went into building these clothes," Close said. "I think it would be astounding. And that to me, those women in the back room at the tables cutting, sewing, beading – they're the people we should be celebrating, as well."
"A Close look at 'The Art of the Character'" is a feature series that explores how IU Bloomington students, staff, faculty and students have helped prepare Glenn Close's costumes for their first on-campus exhibition.