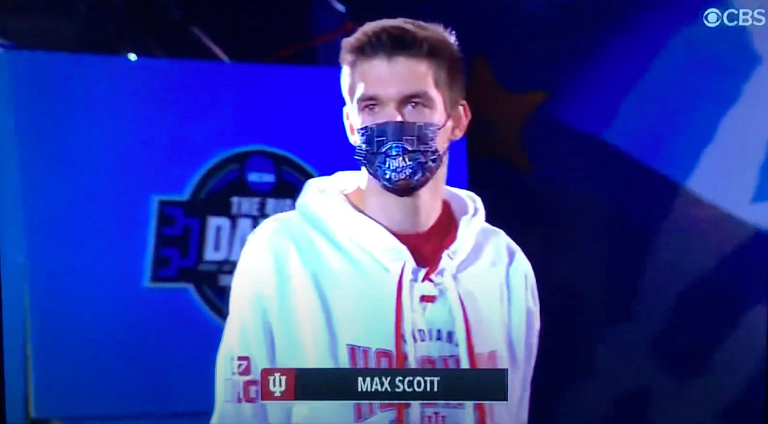 At one of college athletics' biggest events of the year, Indiana University swimmer Max Scott made his voice heard.
With millions watching on CBS and thousands in attendance at Lucas Oil Stadium, the sophomore in the Jacobs School of Music at IU Bloomington was part of a vocal group that sang the national anthem at the Final Four.
Normally student representatives from each of the Final Four teams participate in the anthem, but because of the health and safety protocols, the NCAA requested a student-athlete from each of the host Indiana universities of the tournament. Scott, who can swim 50 yards in 20.54 seconds and can also sing and play guitar, bass, drums and piano, was asked in the week leading up to the games to be the Hoosiers' representative.
"I was so honored to be part of it," Scott said. "Being able to do it during COVID where attendance is limited, it's not lost on me how special of an opportunity it was."
It was an easy ask by Lisa Winters, IU Athletics' director of leadership and life skills. She had heard other students talk about Scott's musical ability, and as the only student-athlete in the Jacobs School of Music, Scott fit the role perfectly.
"Very proud of and happy for him," Winters said. "It is always a good thing when our students get to share some of their many talents beyond the field of competition."
Considering the scale and spotlight of the opportunity, Scott said his nerves were fairly at ease. The group practiced the day before, figured out the arrangement, and got used to the sound and delay of singing inside a gargantuan NFL stadium.
Scott said he finds similarities between the pre-meet and pre-show nerves that come with competing and performing among large crowds. In those situations, it's just him and his thoughts, visualizing the task at hand. He said he does get more nervous before a big meet compared to a musical performance, though.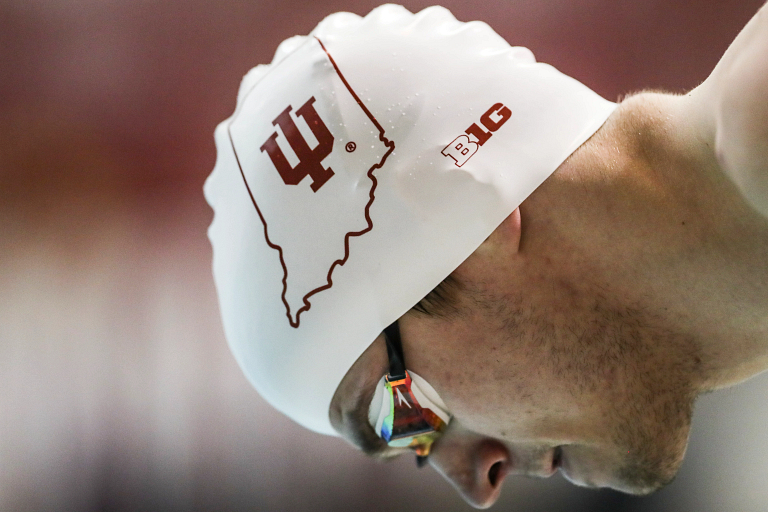 While prepping for the anthem, Scott kept it light and jokingly asked his fellow student-athletes if it was their first stadium gig too. Granted, the talented Dublin, Ohio, native had sung the national anthem or played it on his guitar in high school, but this was his biggest crowd since a fifth-grade talent show in front of 400 people.
"I wasn't as nervous as I thought I'd be. It was over and done so quickly, by the time I realized I was up there, it was over," Scott said.
The bright lights looked comforting to Scott during the singers' introductions. While other student-athletes gave polite waves or nods, he followed his wave with an emphatic, enthusiastic point directly at the camera.
Big Cat, one of Barstool Sports' most popular personalities with 1.2 million Twitter followers, shared Scott's mini viral moment with the tweet, "Take it easy, Max. Kids watching."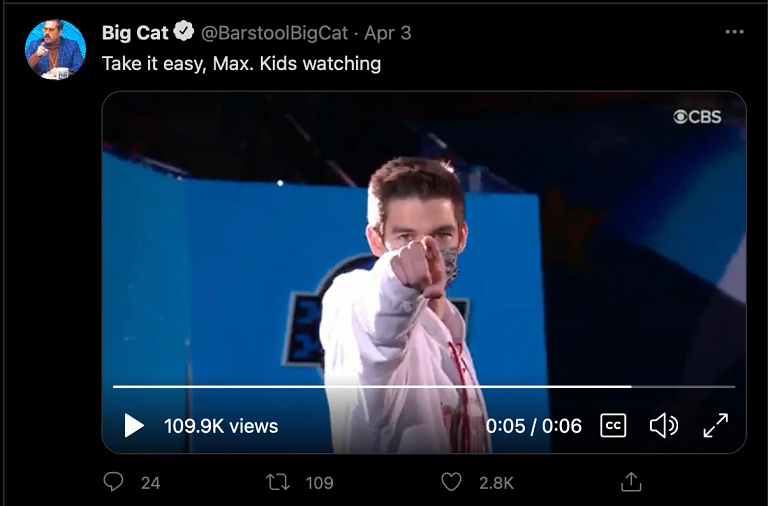 Scott's friends and teammates had encouraged him to do something to stand out. He practiced the moment in rehearsal, and he decided he'd do it with the red light on after getting a laugh from the group. The big question though: Who or what was he pointing to?
"I don't think I was pointing to anyone specifically; I was just saying 'What's up, I'm here and on TV,'" he said with a laugh. "If it had to be anyone that I was pointing at, it was probably my teammates for giving me the idea."
After exiting the stage, he had countless texts, social media posts and compliments from teammates and friends from home. He gained over 40 new Instagram followers and got to enjoy the Baylor and Houston game and Miley Cyrus concert from the stands.
"She is amazing in concert, identical to the album with a perfect stage presence. She's a rock star," said Scott, who admitted he wasn't the biggest fan of her music beforehand.
After a tough past year with little to no live events, it was a day to remember.
"That whole Saturday was a trip, didn't feel real," he said.
"Making the Madness" is a feature series that explores the IU Bloomington and IUPUI students, staff, faculty, alumni and venues involved in hosting the 2021 NCAA Division I men's basketball tournament.