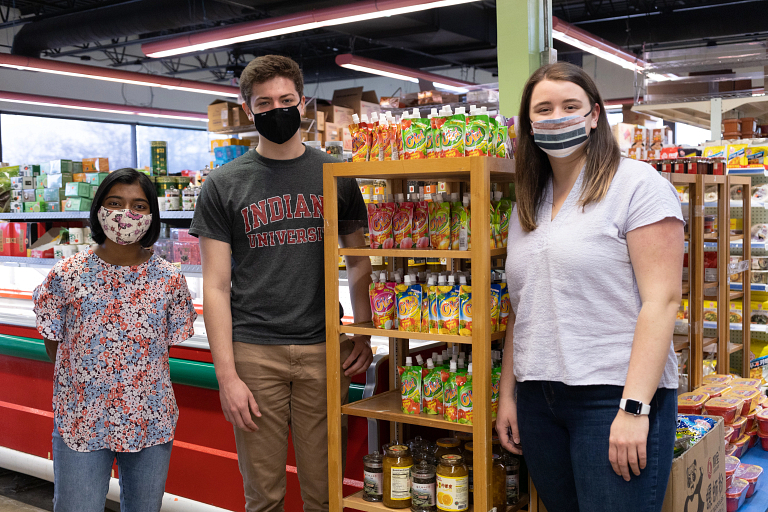 When three Indiana University Bloomington students who are accustomed to thinking on a global scale saw a local problem they wanted to tackle, it didn't take long before they cooked up a plan that made a difference in the lives of hundreds of their fellow students.
Marria Peduto, Shreya Mapadath and Ethan Joss from the Hamilton Lugar School of Global and International Studies wanted to get meals to students who needed them and educate the community about food security and international cuisine. So, they set out to get 450 boxes full of locally sourced food and recipes out to students in need with Food (Security) for Thought.
"One of the things we realized in the wake of COVID-19 was that the primary demographics for those in need of emergency meals were international undergraduate and graduate students," said Peduto, a third-year student majoring in global food systems, international studies and east Asian languages and cultures who is leading the project.
While community food drives are a great help to many, the foods that typically make their way into those drives, like canned green beans or dry, powdered mashed potatoes, aren't as familiar to the international community.
"We wanted to fill those gaps for students of different cultural backgrounds," Peduto said.
To support their effort, the students secured about $30,000 in grants and additional support from departments within IU and beyond, including the U.S. Department of State's Citizen Diplomacy Action Fund, Hutton Honors College Funding Board and the IU Funding Board. Then they partnered with Campus Kitchen to start the Food (Security) for Thought initiative.
With funding and support secured, the students started delivering boxes of globally inspired, locally sourced food to IU students in February. They also developed a four-day virtual symposium on food security that starts April 14. Each day of the event will feature discussions and food demonstrations with community leaders, policy experts and scholars who will examine the relationships between food, family and community, while exploring issues of food security, global nutrition and environmental sustainability.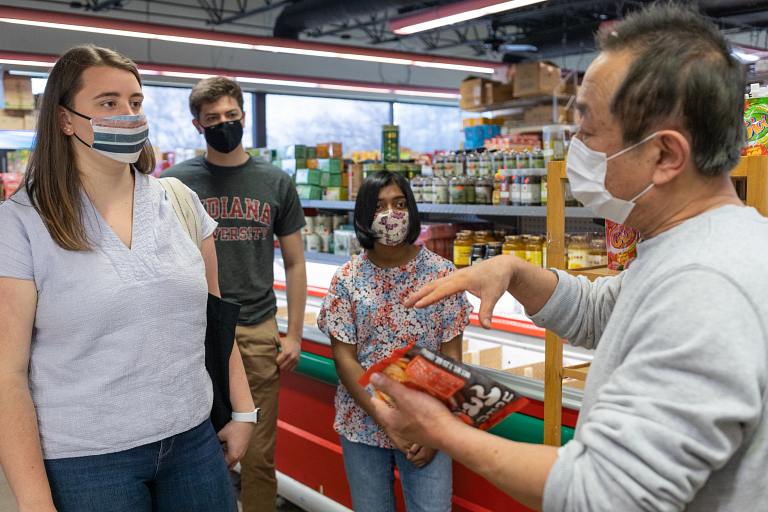 For Peduto, Mapadath and Joss, the opportunity to help fellow students has also been an incredible learning experience.
To find ingredients and recipes to include in the boxes, which highlight different regions of the world, Peduto has been meeting with local farmers and grocers at World Foods Market, Bloomingfoods, Little Italy Market, Pili's Party Deli and B-Town International Market.
"Just seeing how the community partners have really engaged with the project and are excited to share their own cuisines and cultures has been really rewarding," Peduto said.
Mapadath has been using social media and marketing strategies to make sure students know the boxes are available and that the word gets out about the symposium.
"I've never worked on anything on this scale before," said Mapadath, a freshman majoring in international studies and east Asian Languages and cultures. "I'm learning so much about the process, and it's really exciting to highlight different cultures and raise awareness about people who experience food insecurity."
Joss has been overseeing organization of the symposium.
"We've gone from a couple of small ideas about how we can combat food insecurity in the wake of COVID-19 to the proposal, and now we've coordinated quite an impressive four-day conference," said Joss, second-year sophomore in international studies. "I didn't expect the overwhelming positive response we've received."