A room on the top floor of the Sidney and Lois Eskenazi Museum of Art is full of somewhat uncooperative models. Getting them dressed for the upcoming exhibition of Glenn Close's costume collection takes a lot of time and even a little muscle.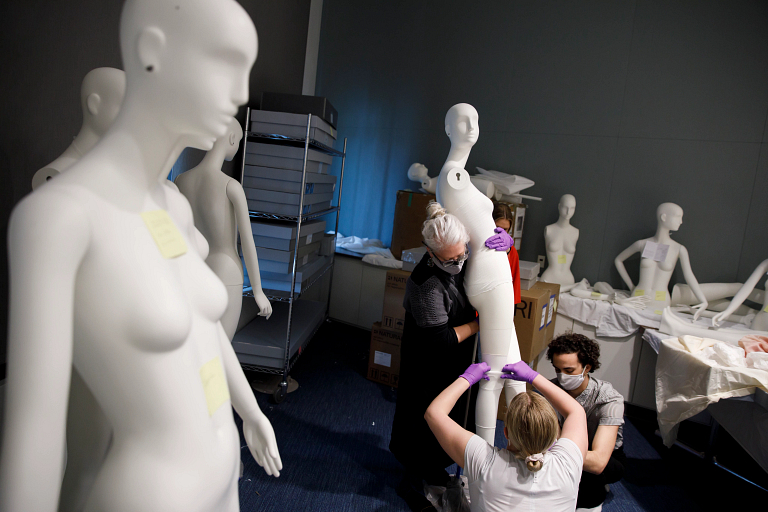 Sage Collection curator Kelly Richardson and students from her collections management class at Indiana University Bloomington have been working for weeks in the small space, where they're outnumbered by lifeless mannequins. To get each costume ready for display, they disassemble the corresponding mannequin and build a barrier between its surface and the ensemble using stockinette or pantyhose. Richardson consults her notes, which indicate whether the mannequin should get extra padding in certain areas to make the costume hang properly.
"A lot of what we do is problem solving," Richardson said. "We devise ways to make a garment made for a soft body sit naturally on a rigid form."
On a recent Friday afternoon, Richardson and three students – walking around shoeless and wearing purple nitrile gloves to protect Close's carefully preserved treasures – are working with a pink silk organza dress from the award-winning actress's role as Sunny von Bülow in the 1990 film "Reversal of Fortune." They must handle the fabric delicately, but the rigid mannequin provides little give as the students try to work the form-fitting bodice onto its torso.
Jack Boardman, a junior in the Eskenazi School's fashion design program, admires the details in the dress as he fastens it in place.
"One of the things that I find really interesting is that a lot of the costumes have incredibly well-made understructures that you would never see otherwise," Boardman said. "You know, they're only visible to the person who puts the garment on. And so being able to see all of the really meticulous understructure is really cool. It's a great learning example."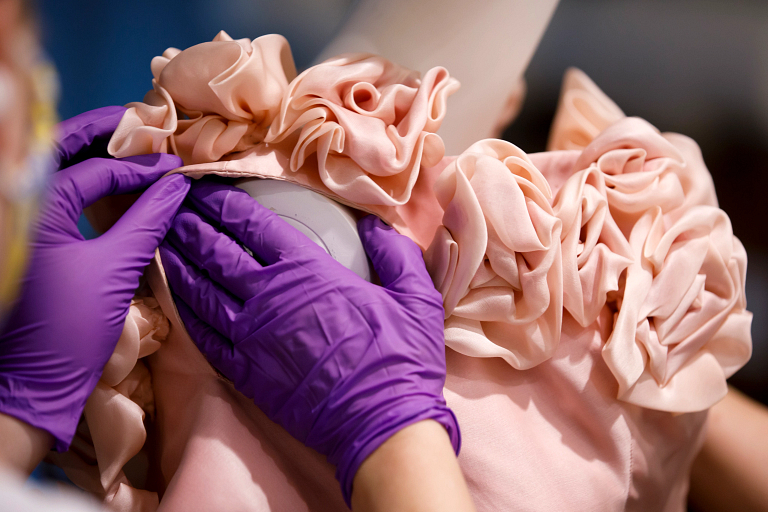 Those opportunities for hands-on learning are a major reason Close donated her costume collection to IU. She started saving and preserving pieces from her roles because she knew they would be sold or modified once a production wrapped. Close said she saw that as a desecration of the work that went into designing and making the costumes, as well as the characters they helped her shape.
While Close kept some pieces from her first movie role in "The World According to Garp," her collecting habit really started with "101 Dalmatians."
"I had it written in my contract, and no one thought anything of it until Disney realized how expensive all the costumes were," Close said. "And, understandably, they wanted to make me a second set. And I said, 'No, no, no, it has to be the original costumes that I stood in for hours in the fitting room and saw come to life.' It is now automatically in my contract."
The result is a growing collection of more than 800 pieces that are unique not only in their designs but their range. They include everything from period pieces that Close wore in "Dangerous Liaisons" to a futuristic suit from her role as Nova Prime in "Guardians of the Galaxy." There are no other pieces in IU's Sage Collection like Close's costumes, which makes them invaluable to students and educators at IU.
"What's most special about them I think is the completeness of the ensembles, because some of them have as many as 14 or 15 components head to toe," Richardson said. "So you have a suit and shoes, but you also might have a hat and mask and gloves, necklace, earrings, bracelet."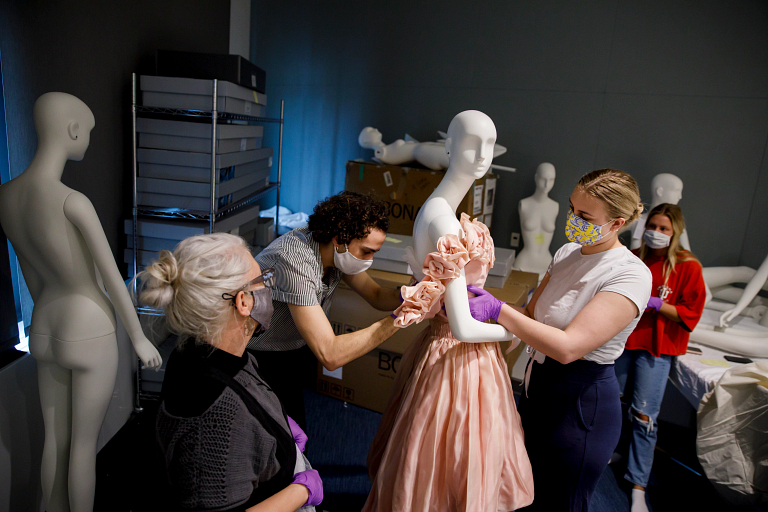 Richardson has been working intimately with Close's costumes since they arrived on campus a few years ago. The details that go into preserving the pieces are far from glamorous, but they ensure that the iconic costumes will remain in pristine condition for future use in classrooms and museums.
Preparing a small portion of Close's costumes for exhibition has involved months of cross-campus collaboration, including fitting mannequins, making prop understructures, photographing complete looks, freezing the costumes to protect them from bugs, replicating certain costume components, and finally assembling and steaming the costumes at the Eskenazi Museum.
"I have an incredible appreciation now after working with this collection for a few years of all the effort and research and hours and hours and hours it takes to construct a beaded dress from '102 Dalmatians,'" Richardson said. "It's really mind blowing. And all of the sort of unknown and unsung people behind the scenes creating something that might be on screen for like 10 seconds."
Richardson, collections assistant Emily Rosolowski and several Eskenazi School students could be considered some of the unsung heroes of the "Art of the Character" exhibition, breathing new life into the boxed-up costumes to prepare them for their on-campus debut. As they surveyed their work on the "Reversal of Fortune" dress, they decided to tuck some extra tulle inside the pantyhose covering the back of the mannequin, to help fill the costume out more naturally. Surprisingly, the most challenging part of the afternoon is getting the mannequin's arms to fit back into its torso.
"Sometimes they go in like butter, other times not at all," Richardson said.
The students finish the afternoon by taking pictures of the completed look, before it goes into storage ahead of its transfer to the exhibition space. Boardman said he's in awe that he gets to work with Close's pieces. It's an opportunity that sets IU apart, and one he hopes will do the same for him once he graduates.
"The fact that I'll be able to say that I worked on an exhibition, and especially an exhibition of this stature, is definitely something I will be boasting about," Boardman said.
"A Close look at 'The Art of the Character'" is a feature series that explores how IU Bloomington students, staff, faculty and students have helped prepare Glenn Close's costumes for their first on-campus exhibition.