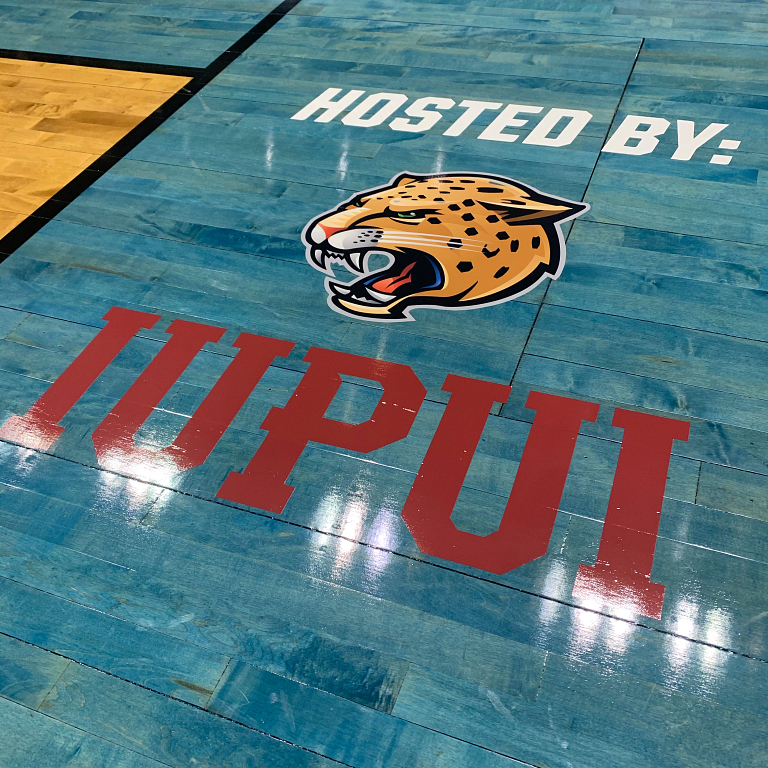 March Madness has concluded, and IUPUI students, staff and faculty are catching their breath after 97 games in 28 days.
From the men's and women's Horizon League and Big Ten tournaments to the entire NCAA Division I men's basketball tournament being held in Central Indiana, Jaguars have been helping make these events happen for the past basketball-packed month.
The action tipped off March 8 with the Horizon League women's semifinal, featuring Wright State beating Cleveland State 73-62 at the Indiana Farmers Coliseum. The final of the 97 games was the men's national championship on April 5, when the Baylor Bears cut down the nets with a dominating 86-70 victory over the Gonzaga Bulldogs at Lucas Oil Stadium.
IUPUI Athletics was responsible for hosting games at Indiana Farmers Coliseum, the home venue for the Jaguars' men's and women's basketball teams. This historic venue at the Indiana State Fairgrounds held first- and second-round NCAA tournament games in addition to the semifinals and championship of the men's and women's Horizon League tournament.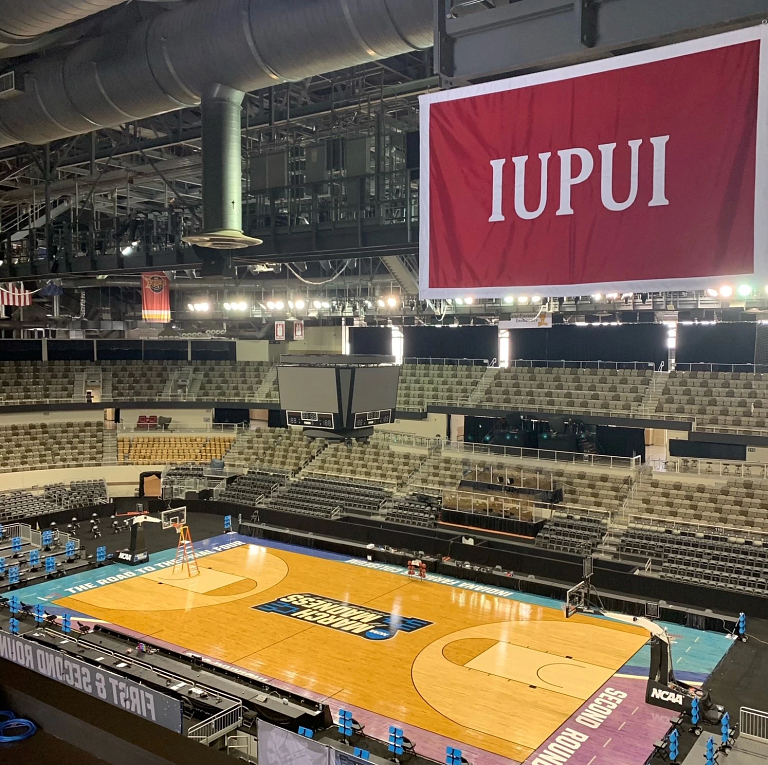 IUPUI also served as co-host for the Final Four at Lucas Oil Stadium, in collaboration with the Horizon League.
Students, staff and faculty all worked games at those sites and others to help Indianapolis serve as a host for one of the world's most prestigious sporting events. The NCAA men's basketball tournament offered plenty of opportunity for Jaguars who wanted to be involved, and we spoke with some of them about this unique experience they all took pride in:
David Hayden, master's student in sports journalism program and writer for NCAA.com and Sports Capital Journalism Program.
Ed Holdaway, assistant athletic director for communications, media coordinator at Indiana Farmers Coliseum and member of media relations team at Lucas Oil Stadium for Elite Eight and Final Four.
Demi Johnson, master's student studying applied data science with a specialization in sports analytics and stats caller for games at Indiana Farmers Coliseum.
John Rasmussen, senior associate athletic director for external affairs and tournament manager for Indiana Farmers Coliseum site.
Jaunelle White, senior associate director of athletics for internal operations, assistant tournament manager for Indiana Farmers Coliseum site and volunteer coordinator for Reese's Final Four Friday.
Question: What was it like to be involved in an event like this?
Holdaway: This one was special. It had a much different feel than prior NCAA championship events. It was an incredibly collaborative effort. I felt like there was an air of gratitude and appreciation surrounding the event, particularly from the participants, fans in attendance and media that covered the event. Our city has put on an impressive showing, and it's been fun to play the tiniest role in the event's overall success.
Johnson: It was an unbelievable experience with it all being conducted mostly in Indianapolis. Seeing the city busy over the entire month of March had life feeling back to "normal" and pre-COVID-19.
Rasmussen: Exhausted enthusiasm. It was great to see the games and the energy and emotion of the athletes and coaches. But it must be said that it was exhausting. This was an incredible opportunity for IUPUI and for me personally to be involved in bringing about this championship. And we did so with 100 percent effort to provide a safe and healthy environment for all the athletes, coaches, staff, workers and fans.
White: The preparation for this event was daunting at times but worth it. I'm honored to have my name etched in the event's history.
Q: How would you describe the in-arena atmosphere, considering the games were played with COVID-19 safety protocols and capacity limits in place?
Hayden: The in-arena atmosphere was great. Knowing it was a limited capacity for fans to attend, you still felt the energy from the fans as if it was a packed house. You could recognize that the players truly missed the live fan support.
Johnson: During the Grand Canyon and Iowa game I worked, Grand Canyon had so many students attend, and they were amazing. Choreographed dances, cheers, and they were all so loud. It was such an amazing thing to see and hear. Due to me working at the Coliseum and the capacity being smaller than others in the tournament, it created an awesome fan and work atmosphere.
Rasmussen: The Indiana Farmers Coliseum had some great energy – we were fortunate to host some passionate fan bases in Illinois and Kansas. But also, schools with less tournament history had incredible fan bases; Grand Canyon and Oral Roberts were very loud. The smaller Coliseum helped, and it was nice to see how many people really enjoyed being in the historic facility.
Q: What did you enjoy most about the experience?
Hayden: I enjoyed being able to attend NCAA tournament games for the first time. It's been something I've always wanted to do. Also, I gained valuable experience as a writer being in a unique situation that was very enjoyable as well.
Holdaway: The opportunity to showcase what we're capable of from as individuals, a department, a university and a city. We knew we were all going to be under a microscope for the duration of the event, so it's been fun to put our best foot forward and attempt to accommodate all those needs. I've had the opportunity to lead and support some dynamic behind-the-scenes teams during this event, and it's been fun to watch everything come together.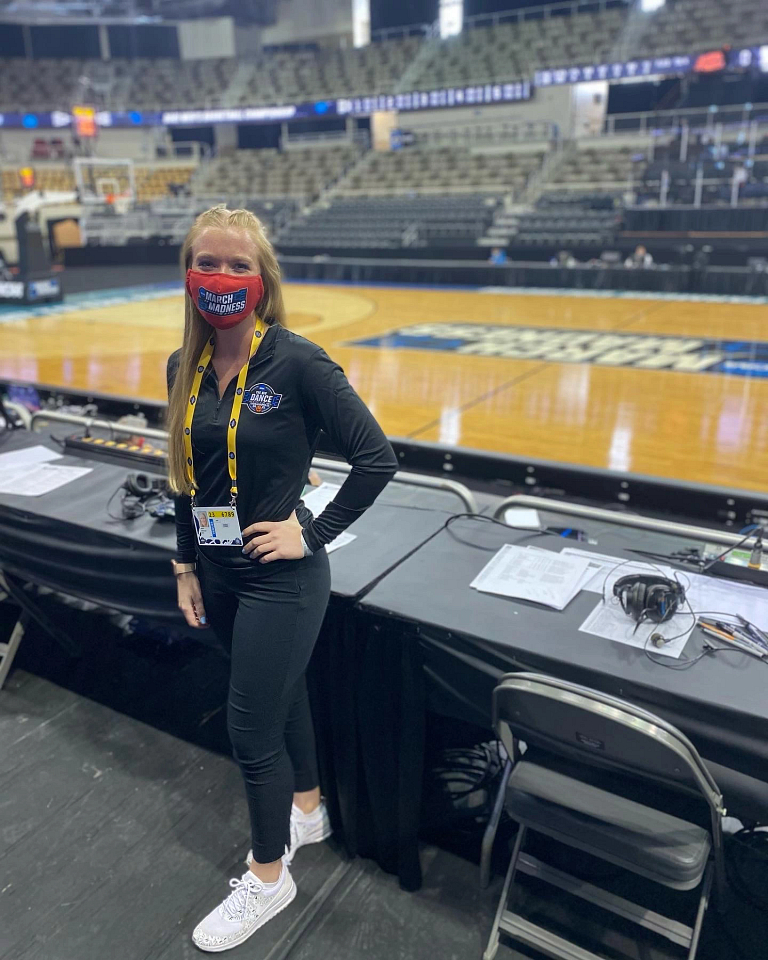 Johnson: I enjoyed creating new professional relationships and simply just being a part of this historical year of the tournament. I have to mention working the Oral Roberts/Florida second-round game. Oral Roberts upset Ohio State in the first round and then went on to also upset Florida in the second round. This game went down to a last-second shot and was close throughout the entire game. The environment inside of the Coliseum was incredible. Being front and center working the game and staying composed was hard. There is nothing I enjoy more than upsets and March Madness.
White: I enjoyed the ability to play a small role in making the event a good experience for the student-athletes, coaches, and administrators that participated. Also, I had the opportunity to witness great basketball games in person.
Q: What did you hear from staff, players and coaches about their experience in the venue and/or about Indianapolis?
Holdaway: It was largely positive feedback. While the student-athletes, coaches and participants have spent the better part of a month in a controlled environment, I've heard that they've been treated incredibly well. That's not unexpected, but it's uplifting to hear. Plus, I think the participants have enjoyed the lore of Indiana basketball and having the opportunity to play an array of facilities that range from historic (Indiana Farmers Coliseum and Hinkle Fieldhouse) to cutting edge (Bankers Life Fieldhouse and Lucas Oil Stadium). It's awesome that we've been able to showcase the sport and weave it with the fabric of our city.
Rasmussen: I believe the overwhelming message has been one of gratitude. It has been a long season emotionally and physically, and for our community to rally to provide the best opportunity to complete the championship in as safe an environment as possible has taken an incredible amount of work.
"Making the Madness" is a feature series that explores the IU Bloomington and IUPUI students, staff, faculty, alumni and venues involved in hosting the 2021 NCAA Division I men's basketball tournament.