Blues poetry opera honoring novelist Richard Wright airing on WFYI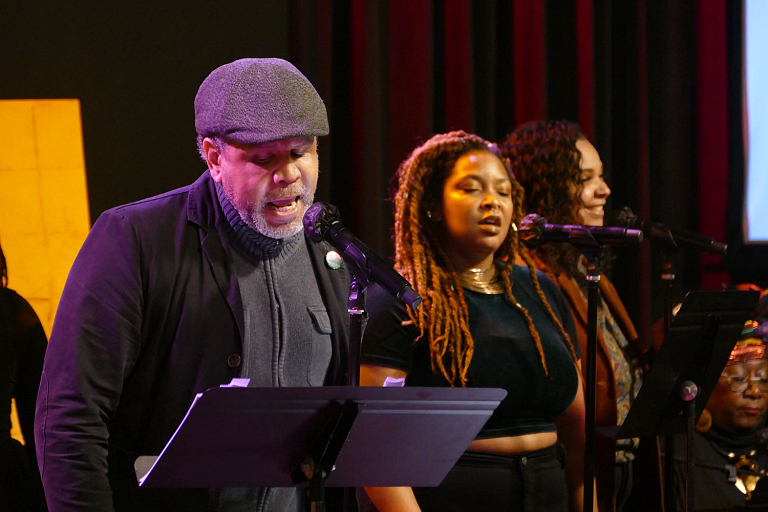 A blues poetry opera honoring the life, art and legacy of world-renowned author, novelist, travel writer and poet Richard Wright will air at 9 p.m. April 15 on WFYI. "The Voodoo of Hell's Half-Acre": The Travelin' Genius of Richard Wright from Natchez to Chicago was a 2020 recipient of Indiana University's New Frontiers for Creativity and Scholarship grant program.
Led by IUPUI assistant professor Lasana D. Kazembe, who teaches in the School of Education and Africana Studies Program, the live presentation was filmed last month and features artists and musicians from throughout central Indiana.
It is a live, multimedia theatrical presentation chronicling the story of Wright from his migration from Mississippi to the decade he spent in Chicago from 1927 to 1937. The performance involves a 10-piece ensemble featuring spoken-word poetry, singing, saxophone, piano, upright bass and drums. Musical interludes enhance and animate the element of spoken-word poetry performances as part of the 90-minute piece broken into six movements.
Free skin cancer screening
The American Academy of Dermatology has designated each May as Melanoma/Skin Cancer Detection and Prevention Month. The Indiana University Department of Dermatology in cooperation with the academy will be sponsoring a free skin cancer screening from 7 to 9 a.m. May 3.
Appointments are needed for screenings at University Hospital, Eskenazi Dermatology Clinic and Coleman Hall. To schedule a free skin cancer screening, call 317-916-3525.
'Ask Aaron' webinars continuing
Faculty, staff and students can learn more about the coronavirus and IU's efforts to fight it by participating in an upcoming "Ask Aaron" webinar from Dr. Aaron Carroll, one of the leaders of IU's COVID-19 Medical Response Team.
The campus community needs to continue wearing masks, practicing physical distancing, avoiding large gatherings and getting vaccinated when eligible, he said.
The next webinars for all campuses are April 21 and 28. Additional webinars are planned throughout the semester. Those unable to tune in live can watch the recordings at broadcast.iu.edu.
For information about the COVID-19 vaccine, and who can receive it and when, visit IU's COVID-19 vaccine website.
Environmental philanthropy focus of new faculty position
A new faculty position dedicated to examining issues at the intersection of the environment and philanthropy is expanding the expertise of the Indiana University Lilly Family School of Philanthropy at IUPUI.
Ashley Enrici will serve as the inaugural McKinney Family Fellow of Environmental Resilience and Philanthropy and assistant professor of philanthropic studies at the school.
In the new position, Enrici will conduct research, teach and convene scholars and practitioners on topics related to philanthropy and the environment; increase understanding and awareness of philanthropy's role in addressing environmental issues; and advance the work of environmental resilience and adaptation.