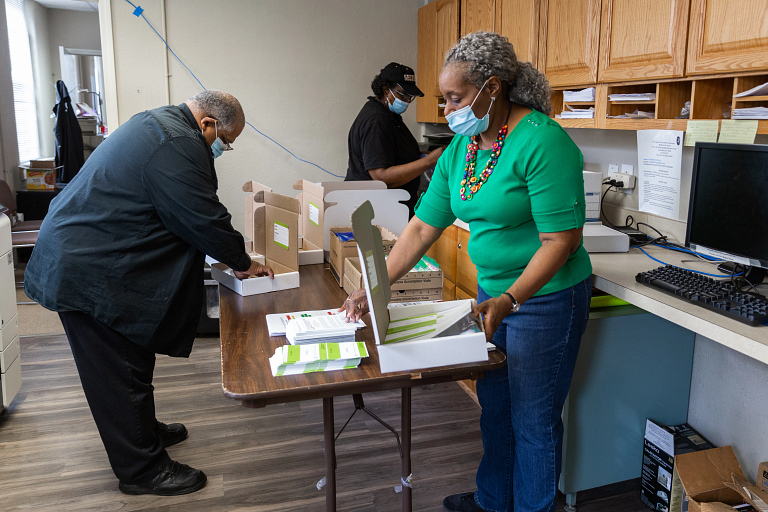 A partnership between IUPUI researchers and faith organizations in Indianapolis is taking aim at the risk of household lead contamination by providing residents the tools they need to protect against it.
As a part of the Center for Urban Health at IUPUI's long-term effort to map lead levels across the city, organizers with the Indianapolis Ministerium's Faith Lead Initiative have begun to distribute lead test kits to residents on the near northwest side. The kits will provide participants with free, reliable lab results on potential lead exposure in their homes – information that is often out of reach due to barriers such as cost and lack of education on the risks of lead.
The tests' results will also contribute to anonymous public data on household lead levels across Indianapolis through the center's Map My Environment website. This is the first time the website will contain data on lead levels in water.
"There are regulations about the allowable amount of lead in water, but the truth is there's no safe level of lead," said Gabriel Filippelli, director of the Center for Urban Health and a Chancellor's Professor at the School of Science at IUPUI. Filippelli's expertise played a major role in a 2020 report on childhood lead poisoning from the Indiana Advisory Committee to the U.S. Commission on Civil Rights. "It's a neurotoxin that permanently impairs the brain, and you can see markedly lower IQ and higher ADD/ADHD in children who are lead poisoned."
The risks of exposure are especially serious in infants and toddlers. Also, "it's been consistently found that lead testing rates are significantly lower in communities of color, even as the poisoning rate are significantly higher," he said.
In response to these inequities, the center's testing effort will focus on homes in downtown Indianapolis between Kessler Boulevard and Meridian Street, from 16th to 38th streets. A second, larger phase of the project – open to residents across the state – is planned this summer.
Also a leader on the project is the IUPUI Arts and Humanities Institute, whose partnership with the Ministerium began under the Anthropocene Household Project, an oral history project whose subject is residents of the city's near northwest side.
On April 8, volunteers at First Baptist Church North Indianapolis assembled the first 200 lead test kits for distribution in cooperation with local organizations such as GroundWork Indy, the Kheprw Institute, the Flanner House and partner churches of the Indianapolis Ministerium. Another 200 kits will be distributed in Muncie, Indiana, in cooperation with Ball State University.
Each kit includes five plastic water vials, a large bag to collect household dust, three small bags to collect soil samples and informational material on lead in the home. A numbered sticker is used to keep samples anonymous.
"Through the year of the pandemic, First Baptist Church North Indianapolis sought to discern what ministries are needed, and will be needed in the future," said the Rev. Ivan Douglas Hicks, senior minster at the church. "We are currently working on projects that will provide needed resources in our area, which could be considered a resource desert."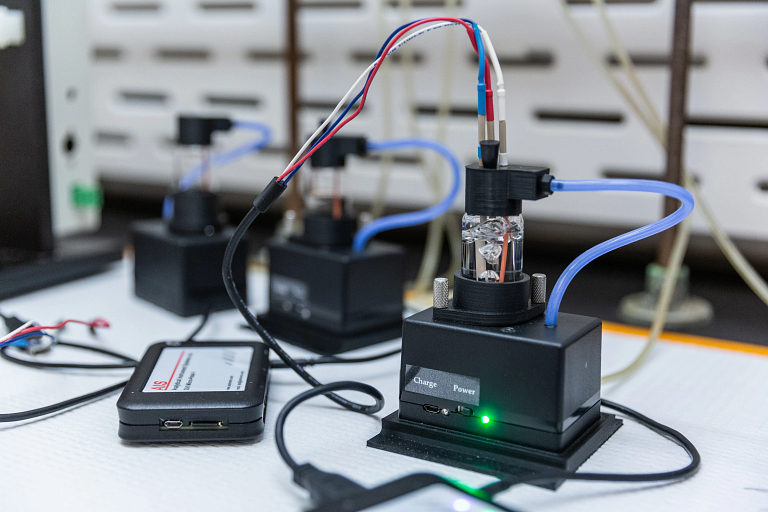 He said the lead testing project spoke to church leaders' desire to provide leadership and programming to improve their members' health. The fact that participants could learn about their home's lead levels while keeping the home's location anonymous was also significant, he said, as members were hesitant to pursue professional lead testing due to concerns about government repercussions.
Another challenge is the fact that Indiana does not provide free home lead analysis until children test positive twice for elevated blood lead levels, Filippelli said. He said the state's threshold for elevated blood lead levels – 10 micrograms per deciliter – is twice the amount regarded as elevated under national guidelines provided by the U.S. Centers for Disease Control and Prevention.
Analysis of the test kit samples will be conducted by Spencer Strout, a student in chemistry and geology at the School of Science at IUPUI, under the guidance of associate professor Gregory Druschel. Earlier contributors to the project include Natalie Nichols, who graduated in fall 2020, and John Shukle, a Ph.D. student at the school.
Shukle said the project's focus on tap water is significant since lead contamination is most common in homes with aging infrastructure, such as lead pipes, which can lose the protective mineral layer that prevents heavy metals from leeching into drinking water.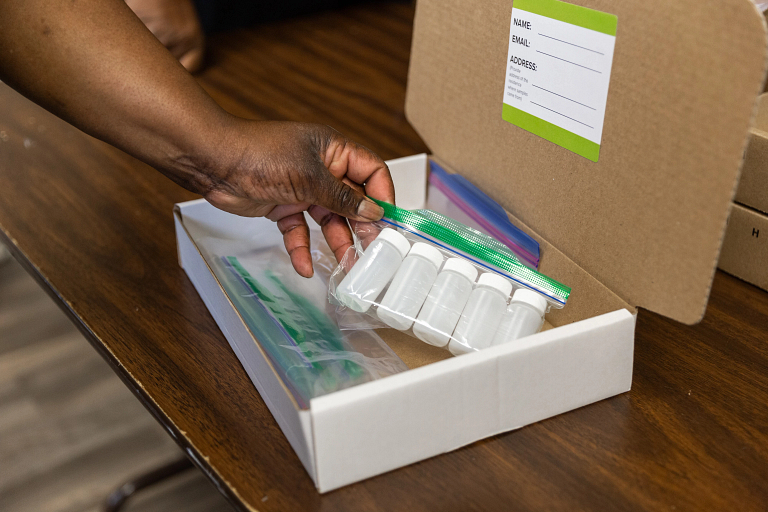 "The challenge is we're not talking about a large amount of lead; it's relatively low concentrations," Strout said. "But once you get any lead in your body, the acids in your stomach dissolve it, and it gets in your bloodstream. And once it's in your blood, it's very hard to get out since it's stored in your bones."
The collection effort builds upon previous work from the Center for Urban Health, which has offered free soil analysis since 2012 and free dust analysis since 2018. The center had not been able offer free water testing until now because water collection requires special equipment compared to plastic baggies for dirt and soil.
"There's a wonderful citizen science aspect to this project," said Jason Kelly, director of the IUPUI Arts and Humanities Institute. "Not only will the individuals who participate benefit directly, but the resulting data will also play a role in keeping communities safer more broadly."
This effort is supported by the IU Prepared for Environmental Change Grand Challenge initiative. Filippelli is executive director of the Environmental Resilience Institute at IU, part of the IU Prepared for Environmental Change initiative.
Hicks is also a community research scholar in the American studies program at IUPUI.