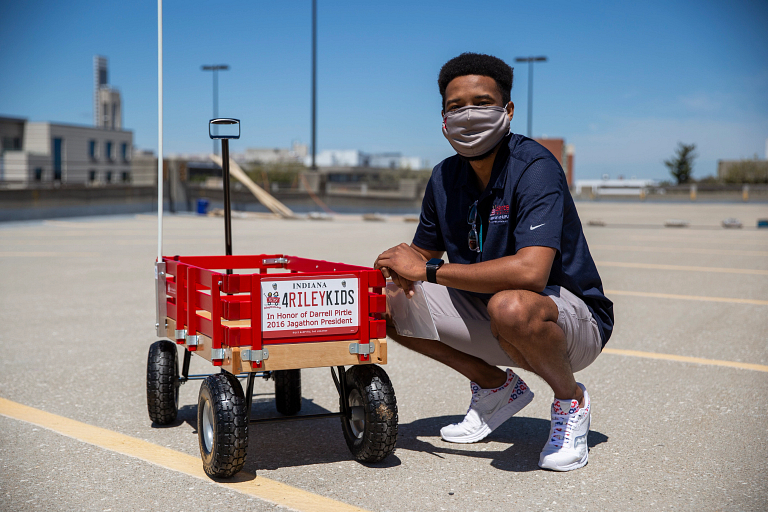 Virtual Jagathon raises over $360,000
In its 20th year, Jagathon took a different approach than usual. IUPUI's annual dance marathon, which raises money for patients at Riley Hospital for Children at Indiana University Health, hosted a 43-hour virtual event spanning three days, instead of the traditional 15-hour event at the Campus Center.
A total of 840 Jaguars from 73 teams participated in the weekend event and raised $363,702.25, which represents the fourth largest annual fundraising total for the program in its two decades.
Need to schedule your COVID-19 vaccine? Text us.
COVID-19 vaccine appointments are still available on campus at IUPUI, and there's now an even easier way to schedule.
IUPUI students, faculty and staff can text APPT, followed by their name and phone number, to 317-518-7003. A representative from IUPUI's vaccine clinic will then call you back to schedule your appointment. You can also look for a text from 45179 sent by the Indiana Department of Health in early April to schedule via a unique link.
Appointments for doses of Pfizer are available Mondays between 3 and 6 p.m.; Tuesdays between 9 a.m. and noon; and Thursdays between noon and 3 p.m. IUPUI's vaccine clinic provides the Pfizer vaccine and appointments can be made for first doses or second doses.
Fairbanks dean published in The Conversation
Fairbanks School of Public Health Dean Paul K. Halverson recently wrote a piece for The Conversation titled, "Declaring racism a public health crisis brings more attention to solving long-ignored racial gaps in health."
The Polis Center releases 'State of Aging' report
Is Central Indiana a good place to grow old? Are the basic needs of older adults being met? What are emerging trends and issues related to older adults in Central Indiana?
These questions were examined in a new "State of Aging" report through a collaborative effort by Central Indiana Senior Fund, a fund of Central Indiana Community Foundation, The Polis Center at IUPUI, the IU Center for Aging Research and the IU Public Policy Institute's Center for Research on Inclusion and Social Policy.
Upcoming webinar from TRIP Center
Professor Mark Urtel is the featured speaker for May's Scholar of the Month Community Dialogue Speaker Series presented by the IUPUI TRIP Center. The webinar is scheduled from noon to 1 p.m. May 28.
Urtel's presentation is titled "Examining the Impact of Intramural Youth Sports on SEL (social and emotional learning)."
Registration is required for the event.
Top trending author recognized
School of Engineering and Technology at IUPUI assistant professor Babak Anasori was recently named one of the Top Five Trending Authors in Nanotechnology (2019 and 2020) and Materials Science (2019) identified by Microsoft Academic.
Read the full blog on the school's website.