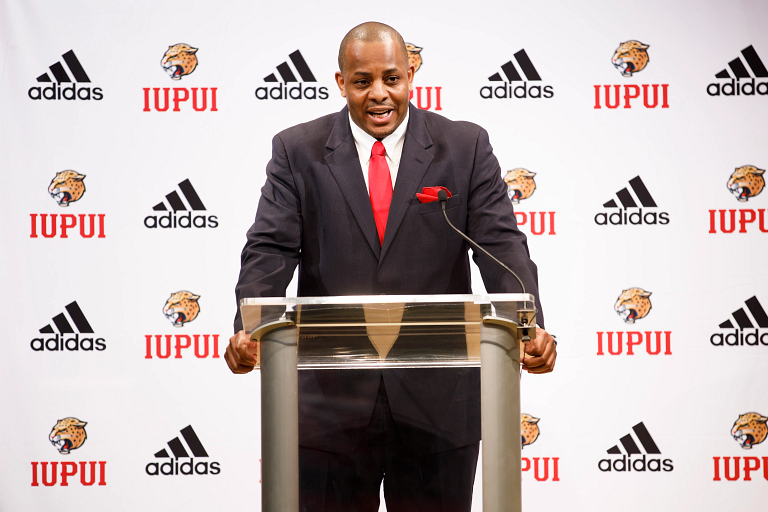 INDIANAPOLIS – Jaguars alumnus Matt Crenshaw has been hired as the 10th head coach in the IUPUI men's basketball program's history, the IUPUI Athletics Department and Director of Athletics Roderick Perry have announced.
Crenshaw, an IUPUI Hall of Famer and longtime assistant coach, was selected following a national search, facilitated by an IUPUI campus-wide search committee and assisted by Parker Executive Search. He brings 15 years of collegiate coaching experience to the Jaguars program.
"I am pleased to welcome Matt Crenshaw back to IUPUI," IUPUI Chancellor Nasser H. Paydar said. "Coach Crenshaw brings a depth of experience unmatched by other candidates, including – and especially – his experience as an IUPUI Jaguars student-athlete and as an assistant coach at IUPUI. He has also coached at Ball State University and played professional basketball.
"With deep roots in the community and ties to many former IUPUI players, Crenshaw is well-positioned to take IUPUI men's basketball to the next level."
Crenshaw has spent the past three seasons as an assistant at Ball State, serving as the Cardinals' co-defensive coordinator. In addition, he was instrumental in Ball State's guard development, recruiting efforts and advance scouting.
Under his tutelage, Ball State boasted All-Mid-American Conference performers Tayler Persons, Ishmael El-Amin, K.J. Walton and 2019-20 MAC Freshman of the Year Jarron Coleman. In addition, Ball State had the MAC's best scoring defense during the 2019-20 season and captured a West Division championship before the season was halted due to COVID-19.
"This is an exciting day for our university, athletics department and men's basketball program," Perry said. "Coach Crenshaw's experience, excitement and love for this university and basketball program make him the perfect candidate to build upon past successes in leading the program to new heights while connecting with former players, alumni, current students, faculty and staff.
"We are happy to welcome him home."
Crenshaw previously spent 12 seasons on the IUPUI bench, including his final seven years as the program's associate head coach. He was on the IUPUI coaching staff when the Jaguars notched a 26-7 mark in 2007-08, led by the program's first NBA Draft pick, George Hill. While at IUPUI, Crenshaw coached 15 all-league performers, two all-district honorees, three Mid-Major All-Americans and one CoSIDA Academic All-American.
"IUPUI has meant so much to me over the course of my time here as a student-athlete, a coach and alum," Crenshaw said. "I am humbled and honored that Chancellor Paydar, Dr. Perry and the search committee have given me this amazing opportunity to lead the men's basketball program.
"We will strive to not only reach the same level of success as we've had in the past, but also make greater strides in the future. I look forward to rebuilding and growing the program; I'm ready to get to work."
His time on the IUPUI sidelines spanned the tenures of three head coaches, starting with his college coach Ron Hunter. Crenshaw was instrumental in a pair of firsts: leading the Jaguars to their first NCAA tournament as a player and helping the program to its first postseason victory as a coach.
That victory came in the 2010 College Basketball Invitational as part of a 25-win season in which IUPUI fell one win shy of tying the program's single-season record for victories. That season also included one of the Jaguars' two trips to the Summit League championship game during Crenshaw's time on the bench.
In May 2013, Crenshaw was selected from a competitive field of talented assistant coaches and invited to participate in the NCAA's Achieving Coaching Excellence Program. The professional development seminar focused on training and education in the areas of leadership, communication, campus relations, media, community involvement and program management. He has implemented much of the training as he has excelled in academic oversight and been active on campus, both at IUPUI and Ball State. He's also helped spearhead community service initiatives in Indianapolis and Muncie.
As a player, Crenshaw gained national acclaim in March 2003 when his last-second jumper sent IUPUI to a thrilling win over Valparaiso in the Mid-Continent Conference championship game and the program's first NCAA tournament berth.
The Charlottesville, Virginia, native capped his collegiate career with an outstanding senior season, earning Mid-Con Defensive Player of the Year honors and Honorable Mention All Mid-Con honors. The 6-foot-2 guard averaged 11.7 points, 5.6 assists and 4.4 rebounds per game as IUPUI went 21-11 overall. He shot 57.3 percent from the floor from his guard spot, while playing 36.3 minutes per game. He was a Preseason All Mid-Con selection before his senior season.
He finished his career ranked sixth in school history with 157 steals and led the Mid-Con as a junior and senior in assist-to-turnover ratio. He played in 123 career games, making 98 starts during his four years, totaling 923 points and 422 rebounds to accompany his school-record 510 assists. He later had his No. 21 jersey retired by the program, becoming just the third former player to have his number retired to the IUPUI rafters.
After graduating from IUPUI in 2004, Crenshaw spent two years playing professionally in the ABA in the U.S. and in Slovakia and Poland overseas. While in Slovakia, he helped his squad to the Slovakian National Championship, while earning Playoff MVP honors. He was pegged by Eurobasket.com as the All-Slovakian League Import Player of the Year and First Team All-League before turning his attention to the coaching ranks.
Crenshaw was officially introduced as the 10th head coach in program history on April 13 and will officially begin his duties on April 19.