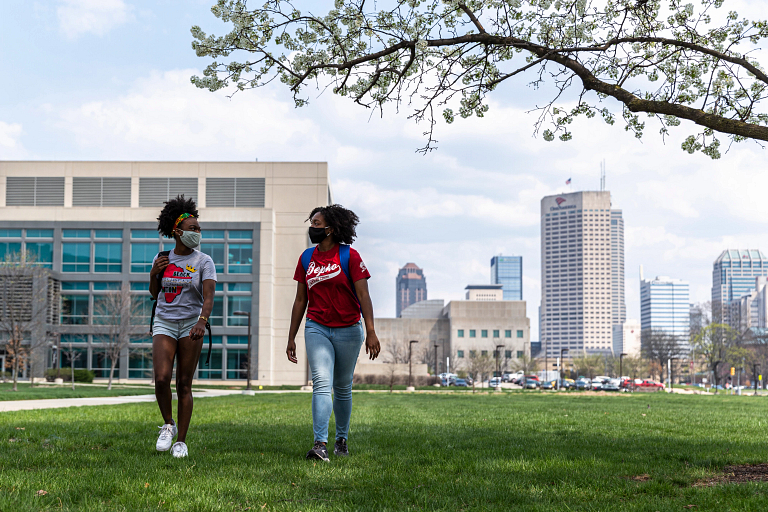 As the spring semester concludes this week, Indiana University has released its COVID-19-related health and safety guidelines for the summer in its latest Restart Committee report.
The updated guidelines, effective May 16 through July 31, were determined by the university's Restart Committee, which is led by IU School of Medicine Dean Dr. Jay Hess and includes medical, public health, legal and ethical experts.
Most notably, the committee strongly encourages all current and future students, faculty and staff to get the COVID-19 vaccination in order to resume a more typical campus experience this fall. It notes that the vaccine is now available to everyone 16 years and older, and the available vaccines in the U.S. are safe and effective.
"We're striving to get as many in our IU community as possible to be fully vaccinated," said Dr. Lana Dbeibo, director of vaccine initiatives for IU's Medical Response Team and member of the Restart Committee. "The COVID-19 vaccines are safe and extremely effective against severe disease. We know that 40 to 50 percent of people with COVID-19, and capable of shedding the virus, don't show any symptoms. That, in addition to the continued emergence of variants, makes it even more necessary that we all get vaccinated as soon as possible."
The committee's report also notes the importance of IU students, faculty and staff self-reporting their vaccination after each dose.
Many of the committee's recommendations remain the same as the spring 2021 semester, including masks being required on all IU campuses regardless of vaccine status. Changes to guidance from the spring 2021 semester include testing, travel and events.
Mitigation testing
Mitigation testing will begin again May 17 following commencement testing and voluntary departure testing, and it will continue through the summer. Though at a much lower volume, mitigation will look the same as it has on each campus during the fall and spring semesters.
Those who are fully vaccinated (all doses of a vaccine plus two weeks from the final dose) and have reported their vaccination status to IU will not be included in mitigation testing moving forward.
Travel
IU's travel guidance has been updated to reflect changes made by the Centers for Disease Control and Prevention.
While travel at IU remains restricted, travelers who are fully vaccinated do not need to quarantine, minimize activities or have a COVID-19 test upon their return to campus. Those who are not fully vaccinated should minimize non-essential activities for at least seven days after returning and be tested three to five days after their return.
Only a small number of international study abroad programs for undergraduate students are currently allowed. Otherwise, all international travel for undergraduate students remains suspended.
IU's full policy and guidelines for domestic travel are available through Travel Management Services, while international travel guidelines are set by the Office of the Vice President for International Affairs.
Large events
The Restart Committee defines a large event as anything with 25 or more people in attendance. These events should be held outdoors if possible. Proposals for large events must be approved by the university's events review committee and then by campus leadership if necessary.
The full Summer Restart Committee Report includes guidelines for all IU activities.