A virtual sustainability boot camp is getting 28 Indiana University students ready to assist Indiana businesses, nonprofits and municipalities during the summer. The weeklong program started May 17 to train the Indiana Climate Fellows in greenhouse gas emissions inventory and climate action planning.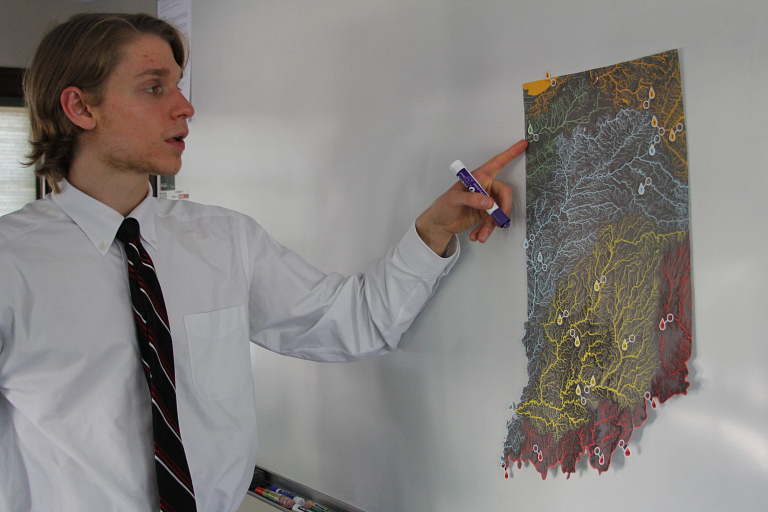 Sustain IU pairs students with partner organizations through the Indiana Sustainability Development Program's summer fellowship opportunity. The program combats the loss of workforce talent in sustainability by connecting the talent produced by IU's academic programs to sustainability needs statewide. The fellowship places an emphasis on climate change mitigation and adaptation, and fellows work alongside professionals on shared objectives.
The Indiana Sustainability Development Program also collaborates closely with IU's Environmental Resilience Institute, a partnership that leverages the climate and sustainability expertise of IU faculty in service of communities across the Hoosier state.
The Indiana Climate Fellows program has expanded to involve students from all IU campuses, and the Bloomington, IUPUI and Kokomo campuses are represented in this year's cohort. This year's Indiana Climate Fellows – formerly known as Indiana Sustainability Development Program externs – are addressing the climate crisis through completing greenhouse gases emissions inventories and drafting sustainability plans.
During the boot camp, the students have been digging into climate impacts in Indiana and climate justice issues, improving their ability to communicate about these complex issues. The students also heard from researchers at the Purdue Climate Change Research Center, the NAACP Midwest Environmental Justice Office and other organizations representing various sectors, including government, nonprofit and business, mirroring the diversity of Indiana's towns and communities.
"Boot camp prepared me for my summer placement by giving me the communication skills to engage with those who aren't already invested in climate change mitigation and adaptation," said Taren Porter, a two-time Indiana Climate Fellow who is majoring in environmental management and on track to earn a Bachelor of Science in public affairs next year.
The Indiana Sustainability Development Program's statewide focus is a key element of the fellowship, with Indiana Climate Fellows – who serve across sectors – leading the way to regional action on climate and contributing to a workforce where climate and sustainability professionals are the norm at every organization and in every sector. For example, the program is partnering with the Northwest Indiana Regional Planning Commission and, for the first time, fellows will lead the completion of a regional greenhouse gas emissions inventory for communities in three Northwest Indiana counties.
The program's impacts extend beyond the fellows' tenure. Batesville, Indiana-based Hillenbrand has hosted an Indiana Climate Fellow annually since 2019 and recently hired its first chief sustainability officer, Tory Flynn.
"Every year the students bring new ideas they learn in school, and we provide them practical ways to implement their strategies in a corporate setting," Flynn said. "This inclusive partnership helps promote diversity of thought as we work toward a common vision of meeting today's needs without compromising future generations' abilities to meet their own needs."
The Indiana Sustainability Development Program recently received an Indiana Department of Environmental Management CLEAN Communities grant, which encourages Indiana communities to proactively manage environmental and health impacts associated with governmental operations. The grant also involves the recruitment of additional fellows who will support local governments in upholding this goal.
In its fifth year, the Indiana Sustainability Development Program has operated successfully due to the sustained support of the McKinney Family Foundation. The O'Neill School of Public and Environmental Affairs has also been a longtime collaborator in supporting and selecting talented students to serve as fellows. Fifteen O'Neill students will serve as Indiana Climate Fellows this summer.
"I am so excited for the opportunities the 15 O'Neill School students will have through the Indiana Climate Fellows program," O'Neill School Dean Siân Mooney said. "ISDP will help provide rich and meaningful internships this summer that give our students who are passionate about our environment and its long-term health the chance to make real change in communities throughout Indiana. I look forward to seeing the great work they do all over the state."
The Indiana Sustainability Development Program also has received strong support from the Walter Center for Career Achievement, which ensures that students from all disciplinary backgrounds bring diverse skillsets and knowledge bases to the Indiana Climate Fellows program.
"The Walter Center is pleased to partner with Sustain IU by providing additional scholarship funds to College of Arts and Sciences students to participate in the Indiana Climate Fellows program," said Joe Lovejoy, director of the Walter Center. "Students with liberal arts and sciences backgrounds have the skills and knowledge critical to combating climate change and working toward sustainability in our region."
The experience students gain through the Indiana Climate Fellows program also is intended to help them bloom into future leaders, and protect the health and prosperity of all Hoosiers.