Live or work near the north side of campus, and looking for a new place to grab a bite? Try the restaurant inside the George L. Thomas Clubhouse at Indiana University Bloomington's new Pfau Golf Course.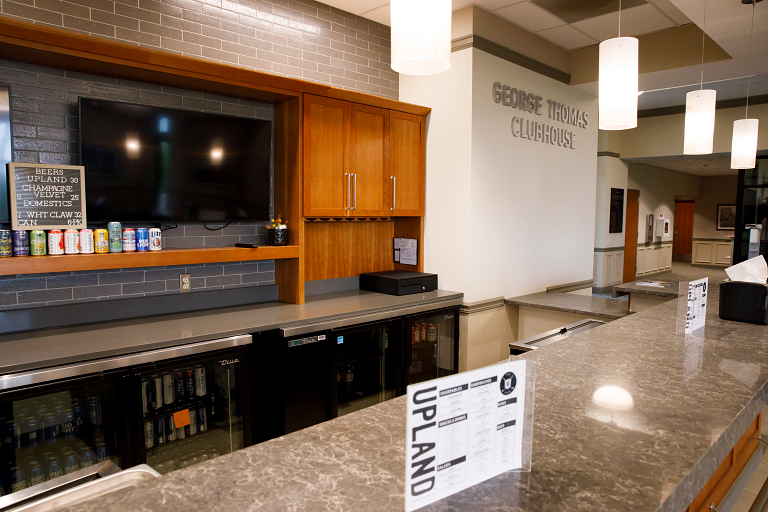 Run by Upland Brewing Co., the restaurant serves a limited menu of favorites from the main restaurant on 11th Street, including smash burgers, soft pretzels with cheese and pulled pork sandwiches.
But the restaurant offers a few specialty items as well: a Cuban sandwich, a hot dog topped with pulled pork, bacon, shallots and cheese known as the "Hoosier Dog," and cold cuts sandwiches for folks who might be in a rush.
The menu includes the course's official beer, Champagne Velvet, as well as Upland's new Naked Barrell Hard Seltzer and the tried-and-true standard Upland Wheat, as well as domestic beers.
The restaurant uses locally procured Fischer Farms meat, and makes all of its own salad dressings, salsa and tortilla chips. It also serves Chocolate Moose ice cream.
Indoor dining is set at 25 percent capacity, according to Upland's offsite events manager Jessi Olry, but uncovered outdoor patio space is available for seating, as well as a large, covered outdoor pavilion.
"We just started offering a full menu in April, and we're really trying to get the word out," she said. "We're a great quick stop for lunch, and an online ordering system is in the works too, so if you're working next door at the Foundation or down the road at Athletics, you can put your order in and it'll be ready when you get here."
The restaurant is inside the George L. Thomas Clubhouse at the new Pfau Golf Course on the north side of campus, off the Indiana 45/46 Bypass. It is open from 10 a.m. to 6 p.m. daily, and you do not need to use golf course facilities to eat at the restaurant.
Renowned golf course architect Steve Smyers and professional golfer Fuzzy Zoeller, a Hoosier native and two-time major winner, designed The Pfau Course. Each hole is completely different from the previous layout, and the par-71 course can play at a maximum of 7,908 yards or a minimum of 4,586, depending on which tees are used.