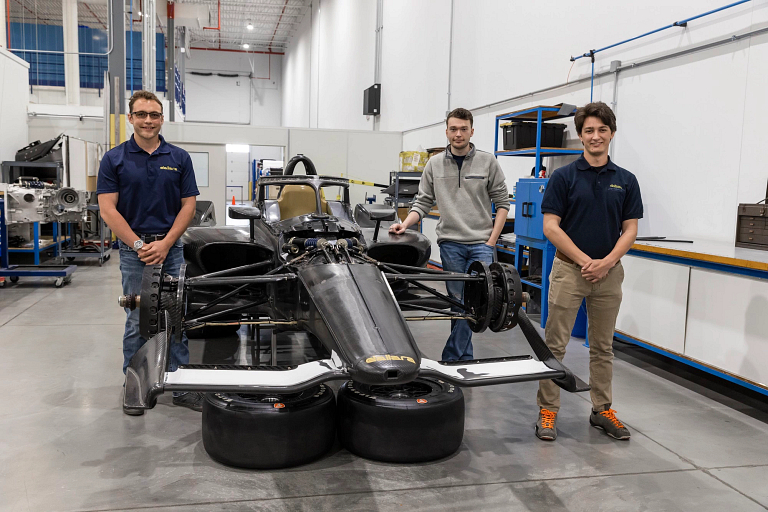 Growing up in Mooresville, Indiana, IUPUI student Alex Turner half-jokes that he was "brainwashed at an early age" to be an Indianapolis 500 fan. The first race he attended was in 2011, when leader JR Hildebrand crashed on the last turn of the last lap – right in front of where Turner was sitting.
A decade later, Turner can watch the race with pride. He has an internship at the factory where each one of the race cars in "The Greatest Spectacle in Racing" is essentially born.
Turner and IUPUI motorsports engineering classmates Max Grau and Parker Neale have been working at the Dallara IndyCar Factory just south of the Indianapolis Motor Speedway, on the town of Speedway's bustling Main Street. Every car in the NTT IndyCar Series is a Dallara chassis, with IndyCar being one of several racing series for which the company supplies vehicles. The factory also has aerospace and defense projects.
It's a massive operation that employs about 700 people at its Italian headquarters and more than 40 in Speedway, including a steady supply of talent from the IUPUI School of Engineering and Technology.
"We've had good students interning with them, and then a couple getting to be full-time hires," said Chris Finch, director of the motorsports engineering program at IUPUI. "It's nice to say that when they need somebody, they're coming to our campus first."
All three of the rising seniors came to IUPUI specifically for the motorsports engineering program, with Grau coming from Davenport, Iowa, and Neale from Rochester, New York.
"It's not just classes on Indy 500 history," Neale said. "It's vehicle dynamics, aero, engine technology."
The cars in the Indy 500 don't "roll off the line" from the Dallara factory. Instead, kits are delivered to racing teams, with all the parts and a step-by-step manual on how to put it all together. Those manuals are constantly revised during the racing season as parts and car configurations change, given that IndyCars race everywhere from the 2.5-mile Indianapolis oval to road and street courses.
Grau, Neale and Parker have a hand in those manuals, among other duties, with no two days being alike. They also spend time in various departments helping to engineer and build car parts, then guiding the finished parts through quality inspection and the warehouse. And the work isn't just around IndyCars; NASCAR's newest generation of cars are also Dallara products, and Dallara also manufactures cars for the IMSA sports car series.
"Dallara does a good job of moving the students around," Finch said. "They're not just sitting in an engineering office looking at a computer screen; they're in the composite shop and on the shop floor.
"It's a very well-rounded education, which makes you a good engineer."