Indiana University has been selected as an institute partner for the 2021 Mandela Washington Fellowship for Young African Leaders. Beginning June 21, IU will virtually engage 25 of Africa's bright, emerging civic engagement leaders for a six-week leadership institute, sponsored by the U.S. Department of State.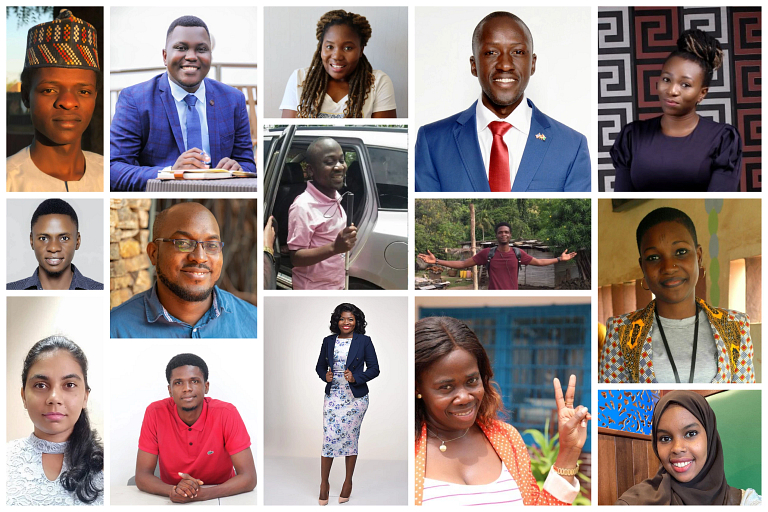 The Mandela Washington Fellowship, the flagship program of the Young African Leaders Initiative or YALI, empowers young African leaders through academic coursework, leadership training, mentoring, networking, professional opportunities and local community engagement. The Young African Leaders Initiative was created in 2010 and supports young Africans as they spur economic growth and prosperity, strengthen democratic governance, and enhance peace and security across the African continent.
Since 2014, the U.S. Department of State has supported nearly 4,400 young leaders from across 49 countries in Sub-Saharan Africa to develop their leadership skills and foster connections and collaboration with U.S. professionals through the fellowship. The cohort of Mandela Washington Fellows hosted by IU will be part of a group of 700 Mandela Washington Fellows hosted by 26 educational institutions across the United States.
Due to the global COVID-19 pandemic and with the health, safety and well-being of Mandela Washington Fellows and institute partners as the highest priority, the U.S. Department of State is planning a virtual fellowship for 2021. While remaining in their home countries, Washington Mandela Fellows will participate in virtual leadership institutes, which will include leadership training, networking, mentoring and professional development.
After their leadership institutes, Mandela Washington Fellows will participate in a virtual summit. Up to 70 competitively selected Mandela Washington Fellows will also participate in six weeks of virtual professional development with U.S. non-governmental organizations, private companies and government agencies.
Funded by the U.S. Department of State's Bureau of Educational and Cultural Affairs and implemented by the International Research and Exchanges Board, the leadership institutes will offer programs that engage, motivate and empower young leaders from Africa to tackle the challenges of the 21st century.
The 2021 Leadership in Civic Engagement Institute at IU, implemented by the IU Office of International Development, will mark the office's fifth year hosting a cohort of Mandela Washington Fellows. IU's 2021 fellows are a diverse group hailing from Benin, Burkina Faso, Cameroon, Central African Republic, Chad, Djibouti, Ethiopia, Eritrea, Ghana, Guinea, Kenya, Liberia, Malawi, Mauritius, Namibia, Nigeria, South Africa, Tanzania, Uganda and Zimbabwe. During their six-week programming with IU, these inspiring young professionals will engage with a mix of IU faculty, community leaders, nonprofit organizations and local households to gain valuable leadership and community development skills, and build meaningful person-to-person relationships between Africa and the U.S.
These connections grow through a variety of activities, including one-on-one coaching and mentoring sessions with IU faculty and staff experts from the IU Maurer School of Law, IU School of Public Health-Bloomington, IU Kelley School of Business, IU School of Education and others, where Mandela Washington Fellows will develop a strategic action plan related to a vital community-development project back home. There will also be virtual professional networking events with IU faculty and local and regional community leaders, including events hosted by the IU Center for Rural Engagement, Hoosier Hills Career Center, E3 Innovation Network, Work One, Region 8 Workforce Board and Ivy Tech Community College.
Leadership trainings will be offered through Canvas, with course modules developed by IU and Ivy Tech faculty on topics such as social entrepreneurship and the intersections of civil society with business and public policy. In addition, Mandela Washington Fellows will attend leadership skill-development sessions with the IU Lilly Family School of Philanthropy, including hands-on work in "transformational leadership" and how to inspire a network of advocates.
Mandela Washington Fellows will make local connections through youth mentoring with the city of Bloomington's "Kid City" camp program and a cross-cultural exchange of traditional music and performance in collaboration with the Lotus Education and Arts Foundation. There will also be a "Taste of Africa and America" virtual meal and recipe-sharing event with local families and virtual site visits to the Indiana State Museum in Indianapolis and the American Printing House for the Blind in Louisville.
"We are excited to host the 2021 Mandela Washington Fellows and contribute towards developing skills and experiences of an exceptional new generation of young African leaders who are the future of their communities and nations," said Teshome Alemneh, IU associate vice president for international research and development. "The program advances opportunities for IU faculty and staff, local organizations and communities in Indiana to expand network, partnerships and connections with young African leaders."
For additional information about the Mandela Washington Fellowship Leadership Institute implemented by IU, contact Teshome Alemneh at talemneh@iu.edu or visit the website of the Office of International Development.
The Mandela Washington Fellowship is a program of the U.S. Department of State with funding provided by the U.S. Government and administered by IREX. Join the conversation at #YALI2021.