BLOOMINGTON, Ind. – Indiana University recently announced new measures developed in collaboration with federally recognized tribal nations to strengthen relations with tribes and ensure compliance with the university's legal and ethical obligations.
Under the Native American Graves Protection and Repatriation Act, institutions receiving federal funding are required to treat human remains with "dignity and respect"; recognize that human remains and other cultural items removed from federal or tribal lands belong to lineal descendants, Native American tribes and Native Hawaiian organizations; and partner with those parties in determining the disposition of those remains and cultural objects.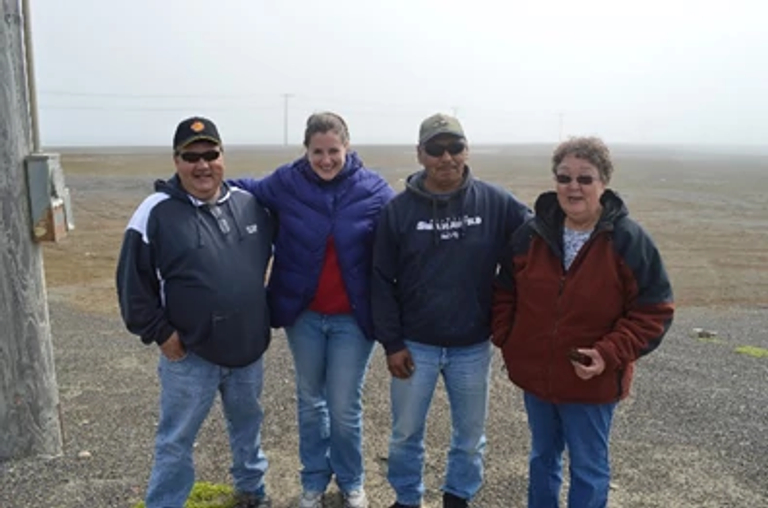 While IU has long been committed to complying fully with NAGPRA, it has recently established a NAGPRA Review Board and prohibited all research on Native American ancestral remains without the board's consent. The board, which includes tribal leaders and IU researchers, will help ensure compliance with NAGPRA and the involvement of the tribes, and will only permit research on ancestral remains to go forward if the relevant tribes agree.
The new board will also help to facilitate collaborative research with Native American nations and scholars.
"Indiana University is highly committed to strengthening our partnership with Native American nations and fully honoring our legal and ethical commitments to the rights and interests of indigenous people," said IU President Michael A. McRobbie. "We are extremely grateful for the establishment of the university's newly established NAGPRA research review board, which will ensure the respectful and dignified treatment of Native American ancestral remains."
In addition, the university has added three new professional staff positions to its NAGPRA office to help speed documentation of existing ancestral remains held by IU, ensure that they are at all times handled appropriately and respectfully, and provide for their repatriation to the relevant tribe(s).
As previously announced on April 15, IU partnered with the Quapaw Nation, the Eastern Shawnee Tribe of Oklahoma, the Miami Tribe of Oklahoma and the Shawnee Tribe, as well as the Indiana State Museum and Historic Sites, to complete the repatriation and reburial of the remains of over 700 individuals unearthed beginning in the 1930s from the Angel Mounds National Historic Landmark and State Historic Site in Evansville, Indiana.
"Last October, Chief Ben Barnes from the Shawnee Tribe challenged IU to do more to live up to our legal and ethical commitments, demonstrate our respect for tribal ancestors and foster a closer partnership with tribal nations," said Fred H. Cate, vice president for research at IU. "He and other tribal leaders then worked with us to develop this novel approach, based on the Institutional Review Board oversight required by federal law for research involving living humans. We are all grateful to Chief Barnes and other tribal leaders for their candor, insight and partnership."
Chief Ben Barnes of the Shawnee Tribe said the tribe is relieved that the years-long discussion with Indiana University has resulted in "ensuring that the fundamental human rights of our ancestors are recognized and respected."
"We applaud IU President McRobbie, Vice President for Research Fred Cate, and all the Indiana University staff and faculty for their persistence to ensure that our tribal nations are essential partners to create a bold and bright vision for all the IU campuses," Barnes said. "There is still much more work to do. But, with this step, Indiana and her historical and ancestral tribal nations can do so with amity and integrity."
Other recent developments include:
Two national NAGPRA consultation and documentation grants
Collaborative research projects, including the Shawnee Pottery Project, American Indian Resources and Services Portal project and digitization grants with two tribal partners
Improvements in museum policies and IU collections work resulting in partnerships with tribes
Continued collaboration with the Archives of Traditional Music, IU Museum of Archaeology and Anthropology, Lilly Libraries and the American Indian Studies Research Institute
IU NAGPRA Director Jayne-Leigh Thomas said several successes and projects ongoing today are a result of initial IU NAGPRA Project consultation meetings several years ago in Oklahoma.
"As trust was built and partnerships were established, there seemed to be a ripple effect across campus," Thomas said. "NAGPRA discussions helped connect tribal researchers with centers on campus, which has led to collaborative research projects, co-authored publications with our tribal colleagues and several grant opportunities. We are committed to maintaining strong relationships with our tribal partners and firmly believe in prioritizing their concerns and ideas."
Scott Willard of the Miami Tribe of Oklahoma said they couldn't be more pleased with the proactive approach IU has taken in advancing the application of NAGPRA with the development of an independent NAGPRA Office, as well as the university/tribal NAGPRA Review Board.
"This is an out-of-the-box approach we wish other universities would adopt in an effort to not only advance positive relations with tribes, but to also fulfill their responsibilities under federal law," Willard said.
"One tribe alone could not have brought us to where we are in our relations with Indiana University. The Miami are very appreciative of and offer our support to our relative tribes who collaborated either individually or as a collective group in fostering strong ties with IU and the NAGPRA Office. We believe this relationship will last well beyond the final repatriation when all of our relatives are finally returned to the earth where they belong."