BLOOMINGTON, Ind. – The Indiana University Board of Trustees has awarded the University Medal, the highest award the university can bestow, to both IU President Michael A. McRobbie and IU first lady Laurie Burns McRobbie.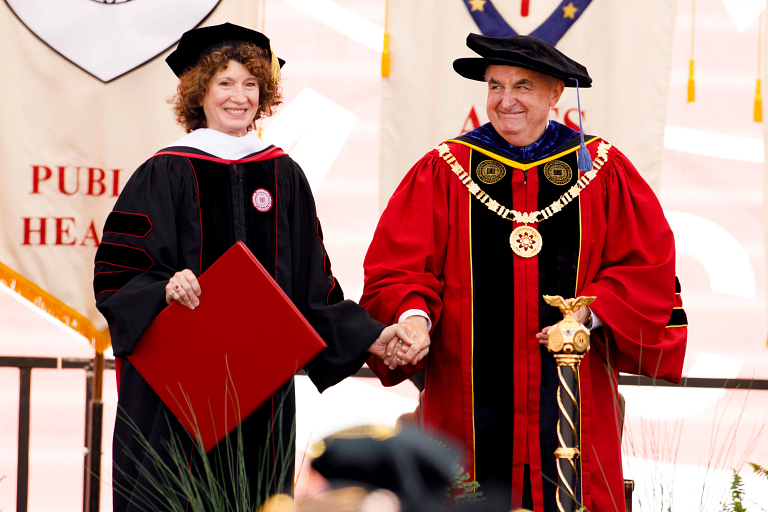 Rarely awarded and honoring the truly exceptional, the University Medal is presented to those who have made extraordinary contributions to IU or humanity at large. Honorees include Nobel Prize winners, senators and university leaders. The medal had previously been awarded only 20 times.
Michael J. Mirro, chairman of the IU Board of Trustees, bestowed the medals upon the McRobbies today at the board's June business meeting. He also presented a special resolution of the board recognizing President McRobbie, who will step down from the presidency at the end of this month after 14 years at the helm of Indiana's flagship public university, for his "many accomplishments that have enabled the recent historic success of Indiana University."
Additionally, the board approved new titles for IU's 18th president and first lady.
Effective July 1, President McRobbie will assume the titles of president emeritus and university professor, as well as the honorary title of university chancellor.
McRobbie is just the third person in the university's more-than-200-year-old history to be named university chancellor, a title that recognizes his past achievements and anticipates his continued support of IU's core missions. IU's legendary 11th president, Herman B Wells, held the title from 1962 to 2000. Longtime university administrator Kenneth R.R. Gros Louis held the title from 2006 to 2017.
Effective July 1, Laurie Burns McRobbie will assume the title of first lady emerita. She will also hold the titles of adjunct professor of informatics, computing and engineering at IU Bloomington, adjunct professor in the Lilly Family School of Philanthropy at IUPUI, and university fellow.
President McRobbie will continue to hold his current titles of professor of informatics and computing, cognitive science, philosophy, and informatics at IU Bloomington, and professor of philosophy and computer technology at IUPUI.
During his tenure as president, the university has been recognized for its leadership across a wide range of key areas, including student success, research and innovation, information technology, community engagement, international education, health sciences and the state's economic development.
He came to IU in 1997 from his native Australia as the university's first vice president for information technology and chief information officer. Now a U.S. citizen, he was appointed vice president for research in 2003 and named interim provost and vice president for academic affairs for IU Bloomington in 2006. He became president on July 1, 2007, currently making him one of the longest-serving university presidents in the country.
Laurie Burns McRobbie has been an active ambassador for IU and its extensive alumni community, with a particular focus on philanthropy, technology and the growing influence of women. She is a founder of the Women's Philanthropy Leadership Council at the Indiana University Foundation and serves as its honorary chair. In 2012, she was named Woman of the Year by the city of Bloomington's Commission on the Status of Women, and in 2018 she was given the Women Excel Bloomington Award by the Greater Bloomington Chamber of Commerce.
A technologist in higher education for more than 25 years, she was an executive director of Internet2, and she helped found what is now the Laurie Burns McRobbie ServeIT Clinic at the IU Luddy School of Informatics, Computing and Engineering. She also played a crucial role in the establishment of the IU Center of Excellence for Women and Technology, which seeks to create, foster and improve academic and professional opportunities for female students, faculty and staff working in or with technology. In 2016, she earned a master's degree in philanthropic studies from the Lilly Family School of Philanthropy at IUPUI.
In May, as part of IU Bloomington's spring undergraduate commencement ceremony, the president and first lady were each awarded an honorary degree – the highest academic honor IU can bestow.