BLOOMINGTON, Ind. – Online instruction has become an integral part of education since the COVID-19 pandemic paused in-person teaching, and Indiana University is using nearly $2 million in grants to help K-12 educators hone their skills.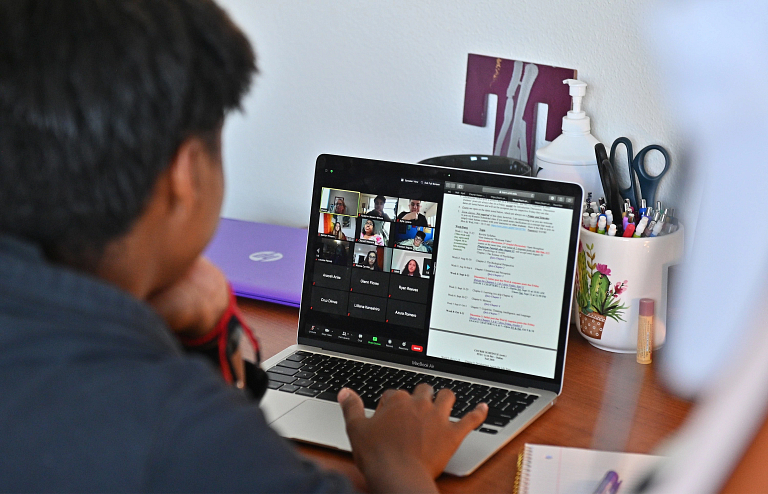 The university is working with Hoosier educators to develop 62 free virtual middle school and high school courses and curate resources for elementary-level courses that educators can use for their virtual needs starting this fall. IU High School and the Office of School Partnerships at IU Bloomington received a $1.2 million grant from the Governor's Emergency Education Relief Fund and $750,000 from the Indiana Department of Education to create the courses and virtual professional development opportunities, as well as establish and maintain a virtual course repository, and create a virtual educator license addition.
"We just want to be good neighbors and help," IU High School Principal Rebecca Itow said. "We're trying to do all we can to help communities, and to help give students a chance to learn."
IU High School, which has been offering distance learning since 1925 and has offered all of its courses online since 2012, is an expert in remote instruction. In spring 2020, it shared its curriculum with schools statewide to help with the transition to remote teaching and learning. When Mike Beam, vice president of school partnerships, learned about the Governor's Emergency Education Relief Fund, he wanted the university to apply.
The funds were used to create a nine-week Course Design Academy attended by about 180 middle school and high school educators from across the state. They collaborated and built courses that will be available this summer, giving educators time to review and implement them before they start using them in classes in the fall.
Itow said the 62 courses that were developed in the first Course Design Academy used IU High School's Responsive Online Pedagogical model as a guide, and they all meet state standards.
"What's really exciting is these are courses that can attend to many different needs," she said. "Teachers can use them as a full course or modify them."
In early fall, high school educators will begin designing more online courses that should be available to teachers before the winter break, Itow said.
Angie Moya, a science teacher at East Chicago Central High School, consulted on the creation of the environmental science course. She said she welcomed the chance to help because of how daunting last year's switch to virtual instruction was for some colleagues who lacked experience with online teaching.
"The Course Design Academy was an opportunity for teachers throughout Indiana to all work collaboratively and share different resources that had worked in the classroom," Moya said. "We adapted different methods."
Alisha Staples, a school psychologist with the Greene-Sullivan Special Education Cooperative, consulted on courses in earth and space sciences, integrated chemistry and physics, chemistry, and environmental sciences through the special education lens. Her role was to make sure the courses were accessible and accommodating for students with special needs. She addressed assumptions that teachers might have about how students learn, and the actual barriers some students face.
"Why make it only one way for students to learn? There are multiple ways to teach something," Staples added.
IU also used the funding to construct eight professional development courses for K-12 educators who are navigating online education, and for caregivers who are supporting their students in virtual instruction. The free courses developed by faculty across IU's Bloomington and regional campuses and housed at IU Expand are:
Casey Geer, who will teach math at Edgewood High School this fall and helped design a trigonometry course through the Course Design Academy, took the Responsive Engagement and Virtual Learner Assessment professional development course. It teaches about effective approaches to creating an online learning curriculum, and he said it aided him with the course design.
"It is a very ambitious plan, and it's going to help a lot of teachers," Geer said of the courses created. "It's ambitious because it has standards, and now there is standardized virtual instruction."
The Office of Academic Affairs is leading IU's initiative, which has involved the help of multiple departments and regional campuses: E-learning Design Services; Office of Online Education; CURE at IU Northwest; the School of Education at IU Bloomington, IU Northwest, IU South Bend, IU Southeast and IU Kokomo; and IU High School.