Of everything that's been on Indiana University Bloomington employees' minds over the past year, parking isn't likely one of them.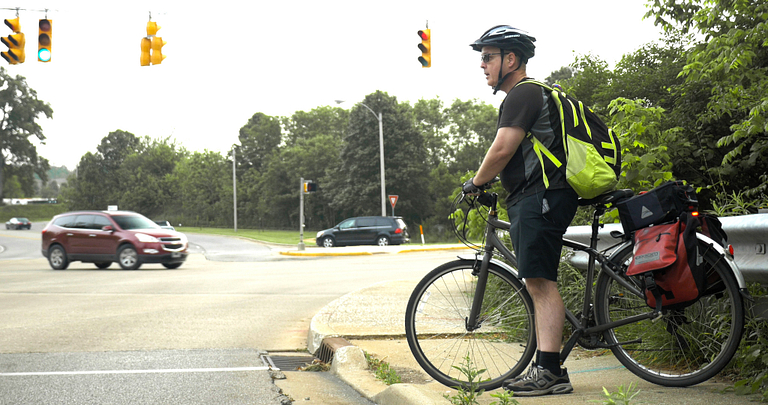 Now, with return-to-campus guidance available, several changes are being made for the 2021-22 permit renewal cycle to ensure employees' needs are being met, led by IU Bloomington director of parking operations Amanda Turnipseed and transportation demand manager and bicycle coordinator Anna Dragovich. Permit renewal opens June 1, and the new permit cycle begins July 1.
Here's a look at the changes:
The Hoosier Commuter Club will shift to include only employees committing to walk, bike or use transit as their primary mode of transportation to and from campus. Membership benefits will go from 10 one-day EM-P permits annually to 24. Twelve permits will be issued upon enrollment, with an additional dozen added in January. Additional one-day EM-P permits may be purchased at $10 each.
EM-V and motorcycle (sticker only) permit holders will now receive 12 one-day EM-P permits annually, a new option available this year.
The Emergency Ride Home program will now include those who purchase an EM-V or motorcycle (sticker only) permit. Previously, it only applied to those enrolled in the Hoosier Commuter Club and university rideshare programs.
University registered carpool and vanpool participants will now receive 12 one-day EM-P permits annually, up from 10 previously.
A new daily garage validation will be available for employees who choose not to purchase a permit. Daily access can be purchased to park in one of the five gated garages on campus: Henderson, Atwater, the upper level of East, Fee Lane and the new Luddy Center AI garage slated to open this fall. Validations will be added to your CrimsonCard upon purchase, and the card will be swiped at the gate for entry/exit. Sales are limited to 10 purchases per month, and validations will be $5 per day.
And a reminder: While there are no changes for employees who purchased a multi-year permit in the 2020-21 cycle, note that all outstanding citations must be paid before the permit will automatically renew.
Forgot what levels of parking permits are available to employees? Here's a handy primer.
If none of the above options are a good fit, hourly parking is available in the Henderson, Atwater, East, Fee Lane and Luddy Center AI garages. The Luddy Center AI garage is slated to open for fall semester.
Still not sure if, when or how often you'll be coming to campus? Don't forget that parking permits can be purchased, exchanged or returned at any time during the year, Turnipseed said.
The office typically mails out a permit the next day following an online order, and employees can print out a temporary permit to use immediately upon purchase.
To get a refund or stop payments, the permit should be returned to the parking operations office – in the Henderson Parking Garage – in person, by U.S. mail or by emailing a photo of the permit cut into pieces to parking@indiana.edu.