Reminder: Campus mask requirement still in effect during summer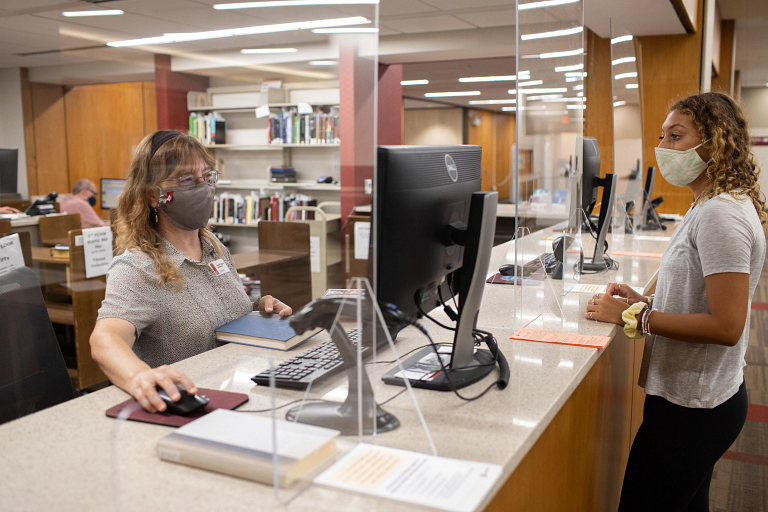 The summer is a popular time for incoming students and their families to tour the IU Bloomington campus, and for other visitors to check out popular locations such as the Indiana Memorial Union and Wells Library. However, everyone – including current students, faculty and staff – must continue to follow IU's mask guidelines when on campus, until fall semester health and safety guidelines take effect Aug. 1.
Signage is posted in the library and IMU reminding patrons about the current mask requirement.
Confusion about IU's summer policy has stemmed, in part, from the Monroe County Health Department lifting its order regarding mask wearing and social distancing, and those who are fully vaccinated thinking they no longer need to wear a mask, IMU and library officials said.
Pfau Course ranked among top 100 public courses in North America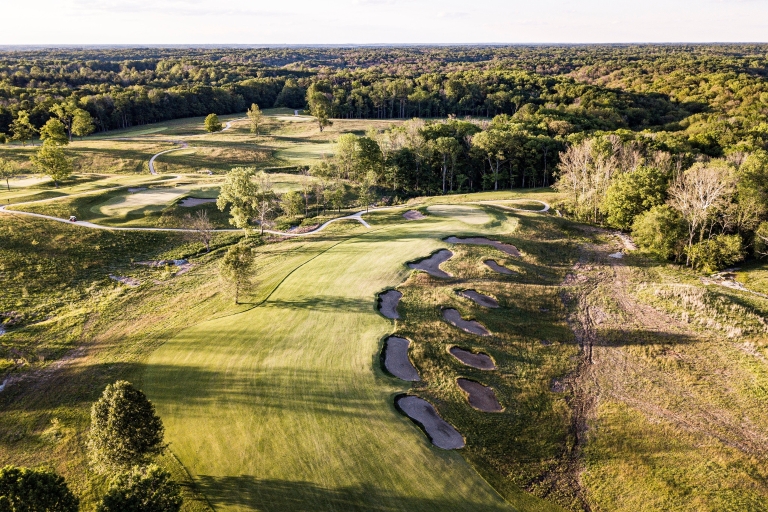 Golf.com recently ranked IU's Pfau Course as one of the top 100 public golf courses in all of North America. The article said that after the course opened last year, "rave reviews quickly followed for a design that features tree-lined fairways on the more secluded front side and a wide-open feel on the back."
The publication also named it among the 11 most affordable courses.
WTIU earns Emmy nominations, Murrow Awards
WTIU is nominated for 22 Lower Great Lakes Emmy Awards for several series and documentaries it produced over the past year. The PBS station received nominations for travel series "Journey Indiana," children's series "The Friday Zone," web series "[indi]android" and several documentaries. Among the documentaries nominated is "Feel of Vision, Amen! Music of the Black Church," which features Raymond Wise leading the Indiana University African American Choral Ensemble in a performance of praise and worship music.
The station's news team also recently earned two Regional Edward R. Murrow Awards. One recognizes the team's investigative reporting on Indiana's contact tracing plans. The station also earned an award for best news documentary for "A Mother's Justice: The Trials of Lisa Montgomery."
Mary Burgan Distinguished Service Award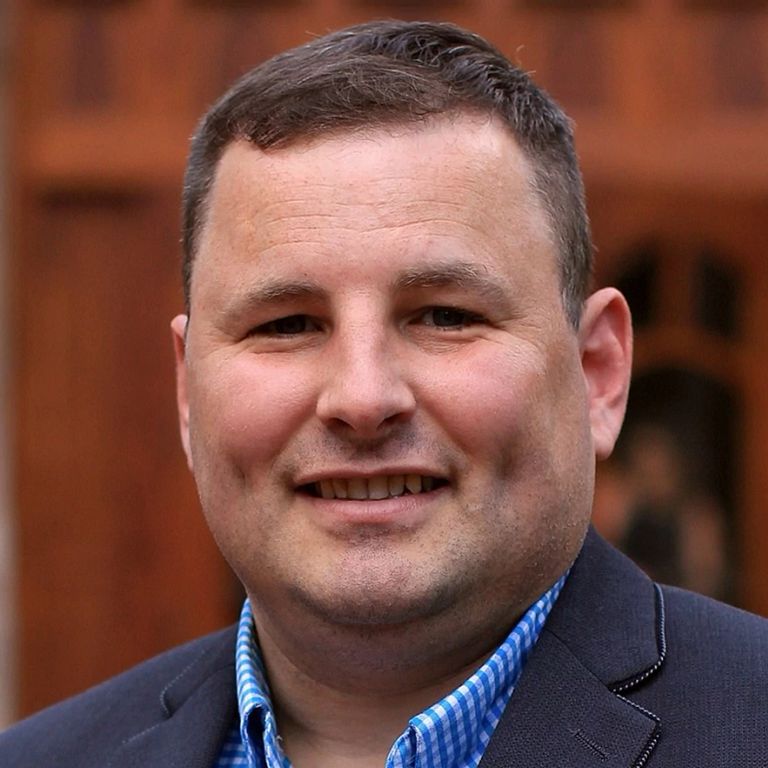 Tim Lemper, clinical professor of business law in the Kelley School of Business, is being recognized for his dedication to student community engagement, campus LGBTQ+ initiatives and honors programming.
Lemper has been awarded the 2021 Mary Burgan Distinguished Service Award, which recognizes Indiana University Bloomington faculty who exhibit distinguished service to the university, a profession, a discipline or the public. 
IU Spanish major receives national Mario Vargas Llosa Award
IU Spanish major Kathryn Petersen will receive the 2021 Mario Vargas Llosa Award during the annual conference of the American Association of Teachers of Spanish and Portuguese on July 9. The annual award is given to an undergraduate Spanish major at a U.S. university who has demonstrated outstanding achievement in all upper-division courses and exemplary involvement in extracurricular activities related to Spanish.
The award is named for writer Vargas Llosa, who won the 2010 Nobel Prize in Literature.
'Mother Culture' honored with portrait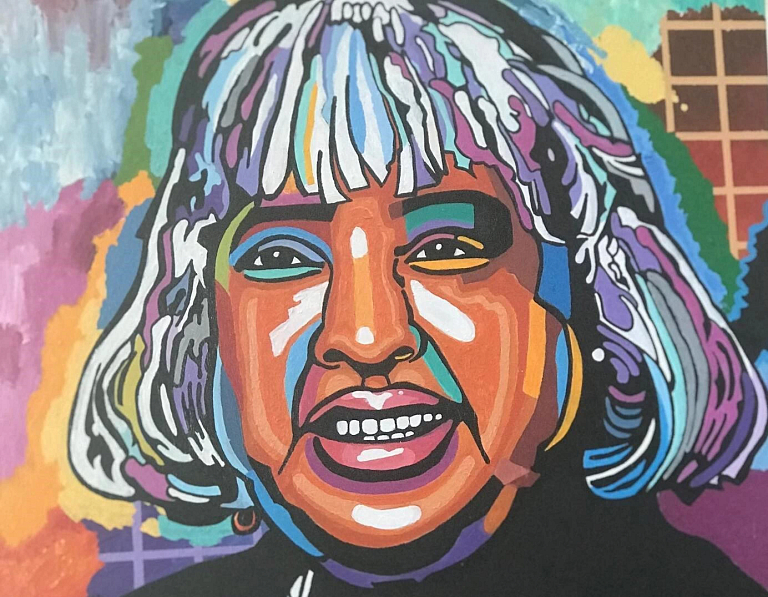 The legacy of the Neal-Marshall Black Culture Center's first director is being celebrated with a new portrait. The painting of Caramel Russell, known as "Mother Culture," was recently unveiled during a virtual event that also featured stories about Russell's impact on the Bloomington campus and its students.
Russell was known for her unapologetic willingness to challenge and support students. Her portrait now hangs inside the center.
IU faculty, alumna earn book award
IU faculty members Sylvia Martinez and Vasti Torres, along with IU alumna Ebelia Hernández, co-authored "Understanding the LatinX Experience," and won a 2021 Book of the Year Award from the American Association of Hispanics in Higher Education for "Understanding the LatinX Experience," which they co-authored.
Martinez, an associate professor in the School of Education, has researched issues of engagement in school for Latino youth. Torres' work has involved examining Latino students' choice to stay in college. Hernández earned a Ph.D. in higher education and student affairs at IU, and her work involves issues of equity and inclusion.
TOME publishing program expands reach of IU humanities research, scholarship
IU Bloomington's Carl Weinberg will publish his first book in the fall, thanks to support from the Toward an Open Monograph Ecosystem program.
TOME is organized by the Association of American Universities, Association of Research Libraries and Association of University Presses. It supports publication of open-access digital monographs in the humanities and humanistic social sciences.
Participating universities, including IU, provide publishing grants of $15,000 for open-access projects.
Jane Jorgensen Student Leadership Internship Program accepting applications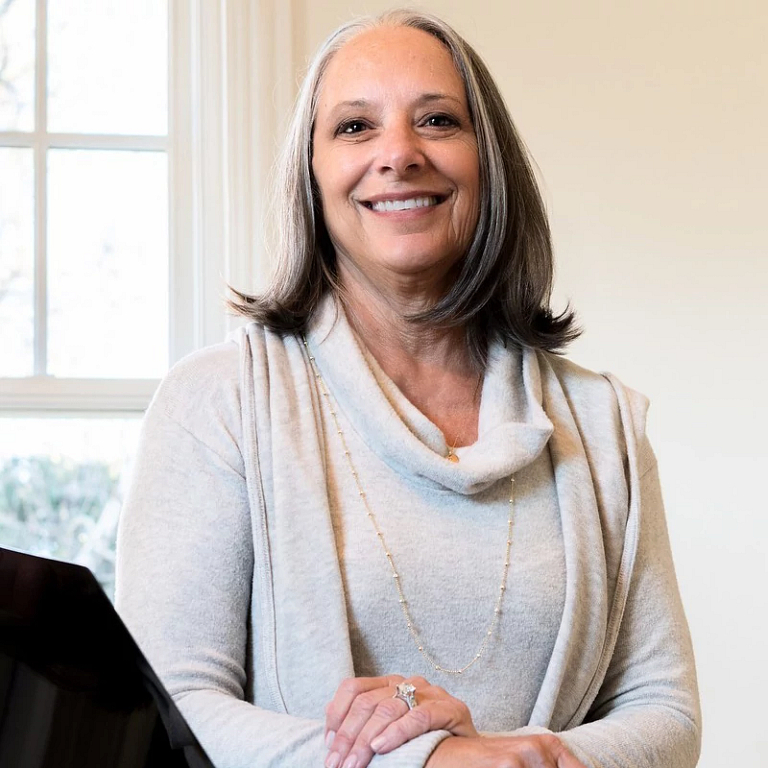 The newly created Jane Jorgensen Student Leadership Internship Program, housed within the Office of the Vice President for Diversity, Equity and Multicultural Affairs, will provide opportunities for personal and professional development to help students enhance their skills in anti-racist work. The program intends to help students develop into leaders who can transform society and help further diversify university professional staff. 
Internship applications are being accepted and appointments made on a rolling basis.
2 radio plays among IU Summer Theatre's offerings
IU Summer Theatre, the professional summer stock company of the Department of Theatre, Drama and Contemporary Dance, will have three virtual performances in July. Two are radio plays produced in partnership with WFIU, one of which will feature conversations and materials from IU's Lilly Library Edgar Allan Poe collection.
The radio plays are "Waycross" and "Twisted Tales of Poe," and both can be heard on WFIU 103.7FM or WFIU 2 101.9FM, or at wfiu.org, for free. They will be available on the WFIU Arts & Culture page beginning July 26.