BLOOMINGTON, Ind. – The Media School and IU Libraries at Indiana University Bloomington have announced the appointments of Walter Gantz and Diane Dallis-Comentale, respectively, as their interim deans, effective July 1.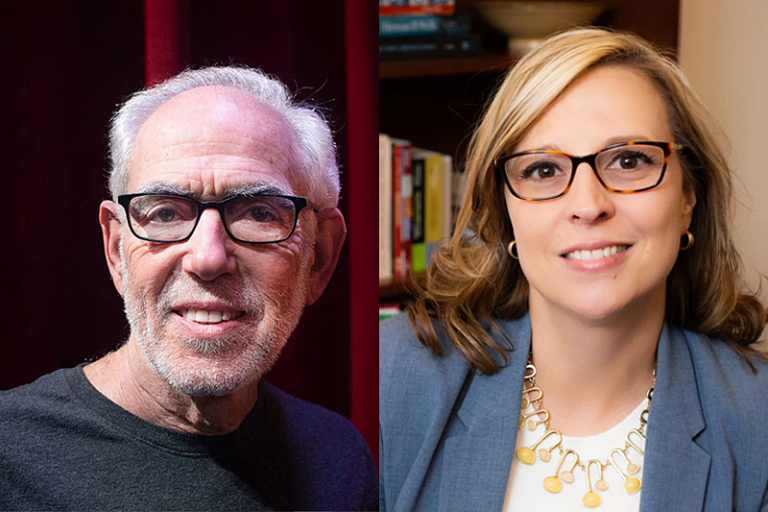 Currently, Gantz is the associate dean of The Media School, and Dallis-Comentale is the associate dean for planning and administration at IU Libraries.
"Walt has served on the faculty since 1979, and as an IU department chair for 20 years," IU Bloomington Provost and Executive Vice President Lauren Robel said. "As associate dean of The Media School, Walt has given remarkable support and guidance to faculty, staff and students. I'm so grateful that Walt is willing to lend his considerable talent, insight and innovation to The Media School at this crucial time, as IU embarks on its third century.
"Diane has the strong administrative experience to effectively lead IU Libraries during this interim period," Robel said. "Throughout her nearly 30-year career, she has successfully tackled challenges to traditional library spaces, helping our own IU Libraries to maintain a vibrant, essential presence on campus, while having a thorough understanding of the budgetary and facilities issues that are critical to the smooth functioning of the libraries."
Their appointments follow the current leaders' announcements that they'll be leaving their positions this summer.
James Shanahan, founding dean of The Media School, will step down June 30 after a six-year tenure that saw the successful merging of three academic units into what is now one of the most comprehensive media-related research and teaching programs in the country. Shanahan will remain on the Media School faculty. Carolyn Walters, Ruth Lilly Dean of University Libraries at Indiana University, will retire June 30, after more than three decades serving in leadership positions at what is recognized as one of the nation's largest and most innovative university libraries.
Committees have convened to identify candidates for the permanent dean positions.
As associate dean, Gantz has worked closely with unit directors and faculty members to guide the Media School's academic affairs and has supported Shanahan in overseeing the school's strategic direction. Gantz was chair of the Department of Telecommunications from 1997 to 2015 and the Communications Science unit from 2015 to 2017. Throughout his career, Gantz has taught courses focusing on media processes and effects, research methods, advertising strategies, and media and sports.
"Thanks to founding Dean Jim Shanahan, and our faculty, staff and students, The Media School is well-respected across the globe and is a terrific place to work and study," Gantz said. "As the pandemic eases, we're ready to seize opportunities and continue to excel. As interim dean, I look forward to contributing to our growth and ensuring our school remains a welcoming place for all to work, study and thrive."
In her current role, Dallis-Comentale oversees planning and assessment, communications, IU Libraries human resources and overall leadership of facilities projects. Her most recent successes include leading IU Libraries in adapting services during the pandemic and overseeing the Lilly Library Reading Room mural project, part of a once-in-a-generation renovation of one of the world's great libraries. Previously she has led transformative organizational changes and renovations of three significant spaces in the iconic Herman B Wells Library, which resulted in the popular Learning Commons, Moving Image Collections and Archives, and Scholars' Commons spaces that recast perceptions of academic libraries.
"Dean Walters' leadership at IU Libraries and the IU Press established a strong foundation that allows us to continue our innovations in the ways we advance, collect, publish and preserve knowledge into IU's third century," Dallis-Comentale said. "I am excited and honored to have this opportunity. I am proud of the commitment Libraries' staff and librarians demonstrated through the difficulties of the pandemic. Campus appreciation of their work is evidence of what I have always known: The library is central to the life of our campus. We will continue to build on our successes, and depend on our partnerships, as we prepare for the new Ruth Lilly Dean of University Libraries."