BLOOMINGTON, Ind. – Indiana University's Lilly Library, home to significant rare-book collections and literary artifacts, will reopen in August after wrapping up a full-scale renovation that reimagined the iconic facility's interior to meet the needs of modern scholars.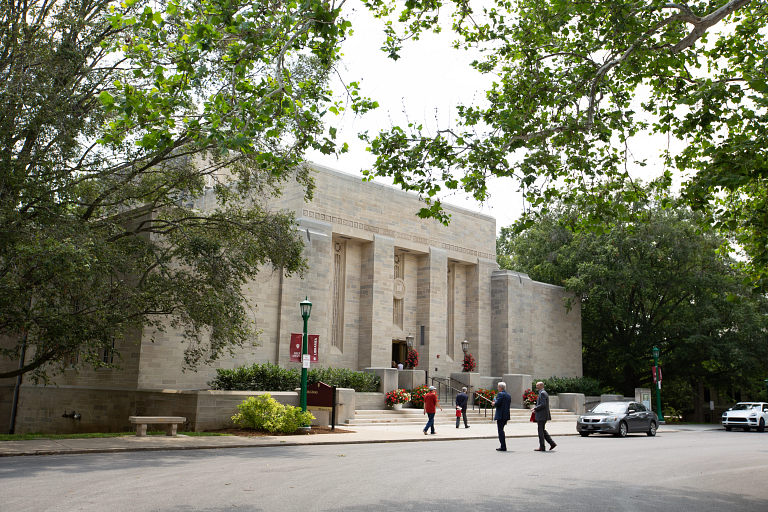 Indiana University President Michael A. McRobbie rededicated the internationally renowned Lilly Library to service in the university's third century, noting its role as a center for scholarship long responsible for enhancing the reputation of IU. The renovation was made possible by grants from Lilly Endowment Inc.
"Today we celebrate a library with magnificent collections that rival those of any rare books library in the nation," McRobbie said during the June 18 rededication ceremony. "These treasures are not relics locked away to gather dust on an unseen shelf; they are living objects that span the great distance of time between their creation and the present.
"All of us at Indiana University remain deeply grateful for Lilly Endowment's wide-ranging and generous philanthropic support for the university over many decades – support that continues to have a transformative impact on the university's mission."
In April 2019, Lilly Endowment awarded the Indiana University Foundation a $10.9 million grant to support the library's renovation. Consistently regarded as one of the nation's leading special collections libraries, the Lilly Library was established in 1960, inspired by the donation of the extensive private library of the late Josiah K. Lilly Jr., one of the founders of Lilly Endowment.
As the Lilly Library approached its 60th anniversary, it became clear that increased interest, use and appreciation of its ever-increasing collections of rare books, manuscripts and literary artifacts required upgrades and reconfiguration of its 52,516-square-foot limestone building on Indiana University's Fine Arts Plaza.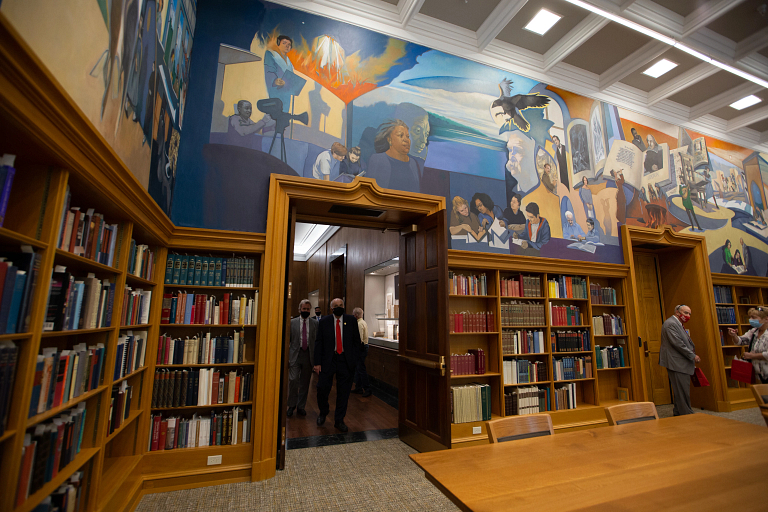 Following its initial gift, Lilly Endowment announced additional support in early 2020 to fund the commission of an inspirational cycle of murals as part of the renovation. Artists were invited to imagine a new visual centerpiece for the Lilly Library. Selected muralist Ralph Gilbert unveiled his Reading Room masterpiece at the June rededication.
"The Lilly Library Bicentennial Murals Project may have been finished by me, but it started with President McRobbie and Lilly Endowment," Gilbert said. "They gave me freedom to create a world of imagery that would broadly tell the story of the Lilly Library and its exceptional holdings.
"I am greatly honored to have contributed to the Lilly Library and to leave something of myself here at IU. But I am also taking away something indelible; for a painter, this has been the experience of a lifetime."
McRobbie presented Gilbert with the Thomas Hart Benton Mural Medallion for Distinguished Achievement at the rededication ceremony.
N. Clay Robbins, Lilly Endowment's president, chairman and CEO, attended the event and offered reflections on Lilly Endowment's rationale for funding this project.
"Lilly Endowment is most pleased to have had this opportunity to honor and extend the legacy of J.K. Lilly Jr. by providing support for the Lilly Library's renovation," Robbins said. "His love of reading, art and collecting is wonderfully represented in the renovated facility and Ralph Gilbert's magnificent murals. This would not have happened without the vision and leadership of President McRobbie, and we are grateful to him and his many talented and dedicated colleagues whose imagination and tireless efforts brought this important project to fruition."
McRobbie also acknowledged 30 years of distinguished service by retiring Ruth Lilly Dean of University Libraries Carolyn Walters, presenting her with the President's Medal for Excellence. In her own remarks, Walters emphasized appreciation of the Lilly Library staff.
"What we have done since the opening of the Lilly Library in 1960 represents so much of what we librarians dedicate our careers to accomplish: We preserve and share knowledge," she said. "The renovation provides both the environmental controls necessary to preserve the collection long into the future, and the accessible spaces needed to share the knowledge stored within the collection.
"It is, however, people who bring materials to life. Librarians have developed new ways of connecting tech-savvy students with print materials. The result is excitement and often a return visit to explore other materials."
As the library reopens in August, visitors will be greeted by elegant, modernized public galleries designed by national experts in library and museum display. Infrastructure modernization includes the building's first public elevator. Additional seminar rooms, a new lecture hall and technology adaptations throughout the library support classroom instruction, faculty conferences and visiting scholar lectures.
The Lilly Library now holds more than 450,000 rare books, 8.5 million manuscripts, the world's largest collection of mechanical puzzles and 150,000 pieces of sheet music. Lilly Library staff and professional library movers are now halfway through moving these important collections back into the building.
The library will remain closed through Aug. 16, when the public galleries will open and present the retrospective exhibition titled, "The Eye, the Mind, and the Imagination: The Collectors of the Lilly Library." The Reading Room will open a few weeks later; appointments are required.
Lilly Endowment grants funding this once-in-a-generation renovation were part of the Indiana University Bicentennial Campaign that concluded in September 2020 and raised nearly $4 billion in support of the university's missions.
About Lilly Endowment
Lilly Endowment Inc. is an Indianapolis-based private philanthropic foundation created in 1937 by J.K. Lilly Sr. and his sons, Eli and J.K. Jr., through gifts of stock in their pharmaceutical business, Eli Lilly and Company. Although the gifts of stock remain a financial bedrock of the Endowment, it is a separate entity from the company, with a distinct governing board, staff and location. In keeping with the founders' wishes, the Endowment supports the causes of community development, education and religion. The Endowment funds significant programs throughout the United States, especially in the field of religion. However, it maintains a special commitment to its founders' hometown, Indianapolis, and home state, Indiana.