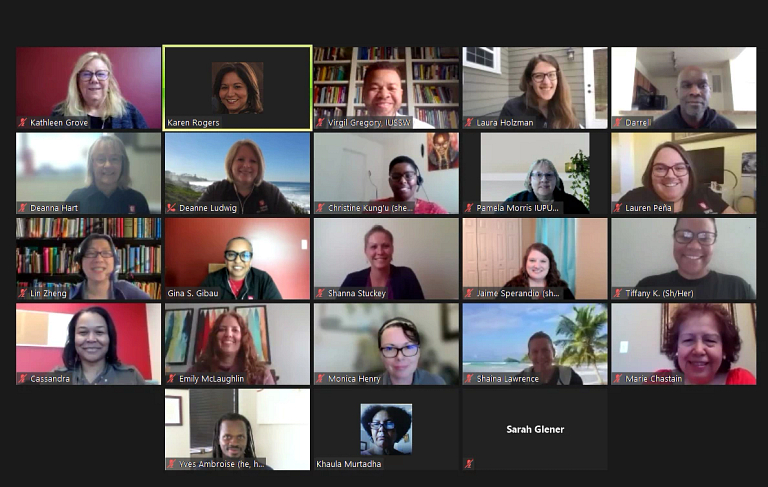 A 15-member cohort has been selected for the seventh round of IUPUI's Next Generation 2.0 leadership development program. Five faculty and 10 staff members were selected by the program's advisory board.
"We are so excited to welcome this very talented cohort of faculty and staff into the program," Associate Vice Chancellor for Faculty Diversity and Inclusion Gina Sanchez Gibau said. "Their development as leaders at IUPUI is essential as we consistently experience periods of transition and change at our institution."
The cohort will begin with an orientation in August and then start a nine-month curriculum in September that focuses on developing leadership skills and understanding contemporary issues in higher education. Participants will also identify, plan and implement a capstone project, either individually or in a group, that responds to an identified need of their department, the IUPUI campus or the Indianapolis community.
The Next Generation 2.0 program, supported by the Office of Academic Affairs, targets faculty and professional staff at IUPUI who are interested in seeking leadership opportunities at IUPUI or enhancing their current roles. By encouraging women and members of underrepresented populations to participate, this program directly addresses the IUPUI Strategic Plan goals to "develop our faculty and staff" and "promote an inclusive campus climate."
"This program continues to help drive improvements in the diversity of our leaders," Executive Vice Chancellor and Chief Academic Officer Kathy Johnson said. "I'm also grateful for the personal networks that develop among faculty and staff as they learn about IUPUI as well as the national higher education landscape."
Faculty and staff selected for the 2021-22 cohort are:
Petra Batek, behavioral health leader, Division of Student Affairs, Counseling and Psychological Services.
Kathryn Berlin, associate professor and undergraduate program director, School of Health and Human Sciences.
Abdramane Diallo, financial manager, School of Dentistry.
Leslie Etienne, clinical associate professor and director of the Center for Africana Studies and Culture, School of Liberal Arts.
Paula Franco, assistant business manager, School of Medicine.
Stephanie Freed, clinical sciences curriculum specialist, School of Medicine.
Lori Hart, associate director of undergraduate enrollment, School of Science.
Roxy Lawrence, director of evaluation, Paul H. O'Neil School of Public and Environmental Affairs.
Kathy Licht, professor, School of Science.
Katherine Macy, collection assessment librarian and subject liaison to business and economics, University Library.
Penny Saltsman, database coordinator, Office of the Registrar.
Kim Sarver, senior research project manager, School of Informatics and Computing.
LaQuia Vinson, associate professor and program director, School of Dentistry.
Robyn Williams, contract officer, Office of Research Administration.
Kara Woodlee, assistant director and senior academic advisor, Division of Undergraduate Education.
For more information about the Next Generation 2.0 program, including a list of past cohorts and their capstone projects, visit the program's website.