BLOOMINGTON, Ind. – Indiana University will be a principal organization in two of the U.S. National Science Foundation's 11 new NSF National Artificial Intelligence Research Institutes, helping advance artificial intelligence to improve people's lives.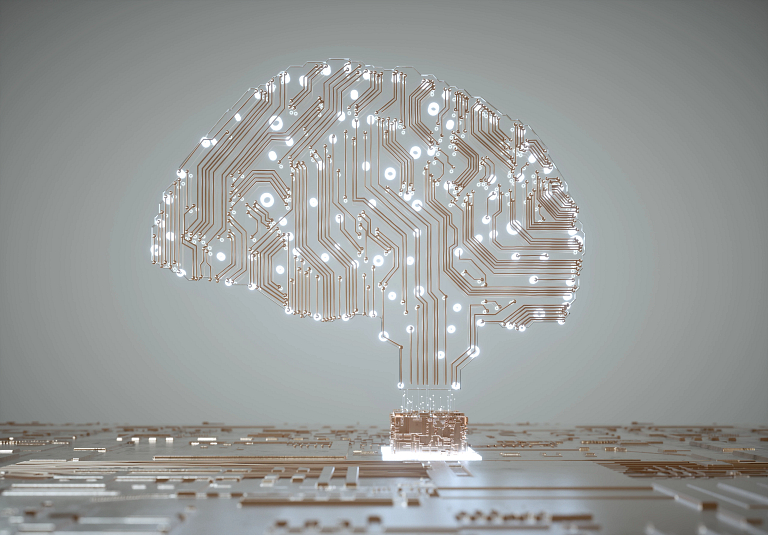 Overall, the 11 institutes are focused on AI-based technologies that will result in advances such as helping older adults lead more independent lives, creating solutions to improve agriculture and food supply chains, and transforming AI into accessible "plug-and-play" technology, the NSF said in an announcement today.
IU will be a principal organization in two of the AI research institutes:
The IU Luddy School of Informatics, Computing and Engineering and the Center of Excellence for Women and Technology, both based at IU Bloomington, will collaborate with the AI Institute for Intelligent Cyberinfrastructure with Computational Learning.
Researchers from the IU School of Education at IU Bloomington and the Luddy School are part of the team for the NSF AI Institute for Engaged Learning, which will advance natural language processing, computer vision and machine learning to engage learners in AI-driven narrative-centered learning environments, particularly in STEM. Students will be engaged through story-based problem scenarios.
Distinguished Professor of Education Cindy Hmelo-Silver is the co-principal investigator on the project and has spent her career working on such learning, which helps students learn concepts by using complex, real-world problems.
The AI Institute for Engaged Learning will help teachers tailor problem-based learning to make it interesting and relevant for different students in different learning communities. The labor-intensive part of group facilitation that would usually fall on teachers will be conducted through AI analysis of student conversations, facial expressions, gestures and posture, along with other data.
"We're trying to find ways to augment the intelligence of both the teachers and the kids in ways kids will be excited about," Hmelo-Silver said.
Other School of Education faculty joining Hmelo-Silver on the project are Department of Instructional Systems Technology chair Krista Glazewski, Jacobs Chair in Education and Technology Anne Leftwich, and learning sciences associate professor Joshua Danish.
Researchers from North Carolina State, the University of North Carolina at Chapel Hill and Vanderbilt University as well as the educational nonprofit Digital Promise are also part of the team.
"At its heart, the ability to easily create tailored learning environments through AI will advance our commitment to meeting the needs of diverse learners," said Anastasia "Stacy" Morrone, dean of the IU School of Education in Bloomington.
Luddy professor of computer science David Crandall is an expert in AI and directs the IU Center for Machine Learning.
"In Luddy, we'll be developing and applying computer vision algorithms for creating more effective and engaging learning environments," Crandall said. "I think AI has great potential to improve education, and I'm so excited to be part of this fantastic interdisciplinary team working toward that goal."
The AI Institute for Intelligent Cyberinfrastructure with Computational Learning in the Environment, or ICICLE, will build the next generation of cyberinfrastructure to make AI easier for scientists to use. It will also democratize AI by making it accessible on many devices and easy for non-experts to use.
Project researchers plan to create a robust, transparent national cyberinfrastructure that is applied to areas of societal importance, such as food systems, precision agriculture and animal ecology.
"IU has considerable strength in national and campus cyberinfrastructure for science and engineering, and this project is investigating ways in which artificial intelligence can improve cyberinfrastructure and vice versa," said Dennis Groth, interim dean of the Luddy School. "It is exciting and a benefit to IU to have a front-row seat where these innovations will happen."
Three researchers from the Luddy School's Department of Intelligent Systems Engineering will help ICICLE investigate ways in which AI can enhance the cyberinfrastructure that underpins national- and campus-level research infrastructure. McRobbie Bicentennial Professor of Computer Engineering Beth Plale, a co-project investigator and executive director of the IU Pervasive Technology Institute, and assistant professors Ariful Azad and Prateek Sharma will research approaches to improve the trustworthiness of AI, and develop new AI models and computational primitives that make cyberinfrastructure for AI run smarter and faster.
IU will also play a leadership role in the workforce development and Broadening Participation in Computing activities of the ICICLE project. In a collaboration involving Plale from the Luddy School and Maureen Biggers from the IU Center of Excellence for Women and Technology, IU will establish a stakeholder committee to strengthen the commitment and shared vision in broadening participation. The committee will increase competency in linking machine-learning fairness with human unconscious bias in educational modules, while increasing awareness of how to best foster and maintain inclusive and equitable environments.
"The workforce development collaboration between the Luddy School and IU CEWIT will allow the project to develop synergistically with Luddy's AI initiative and the CEWIT AI For All initiative, and thus laying groundwork for greater impact by this NSF-funded activity on the IU campus," Plale said.
Von Welch of the IU Center for Applied Cybersecurity Research will offer expertise on the security of intelligent cyberinfrastructure and on data staging and privacy topics. Dave Hancock of the Pervasive Technology Institute and Research Technologies will serve as a project connection to the NSF-funded Jetstream 2 project.
IU Research
IU's world-class researchers have driven innovation and creative initiatives that matter for 200 years. From curing testicular cancer to collaborating with NASA to search for life on Mars, IU has earned its reputation as a world-class research institution. Supported by $854 million last year from federal, foundation, and other external support, IU researchers are building collaborations and uncovering new solutions that improve lives in Indiana and around the globe.